Drawer-Box Joinery with Baltic Birch
A discussion of drawer-box construction connection methods. May 28, 2010
Question
I need some input on drawer joints. Is a drawer lock bit set up for 5/8" Baltic drawers a good option? I have just been rabbeting the drawer sides, which seems to work fairly well. Does anyone have experience with drawer construction, other than dovetail? This would be for a production setup, not just a few drawers once in a while. Here is a picture of the rabbet setup that we are currently using. Your ideas are appreciated!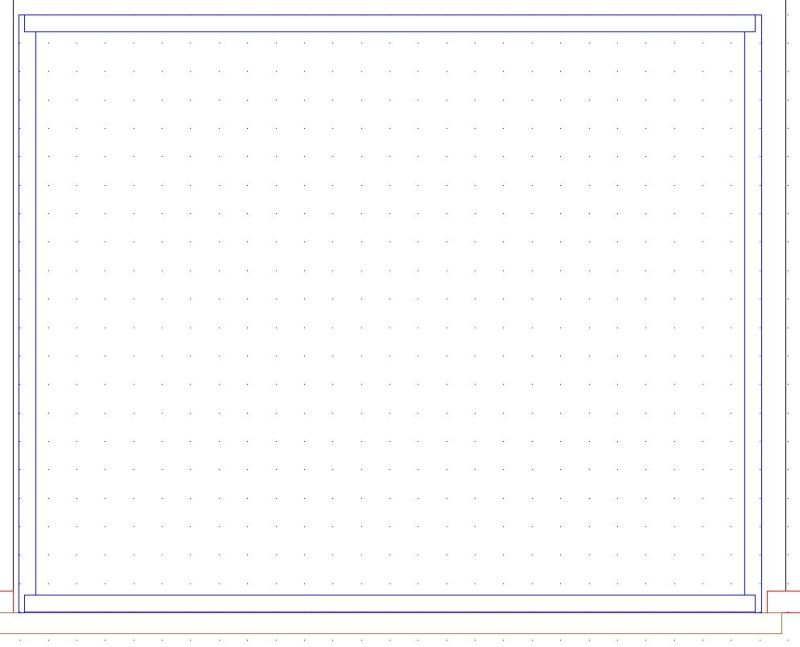 Click here for higher quality, full size image
Forum Responses
(Cabinetmaking Forum)
From contributor J:
A locking rabbet is going to make a little better drawer... similar to the drawer lock bits. You can do it on the router table with standard bits or do it on the table saw.

---
From contributor K:
If you build both drawers and give them the hammer test, both will fail. A butt joint is just as good. Even better if you throw a few pocket screws or dowels into them. I used to use the locking rabbet and went to all dovetail. The hammer test is what led me to this. What you do is hit the front of the drawer from the inside. This will simulate it having a drawer front on it and being slammed shut. With the hammer test, three pocket screws and a butt joint will hold up better than the rabbet or lock joint (in plywood).
---
From contributor D:
We use a joint like this. Not sure if you can figure it out. We make it with a 1/2" router bit in the shaper and use glue and staples. The orange part is the front with a notch on both ends at about 3/8" deep. The blue is the side with a stopped rabbet at 1/2" wide x 3/8" deep. So we cut all our sides to 550 mm (Hettich slides), dado a 1/2" groove, 1/2" from the bottom edge, and make a pile of them all identical. Then we cut the fronts at drawer outside width -1/4" and make all the same notch cut. Staple with glue, and voila. This is good because we can use pre-edge Baltic strips or domestic ply and there is no final sanding. Same applies to pre-finished, but the finish gets a bit marked up. Better to do a final topcoat on the assembled drawer.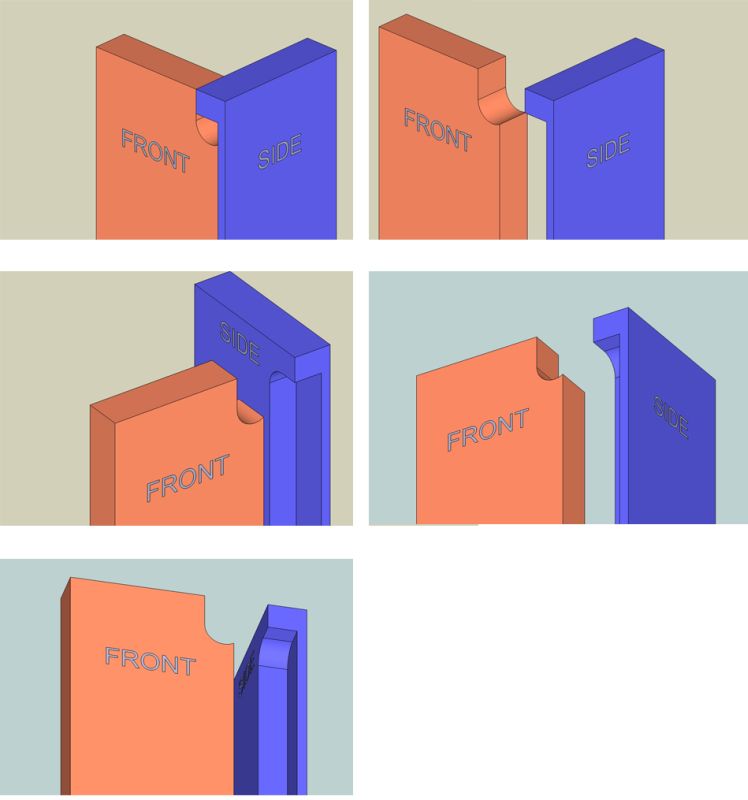 Click here for higher quality, full size image
---
From contributor N:
Do you staple through the side or front? Just wondering if they are visible once all assembled...
---
From contributor J:
Not sure if you have a horizontal boring machine, but that would be a really quick way for production. Cut to length, bore, assemble with dowels, done.
---
From contributor D:
You staple through the front; that way once the face is on, it's all hidden. The orange part.
I thought a boring machine would be good too, but am not ready to buy one yet. I can see where that would be very handy in a lot of cases.

---
From contributor F:
Interesting that you are driving your fasteners through the front and back of the drawer boxes, contributor D. The logic used to be that is was easier to pull fasteners straight out... so a drawer would have the fasteners driven at 90 degrees to the direction of the applied force of opening and closing it.
---
From contributor D:
Forgot to mention glue with the staples. I was thinking that about the force direction, but a person pulling on a drawer will not exert that much force. I would say max 15lbs force, but that is a guess. I made a few drawer size mistakes and I can't get the drawers apart to salvage any part. Don't forget that the drawer bottom is stapled to the bottom of the front and back, and we use 1/2" for that too.
---
From contributor G:
I have been doweling 15mm Baltic birch for a while. It is a quick and clean system, with little setup. It is also a good system for pre-finished panels and melamine.
---
From contributor A:
I don't really see that much difference between what the questioner and contributor D are doing. It would seem to me that the questioner would have a faster fabrication and assembly time. With both using glue and fasteners, either would be plenty stable for a drawer.
I wouldn't bother with a lock-joint with plywood. If you are going to go there, just keep it simple and do dovetail. Even on plywood, it is an excellent joint. Add glue and it's not going anywhere.
Contributor D, I'm not clear on what your design is supposed to convey... Is it to hide the rabbet on the top and make it look like a butt joint? Other than that, I don't see the reason (time-wise or structural) to take the time to do it. Certainly not something the customer who is dealing with that level of drawer is even going to give a second thought to. Am I missing something?

---
From contributor M:
I suspect from the drawing that it allows the drawer parts to be cut nested and edgebanded after. If you're not using a CNC, that type of joint wouldn't be practical.
---
From contributor C:
Contributor G, how are you drilling for dowels? What equipment are you using? What size dowels and what spacing?
---
From contributor G:
I am using a Maggi 2332 to bore for 8X30 dowels. The spacing is usually 25mm from top edge, with two dowels for 4" drawers, and 4 dowels for 8" drawers. I use mostly Tandem slides, so the back is 13mm shorter and I don't have to notch them. One step saved. I use a 12mm ply bottom rabbeted down to a 6mm tongue that fits a groove in the box. This prevents loose fitting bottoms with 1/4" ply, and gives something for the Tandem mounting clips to screw into. If you wanted to use a 1/4" bottom, just hold the back up 19mm, slide the bottom in after assembling the box, and staple or screw at the back.
---
From contributor V:
Ritter makes a dedicated drawer doweling machine that looks real nice. I looked into it a few years ago and I though the machine was awesome. The price, however, was quite a bit higher than I was comfortable with and very few show up on the secondhand market.
---
From the original questioner:
Thanks for all the input! It looks like the dowel method would be really nice. I actually am quite happy with our method, but was looking into the options. There is a lot of knowledge on this site!