Drawers Vs. Shelves for Kitchen Base Cabinets
Drawers can be more useful, and also a better money-maker for the cabinet builder. August 8, 2005
Question
Recently I been getting more and more calls for kitchen base cabinets to be all drawers, and after doing it a few times, I've made it standard equipment for high-end cabinets.
My reasoning is that it provides more convenience for the customer to not have to open doors and then pull out shelves. I think this is why customers were requesting it. For production, it is actually cheaper for me to do it this way. I normally would still have to build the shallow top drawer above a set of the doors in front of two pull-out shelves.
Now I just add two deep drawers below the top drawer in every bay where I have a top drawer. Each of these two drawers has about the same height clearance as each of the two eliminated shelves would have had. The two added drawer fronts have the same area as the two doors they replace. So their cost is the same.
There's no more making and installing roll-out shelves and then installing doors as well. There's also no more furring out the roll-out shelf hardware to clear the edges of the doors.
So what I can actually sell the customer as an improved feature actually saves me money. I really have to wonder just how much more Home Depot would charge a customer for this feature on its factory made cabinets - probably an arm and a leg. Does anyone have any ideas?
Forum Responses
(Cabinetmaking Forum)
From contributor J:
In my own personal kitchen, my cabinets were installed via the builder, using Thermo Foil Doors and drawer fronts (a builders standard). These cabinets are now nine years old. Due to the production of Thermo Foiled MDF in that time period, the skins had buckled on some of the lower doors. The doors and drawer fronts located to either side of the oven were damaged by heat.
I made the transition to all drawers in the base cabinets, using Accuride Full Extention Slides. (The use of all drawers in the base cabinets increases usable space and ease of access). My local cabinet guy hooked me up with a near perfect match for the drawer fronts, which are produced much sounder today.

---
From contributor G:
We also switched to all drawer base cab quite a while back. It never made sense to me to have to open two doors so you could pull out a sliding shelf. Corner cabs and sinks are the only base cabs we use doors on unless they get too narrow in width, and then we will use one tall door for slide in storage. Like you say, the labor is not a lot more, but if you are using stainless tandem box, the hardware bill can add up.
---
From contributor F:
I have to say that these are nothing new. As far as I know, all drawer cabinets have been called a bank of drawers for eons. Also, of the two, pull out or roll out shelves are what is a relatively new feature in built-in cabinetry.
---
From contributor F:
I will say one thing in defense of pull out shelves though. I build my pullouts with tapered sides that get shallower at the front. Then, a user can open a single door or a pair as the case may be, and be able to see some of the contents on each of the pull outs in that bay at one glance.
---
From contributor R:
Drawers are no fun and neither are pull out shelves. I give one 3 or 4 drawer bank as standard equipment, and the rest get a drawer over door with a full or half shelf. Why add work by making standard equipment into what should be upgrades?
---
From the original questioner:
To contributor R: I only do this on high-end stuff where I can't just put in fixed or adjustable shelves in the base cabinets. Otherwise you're right - drawers or pull-out shelves do add a lot of work over simple shelving.
---
From contributor G:
We build cabinets to suit the wants and needs of our customers and it is for this reason that we build mostly all drawer base cabinets. (It is also what most of our customers want.) I have one client who is quite elderly that we did an all drawer base kitchen for. Every time I see her she thanks me for suggesting all drawers because she does not have to get down on her hands and knees to see what is in the back of the bottom shelves. Happy customers equal more business.
We do charge more for the drawer banks then door drawer combinations
---
From contributor D:
We stopped making pull outs last year. Many customers prefer this look over the two doors with pullouts simply because it has a dresser/furniture look to it. We offer dividers in the really large drawers so pots and pans don't slide around in the drawers. You can see on the picture below that we installed two of these near the stove for easy access and an easy reach in the corner for the cooking supplies.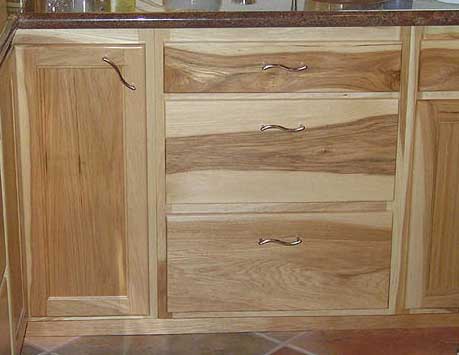 Click here for full size image
---
From contributor J:
We have utilized the solution of drawers, with the look of doors. We call it the "Storage Base", and it is a huge seller. In the past ten years, I have built hundreds of these - both with side mount and under mount slides.
---
From contributor B:
I almost always encourage clients to do drawers instead of doors with rollouts. You get more storage space, and it's more economical and ergonomic. What I encounter most frequently is people who want the look of two doors. There seems to be a mental disconnect where people think rollouts are somehow radically different than drawers, which doesn't seem to make a whole lot of sense.