Drying Rack Ideas
Ideas for shop-built racks for drying cabinet parts after spraying. November 12, 2006
Question
I have a small finishing room at my shop and I have been trying to find a good rack or set of racks to use in tight quarters. I ordered one from Hafele, but it is turning out to be too big for the space. I would prefer a few smaller racks. The shelves of the smaller rack that Hafele carries are not deep enough for me to put bigger panels or doors on without them tipping up into the shelf above. Does anyone know where I can get some good, mobile drying racks that are not too big, but are deep enough to handle bigger pieces? I'm entertaining building my own (with all of my spare time), so I wouldn't mind hearing ideas on materials, methods, etc. that anybody has had success with.
Forum Responses
(Finishing Forum)
From contributor W:
Look on the right hand side of this page and you will see a pop up for Pivot-Pro. See if they have one for your use...

---
From contributor C:
If you have wall space, what has worked well for us and others is two by fours hanging vertically on a cleat with emt pipe inserted into them. emt is the pipe used in commercial applications for running electrical wires through. You can get it cheap at Home Despot. Hang a continuous cleat at wall with an angle cut that captures the opposing cleat applied to the 2x4. Put a space block cleat at bottom of 2x4 to hold rack level. Another advantage is being able to vary the width of rack by sliding 2x4's along the wall and being able to remove or add pipe vertically depending on what is being finished.
---
From contributor H:
Try Edwards Products. They have carts bigger than small Hafele ones.
---
From contributor J:
Also check out the Knowledge Base. There was a good post on this topic recently, and a couple of really good ideas for shop built racks.
---
From contributor O:
Here is the picture of the rack I think that contributor J is talking about.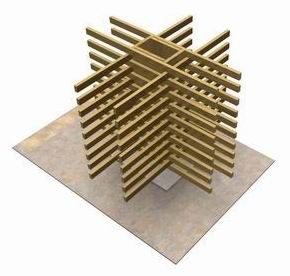 ---
From contributor E:
Yet another version. Something with a small top section might be useful.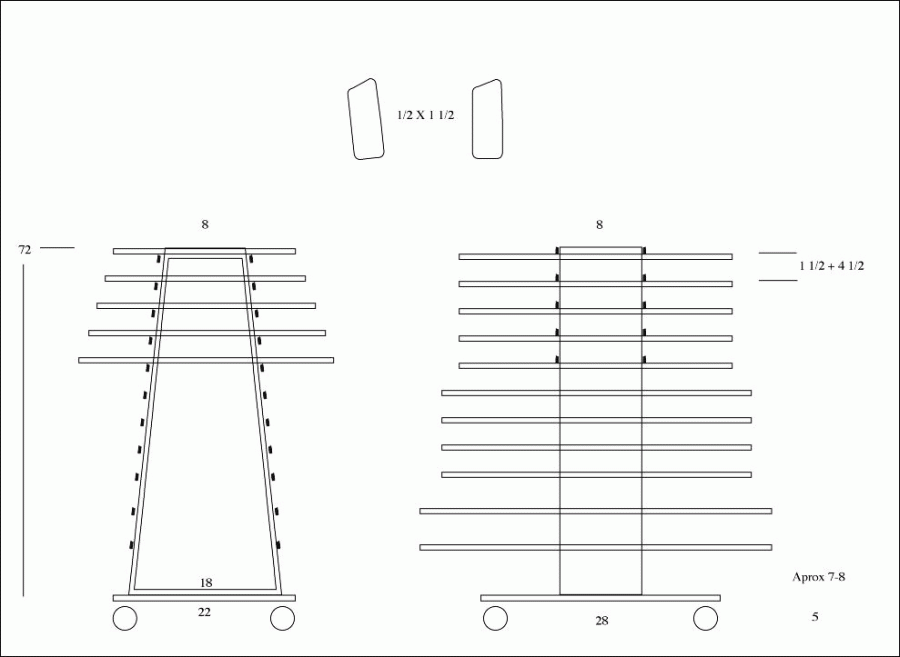 Click here for higher quality, full size image