Drying racks for cabinet doors
Purchased and shop built varieties - the designs that work the best. Illustrated. (Finishing Forum) March 23, 2003
Question
I would like to build a drying rack for cabinet doors. I'd appreciate details and pictures of racks you've built.
Forum Responses
(From WOODWEB's Finishing Forum)
Hafele makes a nice one. It is on wheels and holds 30 doors. They also sell just the white powder coated holders that mount into the verticals that make up the rack. That's what I bought and had a local guy make the upright/wheeled part. Total cost about $100.

---
I have two from Hafele - they are great! They hold 50 doors. Don't forget to order with the 18" racks - not the 12".
---
I saw them at IWF in Atlanta. Just call them and tell them what you need. I think they only have the one, with 12 or 18 inch shelves. Like was stated, don't bother with the 12's unless you are very dedicated and only need that size. They are usually very helpful on the phone.
---
From contributor D:
I built a rack about 3 years ago and still use it, though I have since replaced the nails with drywall screws, used to fasten the horizontal pieces to the column. It's nothing more than a few pine shelving boards that I picked up at the local ACE hardware and building supply store, ripped and crosscut to the appropriate dimensions. The base is made from a scrap piece of 3/4" birch ply and the full swivel wheels were purchased at Lowe's. I added the 3/4" solid birch blocks above the wheel base plates to add some screw holding strength.
If I ever need to build another one, it will be of a more durable hardwood, but this one continues to serve me well and is very light and easy to lift over things and store it out of the way when not being used.
---
From contributor R:
I made my own with strips of Baltic birch I had left over. I used 2x6 for uprights. I made three in a lazy Sunday afternoon with a box of wobbly pops and about 75.00 in material tops, a lot cheaper and they're only racks. For the price, the ones from Hafele should come with shop monkeys to help sand.
---
From contributor J:
The picture below is a representation of a rack that I saw on this forum some time ago. It is very similar to the one that Paul S. posted. If you take his idea and add more arms going in the other direction you could probably increase the capacity. I have tried to recreate it from memory, but may not have it perfect. You could vary the spacing and the height of the rack to suit your needs. I use mounted racks for my things, so I never built one. With casters on the bottom of the platform it could be very mobile. If anyone can find the original picture of the rack represented here, please post it. Iím sure that this thing could be built out of scrap stock for the most part, but none of us probably have that much scrap lying around.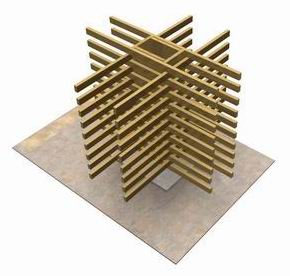 ---
We have a couple of the Hafele drying racks. They hold about 50 doors. The only problem is that if you load the rack with something heavy like MDF, the wheels are too soft and tend to flatten if left loaded over night. We replaced the wheels with a larger diameter and heavier duty wheel and the rack works much better but it added about $80 for the new wheels.
We also have racks we built like the one illustrated above. These racks work well but they also need heavier duty wheels. They also take up more room than the Hafele racks and they will hold about the same amount of doors.
After trying the different rack styles, we are having them built at a metal shop. Something similar to Hafele but with a few custom changes, i.e. larger wheels, a little heavier construction, a handle for pulling the loaded rack out of the way in the spray room and a few other minor changes. It cost me $275 to have them built to my specifications.

---
I like the idea of having supports on all four sides. I think I'll add shorter arms on the sides of mine for drawer fronts. Then of course you could add a lazy Susan so that it would spin - when you're done spraying one side, just spin.
---
From contributor J:
The idea was for this rack to be for drying, storage or transport. I think that you would have to keep things balanced and rigged for the most part, depending on how high you make it. I think the base is too small in the drawing. Four swivel casters would let it spin okay with a lot of weight on it. You could always double stack the drawer fronts.
---
I was only kidding about the lazy Susan. Still like the four sides idea.
---
From contributor J:
A drying rack, like all of our shop tools and equipment, jigs and gadgets, must fit our own shop practices, and be required to accommodate our particular set of circumstances. One size (or type) does not fit all. While in the process of determining my personal requirements for a drying rack, I had four considerations: (1) Small floor space requirement (foot print) when not in use (which is a considerable amount of time for me, between finishing chores), yet large enough to handle my usual panel sizes (end panels, doors and drawer fronts). (2) Ease of construction. (3) Ease and smoothness of mobility, especially when fully loaded. (4) Cost.
My typical kitchen requires about 30 doors/drawer fronts. One of my rack spaces can handle 2 or 3 drawer fronts. When my rack is placed against a wall, it takes up 18" x 40" x 68" of floor and wall space. My original intention was to build two of these racks, believing one would not handle my usual work load. This approach would keep them small, yet give me the flexibility to store them in separate areas of the shop, where space permitted. In my shop, when I do finish work, everything else comes to a halt until the final coat dries sufficiently. Miscellaneous tools and supplies get put away and the shop is cleaned up well. The few extra panels (that don't fit on the rack) are easily laid out on top of a couple of MDF sticks, over various flat surfaces (saws, benches, machinery) available. Because of my lack of available space, my ordinary finishing routine is to finish in batches.
Face Frame Cabinetry:
-Doors, drawer fronts, drawer boxes.
-Cabinet boxes and cabinet backs.
-Moldings and miscellaneous parts go in with one of the above batches or are finished last.
Frameless Cabinetry:
-Wood edge banding on front edges of cabinet panels, if required. Wood veneered cabinet panels if any open or glass door cabinets are part of the job.
-Doors, drawer fronts, drawer boxes, and applied end panels.
-Moldings and miscellaneous parts go in with one of the above batches or are finished last.
I havenít felt a need to build a second drying rack for my purposes. Itís no doubt that some will require many and have the floor space to accommodate them.
If money were no issue and I had a little more space, I'd get one of the Hafele racks or have a custom steel rack made. If space was not a concern, buy money was tight, I'd build one just about like contributor J has displayed.
It was from a paint crew (that I watched build a rack, at a remote job site in about 15 minutes) that I came up with the idea to make a similar, mobile rack for myself.

---
I made a rack using two plywood sides (2'x8') and ran a front and back pipe shelf at different heights. It looks like a bookcase 2'x8'x8'. Two pieces of pipe make each shelf. That way the doors barely touch the support and it is very stable against a wall. I used galvanized steel electrical conduit. It's $2 a length and plenty strong. I use it for clamp racks as well.
---
From contributor R:
The only thing I would suggest is to build the racks with one section on each with narrow spacing for small doors and drawer fronts. I had to modify mine because of this. I would also watch that the spacing isn't too close. It makes it difficult to get wide doors on without marking them, and also is great if you're spraying components that are thicker such as mantel tops, etc. You could make racks with wider spacing and deeper supports for larger doors, and narrower and shorter supports for drawer fronts, etc.