Edge Treatment for Aromatic Cedar Plywood
Considering the choices for cedar-closet shelf plywood that won't be finished: edgebanding, solid edging, or miterfolding. December 20, 2005
Question
I'm lining a closet with panels of 3/4" aromatic cedar plywood. Since I will not be finishing the panels, I would like to use an edge tape for the exposed edges that would not need to be finished. I am looking for either a pre-finished or PVC edge tape that looks very similar to the aromatic cedar. I have not been able to find aromatic cedar edge tape. Does anyone have a suggestion?
Forum Responses
(Architectural Woodworking Forum)
From contributor A:
Try cherry - it may be close enough if you can't find cedar.

---
From contributor B:
It is easier to show a picture than try to explain. This is a great way to deal with end/side grain of plywood. If you're really good, and careful - and lucky - you'll end up with grain that wraps right around the corner.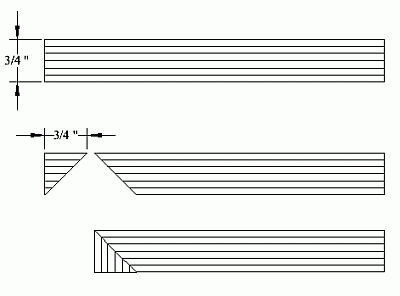 ---
From contributor C:
How about ripping some solid stock 1/4"thick and edging the plywood?
---
From contributor D:
I agree with contributor C on this one. Although contributor Bís method will be good looking if done well, it will only provide a veneer thickness of protection for the corner and is time consuming to do properly. Since you are not finishing the plywood there is no need to finish the edge banding. I never subscribe to any sort of edge tape anyway because it offers little protection to an edge and I have seen a lot of sound workmanship spoiled when it gets chipped or is falling off.
---
From contributor E:
The miter fold won't be durable enough for a closet application. Go with the 1/4".