Explaining to Customers about "Plywood" and "Solid Wood"
Wood movement, quality, perception, and reality in the choice between sawn lumber and plywood. July 6, 2011
Question
I let a customer know that I would be starting on his stained poplar built-inís when the 3/4 plywood came (it was backordered). He was "surprised that any plywood was being used." I told him that the shelves and case of the built-ins would be plywood and the faceframe, doors, shelf edge etc. would be solid wood. Forgive my ignorance but is plywood standard? Do I need to educate my clients better when I meet with them for the measure/quote? Hopefully it is just a misunderstanding, because I have seven sheets of plywood on the way and five other sheets waiting to be cut for the job.
Forum Responses
(Cabinetmaking Forum)
From contributor J:
Yes plywood would be pretty standard for this, but it sounds like your customer had other ideas. What does your contract say?

---
From contributor B:
I'd be more concerned with stained poplar.
---
From contributor K:
I think it's a popular misconception that just because something is custom built that it has to be solid wood. I get that reaction a lot from older customers especially. Most folks don't understand the benefits of using plywood over solid lumber particularly for case parts.
---
From contributor S:
The contract should specify this. I am assuming you do not have one. Make sure your client understands that you are not using and particle board or MDF. Explain that plywood is much stronger and more stable than solid wood. Next time pay close attention to the clients wording. I bet they kept using the word "wood", or gave other hints as to their ideas of a solid wood case. Then explain in non-technical terms what materials and finishes you will use. Finally put it in a contract.
---
From contributor B:
The contract states "All material is guaranteed to be as specified. All work to be completed in a workmanlike manner according to standard practices." There are no specifics such as "Doors will be made of solid poplar" or "sides and backs will be made of poplar plywood" If the contract were more specific it would eliminate this type of issue. How specific do you get?
As for the stained poplar, the entire house has stained poplar trim and doors. Tonight I explained to the client how the built-ins would be constructed.

---
From contributor F:
I make my cabinets out of solid wood. It might be ground up and pressed but it is solid wood. No fillers or bi-products are used, only wood.
---
From contributor G:
I have become accustomed to saying "cabinet grade veneered plywood" instead of plywood because most think of plywood as being CDX for sheathing homes. I also state very clearly that plywood will be used to construct the majority of the "box" and the doors, drawer fronts, face frames and moldings will be solid "choice of wood".
I just had a designer tell me that the cherry cabinets I would be bidding on were going to be solid cherry. I informed her that I wouldn't make the boxes out of solid materials as they would eventually tear themselves apart from wood movement. All the other bids were outrageous because of the conditions and no one mentioned the problems that were likely to happen years down the line. The home owner was savvy to this and was surprised that the designer was specifying the cabinets this way. I won the bid because of my knowledge and honesty.

---
From contributor K:
I disagree that solid wood cabs will tear themselves apart over time. I have removed original built-ins from a home made in 1919 that were still in great shape considering that they were 90 years old. They were made of all pine glue-ups for the cases, then hardwood for the frames and doors. I did not notice any considerable destruction due to wood movement. That being said I do not use solid wood for my case construction. At the very least it would be wasteful of precious material not to mention out of this world costly.
---
From contributor M:
Solid wood construction is totally a viable option providing that clients are willing to pay absorbent amounts of money to have it built that way. There are many pieces of furniture built in the 1600 and 1700"s that are still solid. Proper knowledge of joinery and techniques must be used such as dovetail and M&T joints. Is this necessary for built in cabinets? Like was said probably a waste of good expensive material. I think the main problem is people expect "furniture grade" construction for certain typed of cabinetry and build-ins, but they only want to pay the price of a MDF or particleboard piece.
As soon as you say MDF or particle board they automatically think cheap china made goods. As we all know even if we make a good quality piece using these materials, the client cannot perceive a difference.

---
From contributor S:
No question that solid wood casework is possible, but it sucks. The chances that it will remain flat and square over the next ten years are near zero. Those examples of beautiful solid wood furniture from 80 years ago had crappy wooden slides and overlay barrel hinges. No full extension, soft close, self close or any other features now considered standard. As you guys know modern hardware has very tight tolerances. Most slides will only tolerate 2mm of deviance from the specified installation values. The seasonal movement of solid wood will wreak havoc on modern hardware.
---
From contributor O:
I have shop furniture that has been extremely durable, and the drawers are made from pine with box joints and wooden runners. The case is ply but the rest are solids and you would be surprised how easy they glide even with 30 lbs of tools in them. Solid case work wonít bust itself apart unless there are cross grain or serious moisture issues. Itís all in the hands of the craftsman and end user. Almost anything that is abused wonít last.


Click here for higher quality, full size image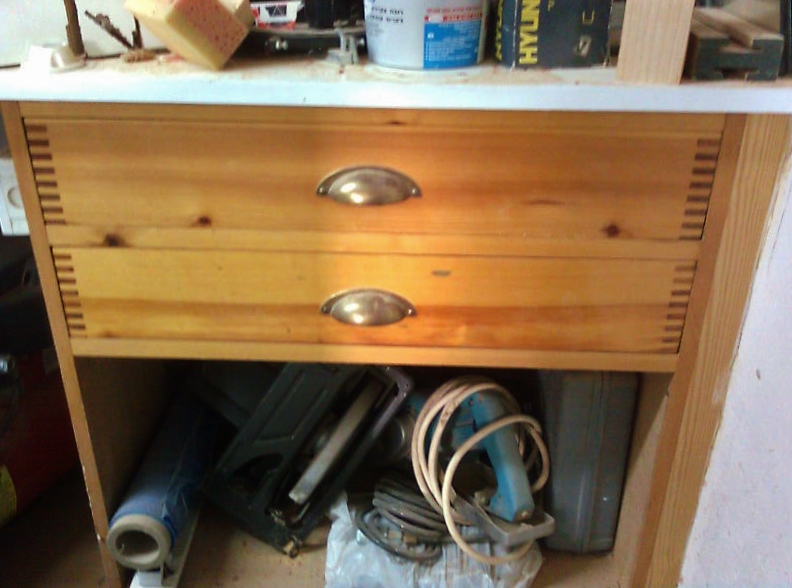 Click here for higher quality, full size image