Exterior Kitchens
Tips on materials and methods for building outdoor kitchen cabinets. April 8, 2008
Question
We've been asked to make a kitchen outside under shelter but open to warm, hot, humidity, cold, and extreme cold. My customer would like it to be stained. Has anyone done this type of project and if so, what type of lumber and plywood was used that will hold up outside?
Forum Responses
(Cabinet and Millwork Installation Forum)
From contributor T:
Ipe, teak, genuine (not African) mahogany, cumaru or painted MDO.

---
From contributor F:
Don't forget marine grade plywood for the carcass.
---
From contributor M:
I did one last year, and I used marine ply and Spanish cedar for the lumber. The Spanish takes all the moisture you can throw at it, and it is decent to work with. Use Gorilla or other brand polyurethane glue for your glue ups, and you should be in good shape. By the way, this project was on the Connecticut shore, across the street from the beach, so this home gets all the elements: salt air, sun, wind, humidity, cold in winter, etc.
---
From the original questioner:
Did you use the marine ply as a finished end? I have several in this layout.
---
From contributor M:
I used the Spanish in a frame and panel construction for the finished ends. The job was installed with the lumber primed, as the homeowner wanted it hand painted. I suppose the marine ply would not be very attractive as a finished end, if it was to be stained and or varnished, though I could be wrong. The only time I have ever varnished marine ply was for some boat decking, and that was with a clear epoxy, and it looked okay. I mounted everything on leveling legs which were basically stainless steel lag bolts drilled in to the wood from the bottom. This gave me something to level the cabinetry with, and kept the wood from being in direct contact with the stone patio we set everything on.
---
From contributor C:
Here is one that I finished recently. Solid teak panels and face frames with marine grade ply for the carcass. Good bit of money spent to flip burgers, but I really enjoyed this job.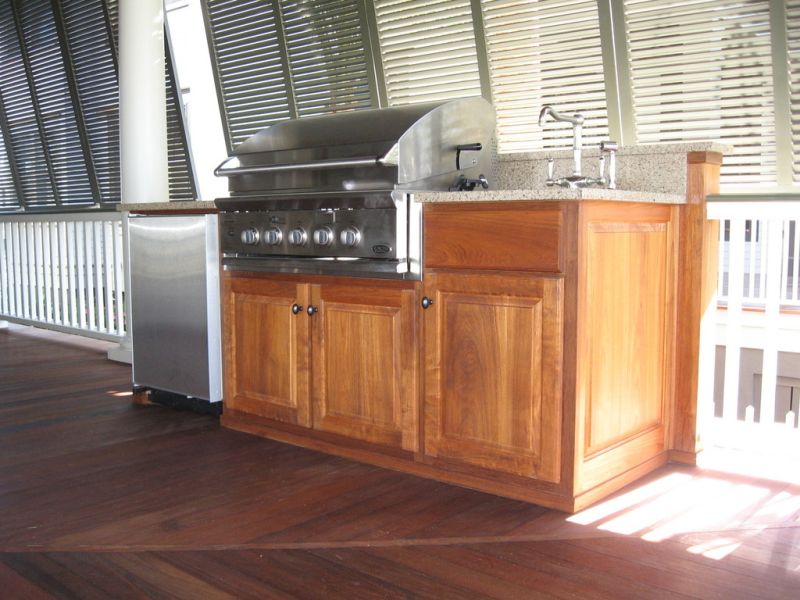 Click here for higher quality, full size image
Photo by Chris Cobb