Extra-Large Exterior Plank Entry Doors
Some suggested methods for making large plank doors. October 11, 2007
Question
I would like to make a slab door with V groove to match the picture. Total size 48" X 84" X 2 1/4" thick and maybe Douglas fir? I'm not sure yet but I would like some input from someone who has made a door of this size. Also, how many ball bearing hinges would you recommend? Thanks for your time.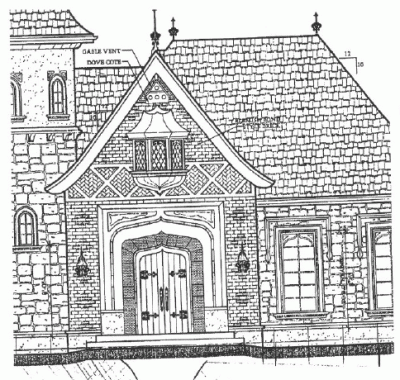 Forum Responses
(Architectural Woodworking Forum)
From contributor G:
Anything is possible... but way too many unknown variables to give a definitive answer here. Do your homework on engineering/design/best methods of construction, exposure, and materials considerations, and you'll probably be okay.

---
From contributor D:
We build doors like this and larger everyday, as we have for many years. We also replace several doors a year where somebody "figgered it can't be all that hard." Those are the tough ones because the owner is mad as hell, and they have nothing for their money.
Think about sills (stone, tin, wood, etc.), weather-strip (leaf, rabbetted, foam, etc), hinges (finishes, placement, type, number, etc.), latching, accessory hardware, construction details, species, finish, and so on. This door has to do a lot more than make it out of your shop.
If you don't have direct experience making such doors, I suggest you sub it out to a shop known for this kind of work. There is more than meets the eye. Or start with interior doors, and build your way up. There will be many that advise you to go ahead and do it, but I suggest you listen to the people with real world experience. Just because you can doesn't mean you should.

---
From the original questioner:
Thanks for your input. I have built several interior and exterior doors over the past 8 years and have not had a single one fail. Thanks for your concern, but I am looking for any tips on construction and how many hinges you would recommend, as this would be the largest single door I have made.
---
From contributor S:
1/2" steel plate with the wood in the pattern of your choice epoxied to the surface! I really don't know the best way, but I will kick some ideas around with you. I have installed similar doors that were salvaged from a demo job. While they were installed as fully functional, they were on the interior of an entrance and really only for decoration. I would guess that there are good books or articles out there that would be good reading for someone ambitious enough to attack such a project.
---
From contributor G:
I would build the frame out of 1 1/4" material mortise and tenoned together or half lapped, if that works better for you. Use a good number of rails. Then install foam between the stiles and rails. Glue 1/2" thick T&G over the frame and foam with urethane glue. You may want to glue a piece on the vertical edges to cover construction details and make install of hardware and hinges easier. Number of hinges would depend on hinge stile and weight of door. There are a lot more bugs to squash on this project.
---
From contributor M:
I build doors like this every day with no problems. I use a 3/4" MDO core with 3/4" tongue and groove glued to it with a vacuum press. Then I band the door with a 1/2" X 2 1/4" double beaded edge. I build these doors from mahogany, Spanish cedar, cypress, qtr sawn white oak, and whatever is specified. I have never had a call back on a plank door.
---
From contributor Y:
Contributor M, just curious on your method. I have built a few doors this way in a press, and we did have a couple doors once that the skins curled up on the edges. It was white oak, and actually tore the MDF apart. The glue did not fail but about 1/4"-3/8" of MDF pulled apart from the force. The facing was 1/4"-3/8" x 5" wide white oak. They were interior doors. Just curious on how it would work for exterior doors, or if the 3/4" planks are more stable with less pull or movement than 1/4". We have done this successfully with Baltic birch core, doubled up and running cross grain as a core.
---
From contributor M:
Definitely not MDF. Use MDO - it's the exterior plywood with the paper face. Good and stable.
---
From contributor W:
The picture shows a pair of doors. So does that mean you want to build a pair of 2'0" x 7'0" doors?
---
From contributor B:
As for the number of hinges, 3 or 4 would be sufficient, however the size will be important. A 4" home butt hinge isn't going to work. Look online at some of the Great Lodges - you might find some ideas there.