Fabricating Two-Inch-Thick Hollow Shelves for a Built-In
Ideas on making thick hollow shelves to contain wiring and puck lighting. January 28, 2009
Question
I'm bidding on a job that will be a wall unit with open shelving made up of 2" thick panels. The panels are hollow to run wiring and house puck lights at the bottom of the fixed shelves. This will be a very straight contemporary design, painted, with both fixed and adjustable shelves.
How are the 2" thick hollow panels typically made up for this type of design? I would prefer to use plywood instead of MDF if possible for weight reasons.
Forum Responses
(Cabinetmaking Forum)
From contributor K:
If you are talking about the shelves... torsion box. If you are talking about the carcass... think of a hollow-core door, but make sure you have solid wood where the shelving standards/pegs are located for strength.

---
From the original questioner:
Thanks. I'm talking about carcass and shelves. How about 1/4" veneer ply skinned over a hardwood frame/lattice?
---
From contributor P:
I just finished a home office with 2" thick shelves on all the uppers. Here's how I built my adjustable shelves: 2 pieces of 3/4 ply with a solid 3/4 x 2" edge (maple in my case). Pocket screw one piece of ply to the solid edge. Glue and brad nail 1"W x 1/2" spacers along front and back edge. Glue and clamp second piece of 3/4 ply to spacers and solid edge. Flush trim the solid edging. Kind of like a poor man's torsion box, but way quicker to make, and probably just as strong. Bonus is that when viewed from the side, you can see through it, giving you a 1/2" channel for running wires.
Carcass was a different story. One big face frame, 3 boxes pocket screwed where possible to face frame. Where not possible to pocket, I glued, clamped and attached cabinet sides to adjacent sides using trim head screws hidden in shelf pin holes. No lights in this one, but I've done them on other ones.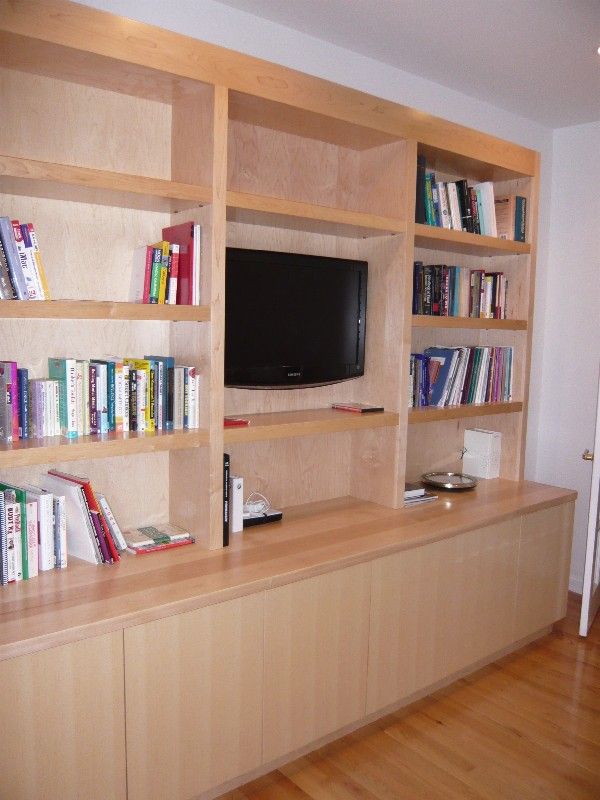 Click here for higher quality, full size image