Fast Glue for Miter Joints
New fast-setting adhesives are a great tool for trim carpentry, and these photos demonstrate how strong they are. May 20, 2006
Question
Has anybody used FastCap's 2P-10 glue, which is supposed to bond in 10 seconds? I was thinking about using it for crown mold so that I could get nice square corners without nail holes to fill.
Forum Responses
(Adhesive Forum)
From contributor D:
I use miter bond, which is essentially the same thing. It works great - I love the stuff.

---
From contributor B:
The process is da bomb, regardless of manufacturer. There's a bit of a learning curve - how much glue/accelerator for various materials (like anything else). It's a bit expensive, but definitely ups the quality, and saves time. I wouldn't go into a trim job or an install without it. I use it in the shop, too, for quick repairs of splinters and small splits. Dang strong, too.
---
From the original questioner:
What are the names of this glue and who sells it? Sounds great for crown!
---
From contributor G:
You can find the FastCap 2p-10 glue on Amazon and a few other online stores. One out of PA is cdmcabinethardware.com. Also check out the FastCap website to find retailers in your state. The glue works great!
---
From the original questioner:
Thanks for all the info! I hate crown, but seem to get so much of it lately. This should make it a little more bearable. I always get pre-finished crown and it's very tedious work.
---
From contributor K:
Just got my 2P-10 kit yesterday and happened to have a kitchen to crown today. The 4" crown was pre-finished cherry with a glaze, which doesn't look good with any filler. Great stuff! Really don't know what I was thinking before the 2P-10. I bought the kit with the medium, heavy, jel, debonder and activator for $36. I thought it was pricey for some super glue, but it paid for itself just today, and a perfect job.
On one section that wrapped around a corner, 7 feet by 7 feet (outside corner), I glued up the two pieces before putting them up. I had this 7x7 "L" of crown sitting on the counter. I also had my 23 ga pinner on the same counter. The other installer caught the air hose with his foot. The glued-up piece crashed to the tiled floor, but the corner held perfect. Truly strong bond in seconds.
The photo is a 1x5 of poplar I glued up tonight (about 3/4" overlap). I tried pulling it apart after 20 seconds and couldn't. I then pushed down on a table and had my wife push the other end. Snapped the wood but not the bond! It will change the way I work.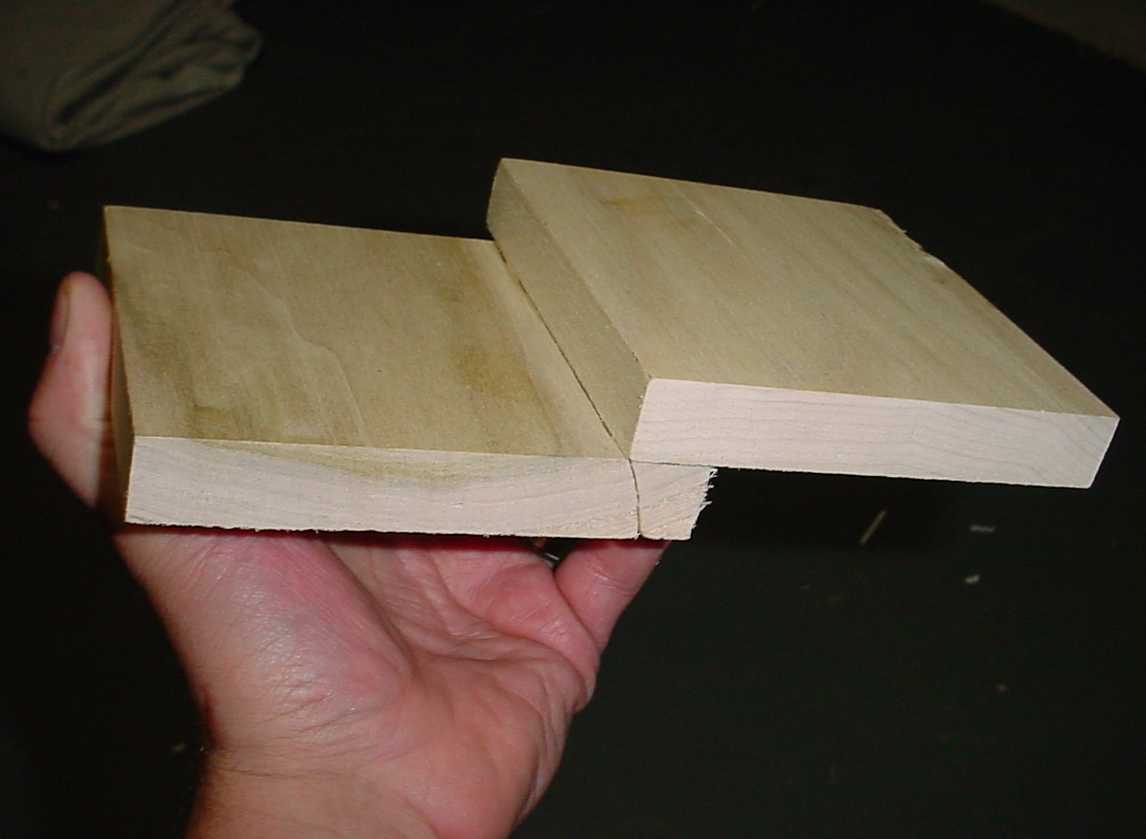 ---
From contributor K:
Where it snapped... When I went to knock that remaining piece off again with a hammer, about 1/2 the joint held again and took off more splinters. I'm sold.