Fat Cabinet Sides and Shelves
Details for built-in shelf units with extra-thick built-up sides. May 14, 2006
Question
Some of my clients are asking for wall units with sides and shelves 1 to 2 inches thick, both in painted and stained veneer finishes. (Picture contemporary stuff with square edges and fixed shelves that are flush with the front of the cabinet sides.) I've built them using built-up MDF with solid wood edging, doubled-up plywood with fat edgebanding and torsion box shelf construction. The appearance is generally okay, but it requires a lot of work to get there. Also, the end products are way too heavy (except the torsion box stuff). Anyone aware of new sheet good products or techniques that could help?
Forum Responses
(Cabinetmaking Forum)
From contributor J:
I built a couple of thick pieces like what you are describing but with more elaborate built-up moldings on the front awhile back. I needed to get uprights 2" and 2-1/2" thick, so I glued up two sheets of 3/4" with ply spacers between. Then I glued the solid wood to the front and added moldings. I think next time I will use 5/8" skins, just enough depth for the shelf pins, and will save a couple more pounds.

---
From the original questioner:
Thanks. Did you dado any shelves into the cabinet sides at all? I'm thinking about how you would attach fixed shelves. I guess you could screw through the 2 plywood skins as long as there's a spacer at the screw location.
---
From contributor J:
I didn't attach any shelves on either project. Both were adjustable shelving units. You could probably attach the same way I assemble the cabinet, though. I used biscuits to assemble the uprights to the sides, which should work for shelves also. You would just have a more complicated glue up. If the cabinet side is not exposed, I reinforce the joint with screws. If it is not exposed, I usually leave the biscuits to do the work, as they are pretty beefy by themselves. If it is going to get a lot of abuse or weight load, you could always screw and plug. Run the screws through the spacers. I used three spacers on my 24" deep uprights and two on the 12" units.
---
From contributor B:
We did an entertainment center like that. Used 1 1/4" ultra light MDF, laid up with veneer by our supplier. Doweled joints, using our assembly boring machine and case clamp. Fast to build, and using ultra light MDF really helps keep the weight down. Still, it took two guys to install it.
---
From the original questioner:
Did you have fixed shelves in the unit? If so, were they also dowel jointed in? No dados, just butted to the case sides with dowels? Did your supplier veneer the edges as well? Even light MDF may be too heavy. Each section of the current piece I need to build will be approx 84"H x 60"W x 13"D, with 3 vertical sections, each with half a dozen fixed shelves.
---
From contributor B:
Only dowel on fixed shelves too. We edged the material after sizing the parts. Here is the shop drawing of the elevation. We built it in 4 parts - the two bookcases on the sides, and the center part was two pieces. The depth was 12 inches on all bookcases, the bottom center part was 22" deep for components. It also had two sliding panels that hid the TV, and slid over to the side in front of the bookcases for watching the TV.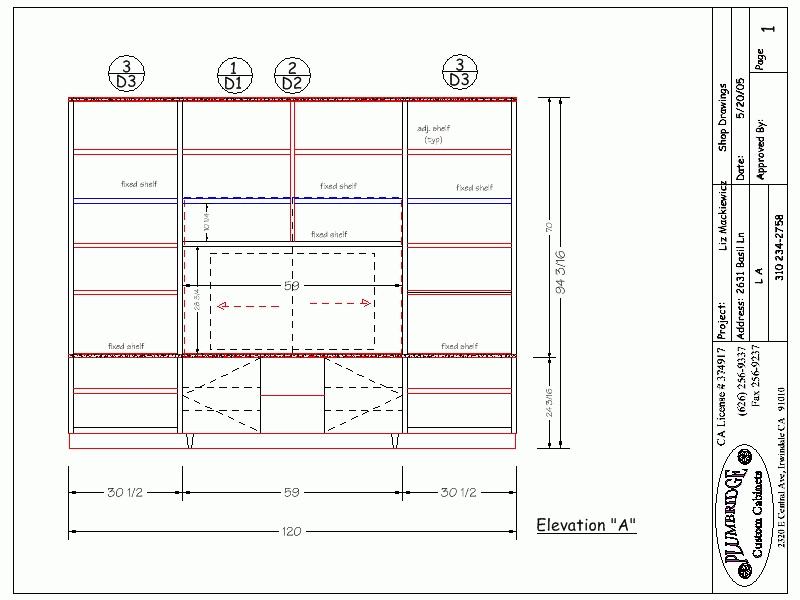 Click here for full size image