Fine-Tuning a Black Stain for Mahogany
Pros discuss a few extra touches for a black finish on mahogany. April 19, 2006
Question
I have a client that wants to stain mahogany black. I made a sample using ML Campbell wiping stain with vinyl sealer and semi-gloss precat lacquer. They love it, but I think it's a little plain. How can I make the finish more interesting to look at?
Forum Responses
(Finishing Forum)
From contributor M:
How about coloring in the grain? You could use either stains for color only, or a paste wood filler to fill and color. You could add a tint of a color to the black for a subdued contrast, or you could use many other colors to create a decorative finish. You can do this on the tops only, or wherever you want.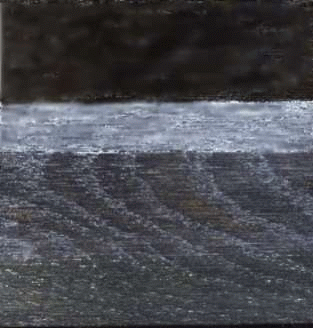 ---
From contributor B:
Why would they want it stained black? Try soaking it in tannic acid, then mix a batch of vinegar/steel wool.
---
From contributor J:
First, spray on black dye. Then apply black wiping stain for the pore. 1 coat of sealer.
Scuff 280. Topcoat.
---
From contributor B:
Black dye won't do it.
---
From contributor O:
I like the suggestion of adding a background color (red? purple? brown?), which will make the black richer. Easy to prep the samples and not really more work - a good way to give them choices without having to put more in the project. You could also layer the color with toners made with dyes so that the piece has a lot of color shift at different angles, but that sounds like a lot of experimenting.
---
From contributor V:
Actually, aniline dyes work great. I have used them on a lot of things over the years, though not my first choice if I don't have to. It will even color maple without blotching. You can use it kind of like contributor M suggested, only you can apply a coat or two to get the desired color and then lightly sand with 220-320 (with or without sealer). If done right, you will only lightly take the stain off of certain grain patterns, kind of like doing curly woods. Then add the same dye with different color added. Works great.
---
From contributor M:
One of the problems with black dyes is the color of the wood you're working on. A lot of woods will show their color right through the black dye. I then make up a thinned down black pigmented shading stain to bring the color to black.
---
From contributor C:
A little distressing and/or slight rub through will liven it up a bit. You might also try a very deep brown/near-black tint. Sometimes a bit of distressing with some glaze hanging in the depressions is very nice, too. Otherwise, try a stained finish with the black thinned to slight transparency as an overcoat.
---
From contributor M:
Here is one finish you may want to save in your finisher's notebook:
Related article: A Mysterious Metallic Toner Finish

---
From contributor R:
I'm with Joe Binder. I've done miles of black mahogany this way. Fast, easy and it still shows the character of the wood. If necessary, you can also add a little of the black dye to your finish to make a shader to help even out any color irregularities. The dye being semi-transparent, it won't muddy up the finish. You can also experiment with brown/black dye and wiping stain variations to get deep espresso type colors.
---
From contributor D:
These are all wonderful ideas, but didn't the customer say that they love your sample?
---
From the original questioner:
This is what I have decided to do. Red dye sprayed pretty heavy, really red. Black wiping stain, then glaze with burnt umber. Seal and topcoat. I am working on some samples. The background red shows through a little after applying the glaze because I am scrubbing the glaze off really hard. The glaze is hanging up in the pores and giving the sample a much richer look than the original plain black wiping stain.
---
From contributor W:
Anywhere in the process are you sealing?
---
From the original questioner:
I will seal after the glaze. Talked with my rep this morning and he agrees that we can stain glaze, then seal. Wait at least 1 day between glaze and seal coat. I will wait longer because the job is a big one and I will have days between glaze and seal coat.
---
From contributor J:
Should be a good looking system. I would be a bit concerned about your sealer adhesion to the wood. Is the sealer going to adhere to the wood with dye, stain, and glaze? You might want to consider doing vinyl wash coats in between.
---
From contributor M:
Be sure you first make up complete samples. I suggest that when you go to seal or clear coat over the glaze, you start by fogging or misting before you apply your flow coats.
---
From the original questioner:
I thought about sealing between the stain and glaze but I was worried that I might fill the grain too much. The wash coat is a good idea. Do you think I really need the wash coat in order for the glaze to stick to the wood? If I let the glaze dry for 2 + days, do you think there would be any adhesion problem without the wash coat? I use a vinyl sealer under the pre-cat Magmamax semi-gloss.
---
From contributor W:
I wouldn't even think about doing a glaze on top of stain coat unless there was some sort of sealer there. I have never done a glaze on top of stain without it or even heard a rep say as much.
---
From contributor M:
The main reason to seal over the stain is not to alter the stain's color from the colored glaze. The sealer will protect the stain's color. This also applies to your colored toners. In rare cases, it is done to kick the stain's color over to adjust it, then it is sealed. You can brush the glaze out, until you see no more color. Once you apply a coating over the brushed out glaze, the dry color will pop right out.