Finishing Tricks for Edgebanding
or, how about this nifty drum rig? July 3, 2008
Question
We are using unfinished bamboo edgebanding on the front of melamine boxes and cabinet parts. How would you suggest we finish the edgebanding? We spray a waterbased finish. I'm not sure if we should finish the edgebanding during cabinet construction or when we are finishing drawers and doors.
Forum Responses
(Finishing Forum)
From contributor R:
Stack 'em, clamp 'em, and spray 'em.

---
From contributor O:
I finish after glued on. Stack similar sized pieces, outside up, and spray.
---
From contributor M:
I agree with the other two posts. You will get a better film build, less masking and overspray. Let alone labour savings.
---
From contributor G:
One small tip... If the edgebanding edge is not buffed or slightly eased with sandpaper, the finish film can bridge the panels when they are stacked. You don't realize you have a problem until you try to unstack them. I do this all the time because I don't like to try and pick a matching PVC edgeband. I always run a sanding block on each edge as I stack them. It's the price I pay because my CNC guy doesn't have a high dollar edgebander.
---
From contributor W:
There are a ton of different color PVC tapes out there, and that is the first and best way to go. If you have lots of samples of colors that match your PVC tapes, people will generally pick what they can see and touch. For the remaining few that are inherently difficult or for the odd wood species that does not have a good tape match (like cypress) we use the drum in the picture. It is 36" x 36" and will hold about 300ft of tape. We simply roll it onto the drum and finish it like anything else. When the finishing is done, we roll it back up and run it through the edgebander. One of my guys made a little spool that attaches to a drill to reel it up. It works really well and is much faster than having to re-handle parts over and over.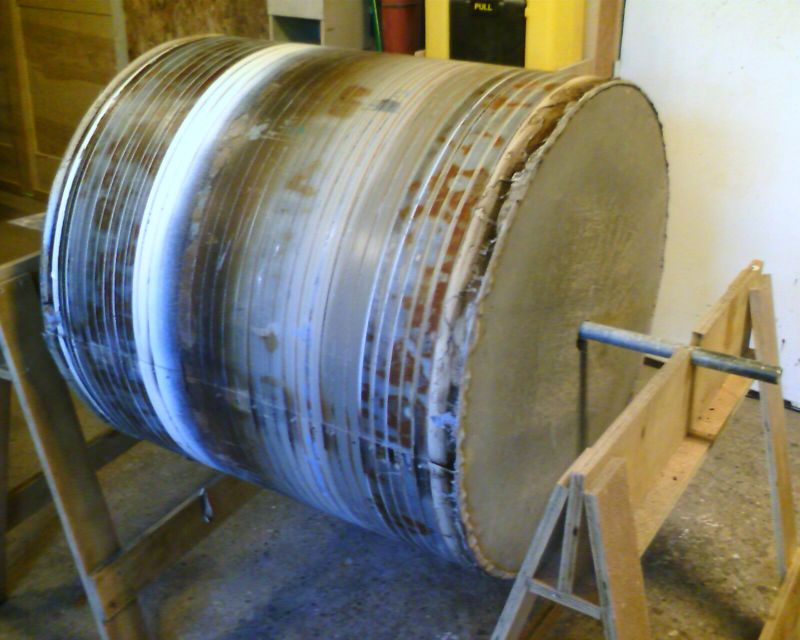 Click here for higher quality, full size image