Finishing a Black Walnut Slab Table Top
Finishers recommend hand-rubbed natural oils for a rich, deep finish on beautiful walnut. December 30, 2007
Question
What's the right finish on a black walnut slab table top? I'm going to use it in our showroom as a plan table. It's going to have natural bark edges and it should be a clear finish. The ones I've seen look to have a nice thick clear finish and the bark seems to be finished nicely as well. It's not going to get much use, but it will be a focal point of our showroom, so I really want it to look good.
Forum Responses
(Finishing Forum)
From contributor R:
My opinion is that that type of pour-on finish looks cheap. If it were my table (slab), I would just maybe wire brush the bark edges and then wet sand many coats of Watco Clear Oil onto the surface. This finish may take some time to achieve, but the overall look is beautiful.

---
From contributor P:
If it's air-dried, I like all the little red and green and blue lines, and darker oils tend to make them go away, so I prefer walnut oil or any other light colored oil. If it's been kiln dried, then I tend to try to richen it back up, using a darker oil or shellac. I'm no big fan of wrapping wood in plastic, especially with a live edge, so oil and wax would be all I'd do. You might consider taping off the bark and spraying that with lacquer or poly, though. It makes it a lot easier to keep clean, if that's important to you.
---
From contributor D:
I am with contributor P. I don't like plastic looking either. I would hand scrape the slab with a card scraper, then oil and wax. Below is a picture of a matched walnut crotch table top we hand scraped, beveled edges, lightly dyed, tung oiled, and then waxed with a mixture of citrus solvent and pure carnauba wax.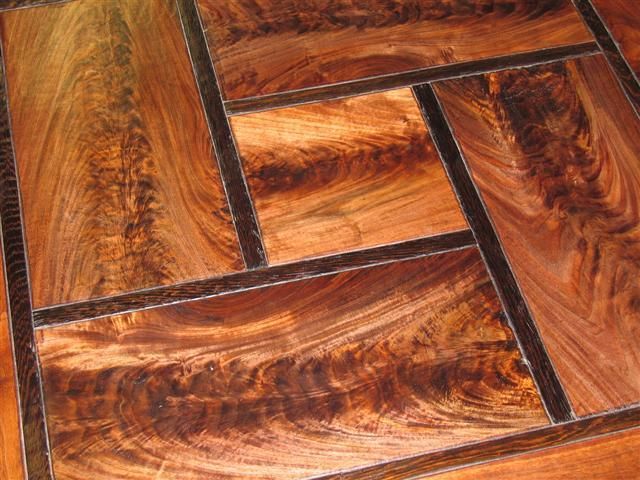 Click here for higher quality, full size image
---
From contributor C:
Being an old timer, I would recommend a friction polish finish which is very thin but looks a mile deep, easy to repair or maintain. The type of finish done on fine antiques. Not using shellac, but sandarac, a clear, light colored resin tempered with spike lavender oil for elasticity.