Finishing an Outdoor Cedar Log Bench
Advice on a durable outdoor finish for a half-log bench. August 30, 2007
Question
A customer wants me to build her a log bench to be used outside. I don't have a problem building the bench, but she wants a lacquer or clear varnish applied so that she can see the grain. I have been told that in my area (Southeastern Virginia), you need to put something on the wood that will protect it from the UV rays mainly. I was thinking Spar 440... maybe? I was told to leave a 2-3" strip on the bottom of the log uncoated to allow for moisture escape and checking... True or false? I was planning on making the legs out of small cedar limbs (3-4" diameter).
The log is Eastern cedar, stumped Dec. 2002, halved by me Feb. 2007. Moisture content averages 15%. I am a cabinetmaker and I mainly deal with dry lumber and square corners.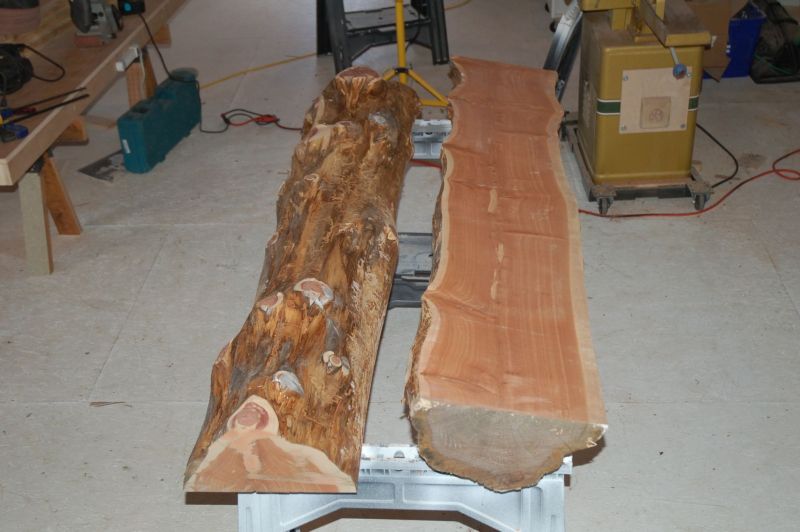 Click here for full size images
Forum Responses
(Sawing and Drying Forum)
From contributor K:
You might want to coat it with the epoxy used to build wooden boats. It is clear, can be finished over with spar varnish or urethane, is made to deal with water (completely waterproof) and resist weathering very well. I finished a prop for an airboat with it. It sat outside for eight years and still looked good when I sold it Saturday. All it had on it was clear Krylon and the wood grain was vivid. Also, I would finish it completely, or else the wood is going to move a lot with changing humidity.

---
From contributor R:
Red cedar is pretty forgiving. I wouldn't worry about it moving too much.
---
From contributor A:
MinnWax makes a Helmsman spar poly with good UV blockers and it is outdoor rated. Three coats does well at sealing it. The thing I have noted in building several hundred of these is the sealer needs a very good UV blocker and to be oil based.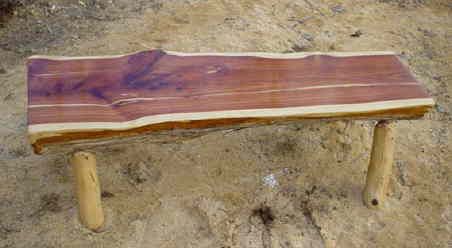 Click here for full size images
---
From contributor J:
Great bench. I'm as ignorant as dirt, but a thought keeps firing on my two-cell brain. Would tung oil or linseed oil, many coats, preserve the wood and seal it? Then reapplication wouldn't require stripping varnish off...?