Fireplace Surrounds in Perspective
General advice on building and/or installing fireplace surrounds for a first-timer. It's nice work if you can get it. February 18, 2007
Question
I have a customer that wants a fireplace surround, and this would be my first time doing this. For those of you that have done this, do you purchase them pre-made and install or do you do it from scratch? Some that I have seen in catalogs are pricey. Can you provide some ideas on typical pricing? My sense is my profit margin will be higher to build from scratch.
Forum Responses
(Architectural Woodworking Forum)
From contributor L:
If you/they think the catalog ones are pricey wait until you show them a custom made price. Mine start at $35 sq ft (including the firebox hole) and go up from there. What you get for $35 ft is simple, relatively plain and paint grade, not finished but primed and installed.

---
From contributor J:
I would agree with Contributor L. I have built a bunch of them over the years, but always as a small part of large jobs. And I much preferred to simply install if it was a "stand alone" situation.
Unless you can use moldings that you have lying around from previous jobs, and don't have to order appliqués etc from Chicago Decorators, and don't have to set up shapers for 12' runs of 4 different moldings - it's tough to make money on them without really, really charging. And the lady of the house always thinks the mantel is too high - even though it is only 1/8" higher than minimum code height.
Contributor L's starting price is extremely reasonable and I bet he has not built very many at his starting price either - except as part of a larger job. Of course it all depends on where you are. But they are fun to do from scratch, and will look good in your portfolio if you keep one. So I would say go for it, if for no other reason than the experience.

---
From contributor A:
Mine start at roughly 1K. Most have been in the $1500 to $2000 range. I have done some that were built, rough sanded, and the rest of it was up to the customer. I think they start around $750 for a simple one. I have found fireplace mantles to have a pretty good profit margin. Just make sure you follow any fire codes when you build and install fireplace mantles.
---
From contributor T:
Fireplace surrounds are fun to design and build. You should be able to provide a decent custom surround in 'paint grade' that does not have to break the bank. Some pre-made units are very nice but you do pay for the convenience of only having to install it. There is another reasonable source for surrounds if you have the time to look at the 'antique' or second-hand 'novelty' furnishing outlets.
---
From contributor S:
I completely goofed on converting field dimensions into shop drawings and have this brand new uninstalled fireplace surround for the low price of $1,000 FOB. It's solid walnut construction with light distress. The legs and pediment hollow are in back so it can easily be scribed. The inside opening is 52 in wide and 42 tall.
To put things in perspective for you the one we actually installed (that was the right size) we charged $4,500 for. Don't sell yourself short on it. Ditto on what was already mentioned about all the set up time to make multiple short runs. If you can buy the trims and components and just make the sub structure you will be much more cost effective than building from scratch. Of course depending on details and wood/finish you may have no choice but to build it from scratch.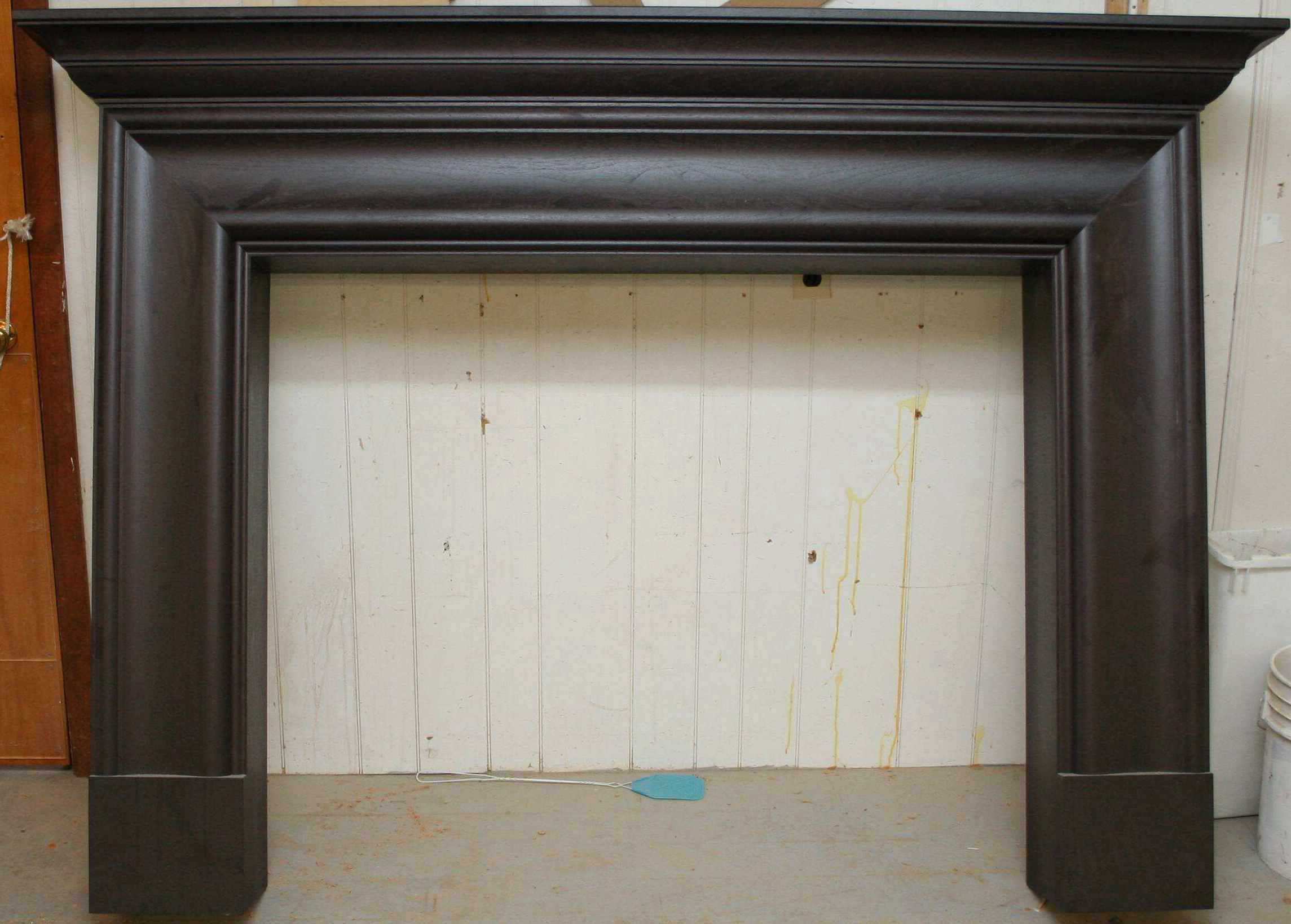 Click here for full size image
---
From contributor A:
Nice mantle. Did you paint walnut?
---
From the original questioner:
It turns out this is an unusual location, the firebox is very close to the corner so I think all that can go in is a mantel shelf.
---
From contributor S:
It is a dark brown/purple stain. It looks pretty good in the right lighting.
---
From contributor L:
Don't fear about your leftover mantle. I made a fancy mantle 15 years ago and the homeowner went bust before I got it installed (phew). It sat in my basement for 7 years, got a little mold and I bleached it. Then amazingly I found a home for it. The perfect opening size and I brought it there and the client loved it (of course). I certainly didn't make much money off of it but it was almost no work for me. I just added a key and an upper panel area. I was disappointed to hear they were moving out of that house, until they called and said we have more work for you. Save it for a while, you'll find it a good home.