Frameless Cabinets With Traditional Look
Achieving quality and style with framless construction. April 4, 2004
Question
I read in a book called "Cabinet Procedures For Small Shops" that it's possible to build traditional-looking cabinets using the frameless system. Can anyone provide more details?
Forum Responses
(Cabinetmaking Forum)
From contributor S:
I think that is in reference to using raised panel doors. Frameless has been associated with commercial units - laminated slab doors, etc. Are you looking to build frameless cabinets? How exactly can we help?

---
From contributor R:
I think what they mean is if you make a face frame cabinet, you set the inside edge of the FF flush with the inside of the box and use Euro hardware. The only real trick to this is drilling your line holes before you attach the face frame; not very hard if you remember to subtract the FF thickness or just throw a stick of the FF material in to use as a spacer.
---
From contributor M:
What are you calling traditional?
---
From contributor A:
Not sure if this is what you mean. This is frameless Euro construction. We use doors with applied trims to give the illusion of frames.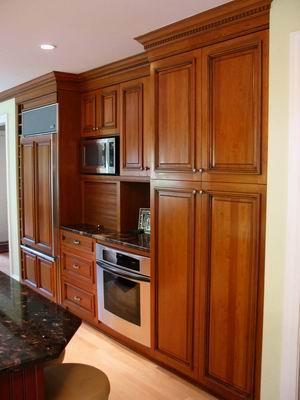 ---
From contributor A:
Doing this and using multi-piece crowns and light rail mouldings adds a lot of depth to a piece that would have been much simpler looking if it was just regular raised panels. Overall, it has a traditional feel with all the conveniences of Euro construction.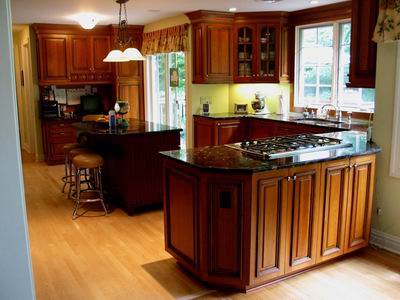 ---
From contributor C:
There is a book by Jim Tolpin called "Working at Woodworking." He describes in depth his method of making frameless cabinets look more traditional with the use of pilasters between cabinets, light rails and various applied moldings. He did this in a very small (two car garage size) shop.
---
From contributor N:
What category does the kitchen in the pictures fall under - mid or high end? I want to clarify what's happening over there, since I'm on the other side of the world.
---
From contributor A:
I consider this to be high quality, mid range in our area.
---
From contributor T:
What the heck is high quality mid range? You made that up. That is high end cabinetry simply because it is fitted wall to wall and floor to ceiling. The finish mouldings and granite tops make it high end and I would guess $23K? If the two pictures are the whole thing. Well?
---
From contributor A:
Yes, I made it up. What I mean is high quality custom built-in. What I mean by mid range is that we do custom jobs that are not as detailed and smaller, and we do jobs that are much larger with more details, multi-step enamel glaze finishes, with all the bells and whistles. Big fancy hood, 60" Viking. You know what I mean. The mid range refers to the size and scope of the job, not the quality put into it.
This kitchen is going on 4 years old. The cabinetry built and installed was $27,000; with the granite and appliances and hardware I am guessing it was $40,000- $50,000? Didn't do granite or appliances, so not sure.

---
From contributor Y:
Would you be willing to give us some details on how you did the crown detail on this frameless job? It's a very nice look!
---
From contributor A:
As luck would have it, I still have the original sample. A little beat up, however. The sample didn't have frieze mounted to it. It is the detail FR1-B.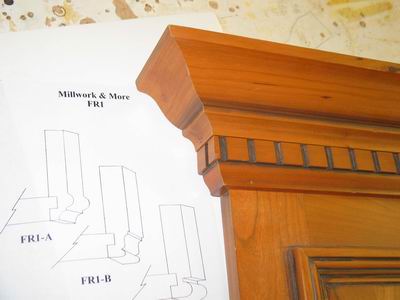 ---
From contributor A:
I zoomed in with Adobe, so it's a little grainy but you get the gist.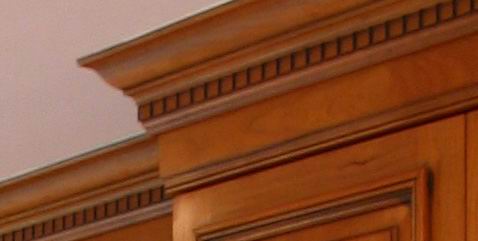 ---
From contributor Y:
Do you put another panel on top of the cabinet boxes that you attach the front face board to that goes to the ceiling and do you have 3 mm reveal at the top of your Euro boxes? I have been building ff cabinets for 18 years and this design for crown for Euro cabs is by far the best idea I have seen yet.
---
From contributor S:
How do you treat the corner where a finished panel meets a door? Do you bring both to within 3mm of the edge, overlap, or what? And how does the freize board tie in with these? It's a good look.
---
From contributor D:
We make a door with a second exterior frame, square inside or beaded. The door and beaded frame are tongue and grooved together so they are one piece. Used on a frameless case in full overlay it looks like a beaded inset. Door-Master since 1966. We are located in New Jersey.