Free-Standing Spiral Stairs
A long and winding thread about winding stairs. April 29, 2010
Question
I have a freestanding curve stair to build for my client. It will be an all Brazilian cherry and open stringers on both sides with an inside radius of 47 inch and outer radius of 94 inch, stair is 170 degrees. My question is how thick and how wide do I have to make the stringer on the larger radius (which would be about 25 feet long)? I know the inside radius would be well supported. I have done this before but always have a little deflection. Also, what would be the best glue to use for Brazilian cherry? Any advice would be appreciated.
Forum Responses
(Architectural Woodworking Forum)
From contributor L:
First, I have to ask how much experience you have with Brazilian cherry. Itís tough to work with. Are you planning to veneer stringers with it or are you thinking of using it for the core of the stringer as well as the outside faces?
I know a lot of guys like to make stringers out of wood, but in these parts, I sub the structural part of a free standing curve to a steel shop. Deflection is not an issue, nor is engineering. You didnít mention what part of the world youíre in, but again, around here the building department has a lot to say about things like stringer size. They want to see an engineer's stamp on the plans. When I order the steel stair structure, it comes out with plywood treads, risers and has a 1/2Ē ply face on the outsides of the steel stringers. It works very easily to veneer over the ply stringers. Speaking of engineering, is there going to be any sort of intermediate support?
As for glue, I use Plastic Resin anytime I do a curve regardless of wood species. Be careful to not let much time pass between milling and gluing. One thing you didnít ask about but Iíll pass along anyway, that material is very stiff. It will have to be very thin to bend. Itís a tough to mill, especially with the widths youíre talking about for stringers. Among other reasons Iím not a big fan of it is that it eats knives worse than teak.
If it were me, Iíd suggest alternative species and possibly bring in a really good finisher to match whatever your client is using elsewhere (probably flooring.) Maybe you could use it for treads and risers, use matching veneer on the outsides of the stringers if theyíre wedded to the material. At the very least, Iíve learned the hard way to charge a healthy premium if I have to use the stuff.

---
From contributor L:
I forgot to mention my steel guy can do either saw-tooth stringers or parallel edge depending on the client's preference (different engineering requirements). You'll see one of his installations at the top of my web site pages. This one has marble treads and risers, drywalled and painted stringers, curved glass balustrade and wood top rail. The glass connects with the steel directly and fits into a steel slot. In that particular home, there are two stairs, one suspended above the other.
---
From contributor J:
ďHow thick and how wide do I have to make the stringer?Ē 3X12 -16" is typical but your local Building Dept will have its own ideas. They're the folks who approve (or disapprove) of all the plans. Be sure to support the outside stringer with a "jib" foot as far up as possible to reduce the span. Add angle irons in the installation, both at the top and bottom.
Open riser, free-standing curved stairs are the worst to keep from sagging. The (otherwise sound) structural geometry of the curved torsion-box of the stair is greatly reduced by the elimination of the risers. Risers are the principle cross members that tie the whole thing together.
Without risers, the sag at the middle is often the result of twisting of the single outside stringer under load (even its own). Increasing its thickness or adding steel can help a little but the only real cure is a single (inconspicuous) wall support somewhere.

---
From contributor A:
Well I have already talked my client out of the ipe (Brazilian walnut) and I could only bring him down to Brazilian cherry. I did a lot of Brazilian cherry stairs before. I know itís difficult to work with but itís a job. I always use solid lumber. On stringers I use 1/4 inch luan and finish with 3/16 to 1/8 Brazilian cherry. The Jib or triangle I planned to make it about four feet and also a lot of triangle blocking under the stairs (each step). I tried my best to convince them to do box construction but not a budge. This is what they want - no exceptions.
---
From contributor K:
Even though you are using open stringers, you could still use some internal risers below the exposed ones. Then inside, I believe you could gain some stiffness by running some rods between the two stringers with turnbuckles to tighten them. I like the idea of two rows which would transfer a lot of the outside load into the inside stringer.
Where I put a plastic film between layers making two perfectly matched plywood layers I routed out a pocket at the top and bottom for a layer of steel. This was welded into other steel in the top landing and bolted into a pier in the floor at the base, before the outside half was glued on. I like epoxy for my adhesive for curved work. It lubricates parts so they slide easily and has a long open time, then great properties for this application.

---
From the original questioner:
The staircase is open treads, so I definitely have risers.
---
From contributor L:
There's an alternative way to build a curved free-standing stair if the bottom is closed up (like Loretto) and risers are closed. You run beams diagonally, crossing one another, bolting them together where they cross, notching them out for treads and risers. Looks like a spider web of 4X10's until it's covered up. Great carpentry project and according to my fanciful x-ray vision of Loretto, how the guy did the structure, steam bending the outside veneers. The risers take the vertical shear load with rods across each one like contributor K suggests (a good idea in any case using a hidden ply sub-riser behind the show riser).
---
From contributor R:
Closing in the lower section of the stair will help. Run your stringer drops back at least three or four risers on both sides of the stair. Use four layers of plywood to make a pad between the stringers. This will help keep the inside stringer from lifting as it pivots on the outside one. Check the framing at the first and second floors - you may need additional framing changes .
---
From contributor O:
We do our core veneers with re-sawn poplar. The thickest we ever run our stringers is 2 1/4". Strength is more easily gained increasing the stringer width rather than thickness. In my distant youth, I timbered a fully free-standing stair (no wall support) with the method described above. I was installing for another stair builder. It was something to behold before the wire lath and plaster went on. It was also not as rigid as the same stair built with deep risers. We recently completed two stairs in a house on the Maine coast with jatoba (tangent) rail on iron. I won't be likely to suggest jatoba for the next rail job, but it can be done as seen below.

Click here for higher quality, full size image
Another photo-jatoba rail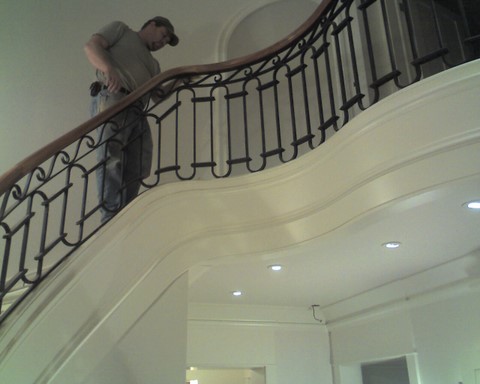 Click here for higher quality, full size image
---
From contributor O:
That is 1" jatoba under the paint masking.
I do want to investigate (price) steel for the next very cantilevered config that comes in. In my installer days, I was involved with a monumental stair for a corporate headquarters with a reinforced concrete core.
---
From the original questioner:
I like the idea of carrying the stringers into the framing on the second floor. Minimum code in NY is 8.75 run with 12 inches in. If needed I can do 8.5 inches and make my nose overhang 1 1/2 inch.
---
From contributor E:
Careful with that run! I believe it is determined from face of riser-to-face of riser. The nosing size is inconsequential.
---
From contributor Z:
Here is one that I roughed in using 1/4" bendable plywood. Each stringer was 3" thick and glued with Titebond Extend Glue.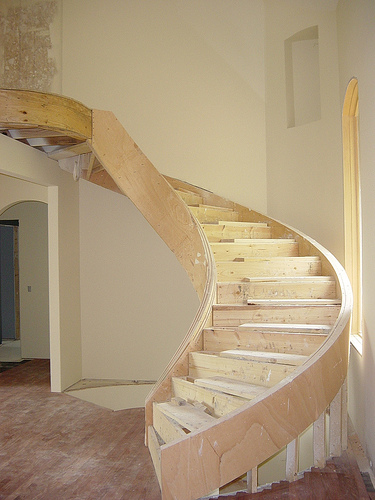 Click here for higher quality, full size image