Full-Service Software for Store Fixture Manufacturer
Will one application do 2D, 3D, customer drawings, shop drawings, and CadCAM? June 29, 2005
Question
We are a retail fixture manufacturer, and some clients have requested the same fixture for all of their stores, while others have requested a new design for every one. The fixtures are about 75% rectangle. The others are of various shapes. The other issue is that for most of the clients, we produce metalwork, whether it's stainless tops, toe kicks, display cases, ect.
We design all of this via 2D Autocad. We have to not only produce shop drawings but customer drawings for approvals as well. We have bought a beam saw with Ardis for optimizing. My boss wants the designers to be able to design once, produce a cutsheet, produce all applicable drawings needed and then CAM the part for our Point to Point. I have a good background in Inventer and Solid works as well as Mech Desktop. I was wondering if 3D is the way to go? With cost aside, I'm open to any ideas.
Forum Responses
(CAD Forum)
From contributor R:
We do high end custom cabinets and furniture and have been using acad 3d, and "smartlister" which is a cutlisting program with some great 3d tools that work in a cad. We have been very happy with it. Smartlister is relatively inexpensive at about $1200, and allows you to use vanilla cad as a fairly strong 3d engine by adding the ability to stretch assemblies and parts.
It also has a very easy learning curve. It is very easy to build a library of your standard construction and parts but my favorite thing is the ease with which I can model anything I can think of on the fly. You can arrange and export your list anyway you want. At this point, it does not have an automatic way to export to a cnc. But I've heard that they are woking on that.

---
From the original questioner:
I've been trying ML. It is a pretty good program, but falls short of my needs. Libraries don't work well with us due to the wide variety of customers because no two are alike. Other than the lack of hole designating in ML (which they're working on, I was told), the fact of having to create a layer for each part to have a name is just too time consuming. I have upwards of 130 unique parts per cabinet. Thanks to all so far for the advice.
---
To the original questioner: Why do you need to create a new layer for each part?
---
From the original questioner:
With Millister, that's one of the ways to have the name of the part carry over to the cut list.
---
To the original questioner: I find it easier to use the part name column rather than creating new layers.
---
From contributor D:
You create a template file with typical layer names that you use most of the time. Top-Bottom, side, cleat, back, filler, fix shs, adj shs, hardware, toe face-back, toe ribs, etc. Give them different colors. When you open your existing drawings in ACAD, fire up the design center and drag the layers into your existing drawings or use layer import or import your solids into the template files and save it under a new name.
Now select the sides in your drawing and then make that their layer by opening the layer drop down and just choosing it. Now turn the layer off. Continue to do this until everything is gone. It should go very fast. Make a some new layers as needed. Now turn them all on and use the filter in SmartLister to isolate them in chunks in the grid, type side once and then quick copy it.
A typical drawing with 400 parts should only need 20 or so layers maximum.

---
From contributor P:
We build store fixtures also. I have found Sw is pretty useful. But modeling takes more time, for rollouts it is great but not for one offs. For one offs I think that 2d is the way to go. For the rectangular stuff look at Microvellum,Keytrix and maybe Cabnetware. There is a new one that might have some potential called Kabnx. For store fixtures holes are a Big Deal so I question how useful Smartlister would be.
---
From contributor M:
Contributor P, if you have to use 2D because it's faster (?), why don't you try using drafting part of Solid Works. You can draw anything what you could with ACad in 2D plus you can still stretch or drive your sizes with dimension tool. That's at least what I do with Inventor.
---
From contributor P:
Contributor M, Sw isn't as good for 2d drawings. Maybe that is a difference between inventor and Sw. As in the case of one offs parametrics - they get in the way more than they help. 2d is definitely faster than modeling.
---
From contributor W:
If you have Inventor and Mechanical Desktop, then you have all the tools you need. I have been using MDT for years, from furniture (tables, chairs and cabinets) to metal fabricated flood doors and pharmaceutical Biohazard doors. We have used MDT in conjunction with Router-Cim and love it. We do one off's constantly. We have templates set, custom BOM's, balloons etc. Also with the help of numerous Vba programs I have written the control is endless. Anything you design in MDT, if your not using the global variables, and the equation assistant to drive your parts and assemblies then you are not using the software to its fullest. Take the time to create the templates and the custom bom and balloons and you will find life is good!!
---
From contributor P:
Contributor W, what is your definition of custom? i.e. are you saying that you build something a designer has dreamed up or are you saying you control the parametrics and adjust the size to fit the customers needs? In the case of the store fixtures, more often than not you do not have control of the parametrics and have to conform to the designers notions. So the idea of having a library of parts that can be changed parametrically for every conceivable need would be time consuming and then bringing the part in and positioning it changing angles, hole locations, would take longer than just building the parts from the top down. (e.g. compound angles, conical shapes, radiused steps, etc.)
---
From contributor W:
Contributor P, I see what you are saying. I do both situations, one off's never to be used again approx. 20%. Reusable parametic models, 80%. One good advantage of going to 3d parametric is the use of your solid models in other areas, such as marketing.
Just remember that 2d drawings are only a part of what you can get for solid modeling or parametric modeling. The marketing crew loves all the eye candy for the brochures. Look outside the box and see what other areas your software investment can do for your company.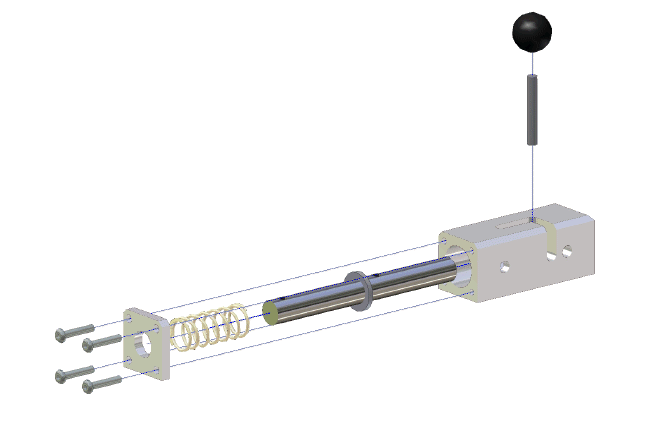 Click here for full size image
---
From contributor D:
Contributor W, I am glad you like the equation assistant in MDT. It was my brain child and persistence that got it created. It took 3 years and cost more than all of Inventor, I was told. Upon getting the beta 2 of MDT6, it was fairly bug free and actually worked. I spent 2 weeks using it and at the end of that 2 weeks I almost went outside and laid in the gutter and beat my head against the side. The code was now locked down and it fell short of what I needed. It was technically correct, but utterly worthless. I could do a 1-week project days faster by either drawing it in 2D by hand or 2D in ACAD or drawing it with 3D solids in ACAD and cut listing it by hand.
This had to be the biggest disappointment I had faced when it came to detailing software for custom stuff. I did not have much hope for other products, but after 3 years of discussing MDT with the MDT development team, managers, and designers, I was crushed. This is why I created SmartLister.