Glue Pot and Pistol Technology
Here's a close look at pressurized glue pot and pistol glue applicators, which offer convenience, versatility, and good control. November 15, 2011
Question
We need to improve edge gluing operations. Does anybody have any experience with an applicator like the one below? How easy would they be to clean up? How would this compare with a pressurized glue pot and pistol grip applicator? I am interested in cleanup time as well as consistency in glue pattern.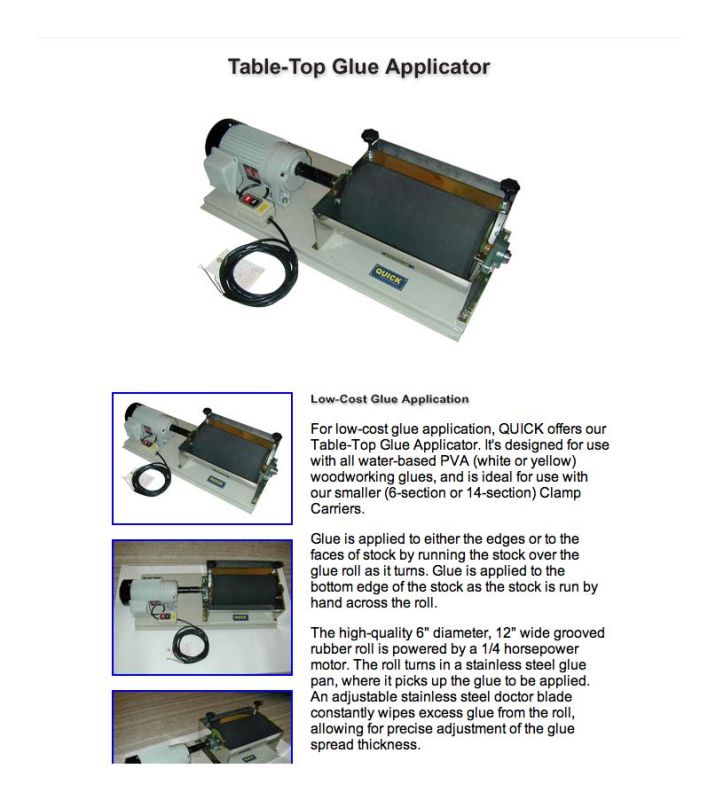 Click here for higher quality, full size image
Forum Responses
(Cabinetmaking Forum)
From contributor J:
I have a Black Bros 10" with similar specs that I was using for gluing raised panels prior to going into a RF gluer. It works fine.

---
From the original questioner:
How hard was it to clean up the Black Bros spreader?
---
From contributor K:
I have been using a Scheniberger glue pot and pistols for close to 20 years. I wouldn't trade it for anything. It is so versatile and applies glue very quickly to any board edge or groove, as well as it has other functions like gluing slot mortises with a custom tip or dowel holes. Custom tips aren't cheap but for the money, I saved the cost over and over again in speed of application. The pressure pot and pistol will be slower than this machine. You can hold multiple pieces to glue at one time on the machine. The pistol only needs to have the tip dropped into a bucket of water or keep the pistol submerged in a water filled pistol holder.
---
From contributor E:
I agree with Contributor K. The advantage of the pressurized pot is there is no clean up after use. Just put the pistol in the supplied water holder. It can stay there for weeks on end and ready for use when needed.
---
From the original questioner:
Is there any way to configure these pressurized pots to inject a specified amount of glue for every pull of the trigger? I can see how they work for long edges but I am also in need of some way to deliver glue to the end of coped door rails. Would it be possible to produce a manifold that marries up with the cope profile and only puts glue where you want it but always a consistent amount of glue?
---
From contributor K:
Yes, that is one of the best benefits of the glue pistol. I used it with a custom tip for a 1/4" x 1" slot mortise which I inserted a loose tenon into to build face frames. The gluing went very fast and applied a regulated amount of glue evenly inside the mortise. I like to set it to dispense just a little too much glue at first, then tuned it back so I had no squeeze out but was confident the end grain of the frame member was getting enough glue to seal against the mating piece.
As for cope and stick joints, I had always wanted to set the pistol up in a fixture with the regulator device where I could just set the cope end into a fixture, slide it forward into the pistol and it dispense the glue onto the end of the coped work piece. I had only one pot and needed it for so many other uses that I never set it up. I just learned to dispense through a needle pot tip at just the right flow rate that I got pretty efficient with it.

---
From the original questioner:
Are you saying that you could equate a specific amount of glue with one pull of the trigger or did it require some judgment as to how long to keep the trigger depressed?
---
From contributor K:
Yes, one pull of the trigger can allow a set amount of glue to flow then stop. Lamello is now the brand name of the system I purchased years ago through Colonial Saw. Google it and look at the One Shot glue system. It can be turned on to dispense only the regulated amount of glue you set it to. Or you can turn it off and dispense an endless stream at a dialed in volume. You can set the pistol to dispense a very small fine line of glue endlessly, adjust to a heavier line of glue endlessly, or set the one shot to dispense only a small drop or a large gob of glue. My system has two hoses and one is set up with the one shot system and the other is set up with an endless flow.
---
From the original questioner:
To contributor K: Can the one-shot regulator be mounted on just one of the lines or does it need to mount at the front of the system? How complicated is it to produce custom manifolds that might match various cope profiles? Could this be done with something like a UHMW plastic or does it need to be made out of aluminum?

Click here for higher quality, full size image
---
From contributor K:
The picture you show is basically correct except there would need to be a manifold at the pot to separate the two flow lines. Then one line will be a one shot system and the other would be a continuous flow line. You should be able to make the manifold at the pot from basic plumbing parts. I did, but that was back before Lamello purchased the rights to the system. I'm sure if they don't sell a manifold for this you can build it.
The tip part you are calling a manifold is what I would be calling an applicator tip. Way back then, they made me a custom tip for my slot mortise. I don't know if they still do this or not. It may be best to call Colonial saw and see what they can do. If they will do a custom tip to match your cope profile, it could be several hundred dollars. Put this in perspective to glue time with a bottle to see if it's worth the expense. I have to believe that production door shops must use some kind of applicator like this. The tip they made for me is anodized aluminum.

---
From contributor E:
You also might want to look at the Pizzi system that Rangate carries as they have many off the shelf applicators in stock. Google Rangate for their contact info and you'll also be able to take a look at the Pizzi pots.
---
From contributor U:
To add confirmation, yes, the Lamello LK glue system does have a "distributor" that will allow you to run up to three hose-guns off the same tank. Any one, two, or three of them can be the metered one shot system. You can also start with the continuous flow unit and add a one shot hose-gun on anytime in the future. We carry over 100 standard nozzle profiles in stock so may have what you need already, but yes, we still make custom cope and stick nozzles all the time. You just send us a sample piece of wood and mark where you want the glue and we make the nozzle from that.
I've included a picture of the workpiece activated unit where you can just push the end of your workpiece into the custom nozzle and it will dispense a preset amount of glue. The other picture shows two guns coming off the same unit. Usually they don't feed the same nozzle, but in this unusual case of a 20" wide surface nozzle they do.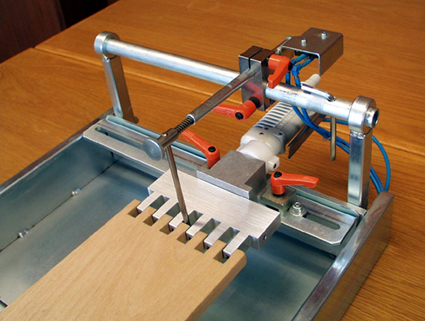 Click here for higher quality, full size image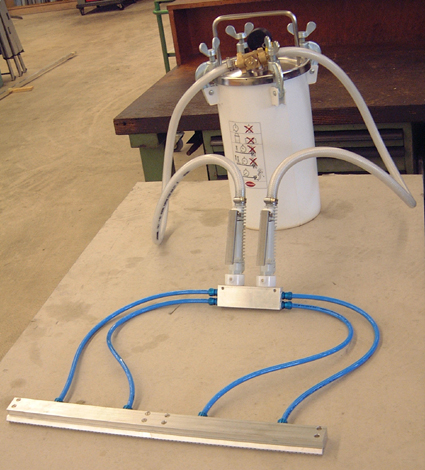 Click here for higher quality, full size image
---
From contributor B:
The roller type glue spreader could not be easier to clean. The glue stays in a Tupperware container. The large roller goes straight into a bucket with a little water in the bottom and a lid. There is also a small aluminum bar that rinses off in the sink. If you are edge gluing it is a great solution. Cleanup is not an issue.