Gray Stain to Match a Rock
Here's an interesting challenge: custom mix a stain to match a chunk of gravel. February 1, 2015
Question (WOODWEB Member) :
I need to match this gray stone color on ash for a sample. I can't have the typical yellow showing through. Does anyone have any ideas?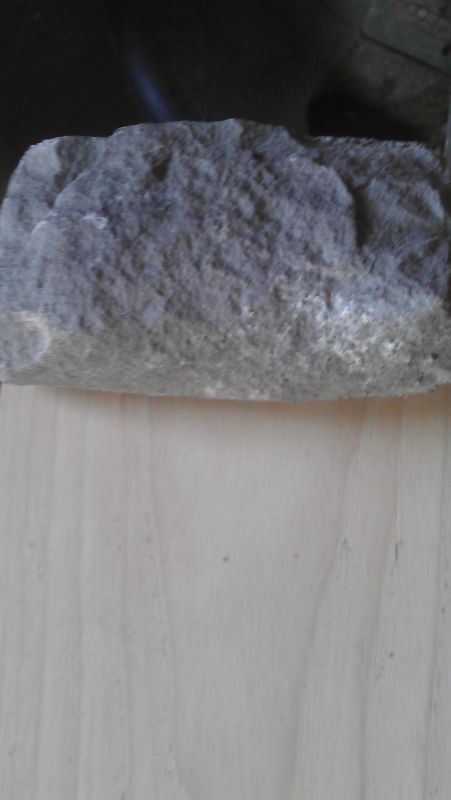 Click here for higher quality, full size image
Forum Responses
(Finishing Forum)
From contributor J:
Maybe some SW White Pickling stain tinted to gray with lampblack. I did some ash cabinets with a green pickling stain a couple years ago.

---
From contributor C:
I would use dye for the lighter base color, then a darker gray glaze.
---
From contributor R:
I would start by bleaching the wood.
---
From contributor B:
To get the gray you're looking for I'd go for an opaque look (a pigmented stain). Ash is real grainy so you'll still see lots of grain. You could literally thin down a gray tinted finish of your choice and throw a clear coat or two over it and call it a day.
---
From contributor R:
W.D. lockwood has a silver grey water soluble dye stain that you could use.
---
From contributor N:
I'm fan of bleaching too. It gives you a nice white to light grey to start with. I'm also on board with starting with a white stain base then adding black but keep the raw and burnt umber and raw and burnt sienna close by as most natural greys have a tan to brown component to them that you won't get by adding black alone.
---
From Contributor M
:
The trick to getting grey is using complementary colors. The complement of yellow is violet so if you get a nice balance you will have grey. That also looks a little dark so a tad of black also. I wouldn't go with pigments unless I absolutely had to, they're just too muddy for my taste. Bleaching is also a good way to get rid of some of the yellow, lighten it up and then just a thin black dye (with maybe a drop or two of orange to warm it up) will get you there. It's impossible to try and match a color on a computer screen so you will have to do the final tweaking.
---
From the original questioner
:
Thanks to all of you for great ideas. Fortunately for myself I was able to differ their choice of wood species - quarter sawn white oak. I mixed sw s 64 concentrates to a light grey then black glaze.