Gray Wash on Birch
Finishers advise on achieving a washed-out gray look on birch cabinets. October 4, 2011
Question
I have a customer who is interested in a grey washed birch kitchen, and I have had difficulties coming across stains that will produce the look they want. I have attached a picture of the stain desired and was hoping I could get some ideas for replicating this finish. I know there are some good old fashion tricks, like steel wool in vinegar and what not, but I have never used anything like that and would like some insight on how to go about that process. Any ideas would be greatly appreciated!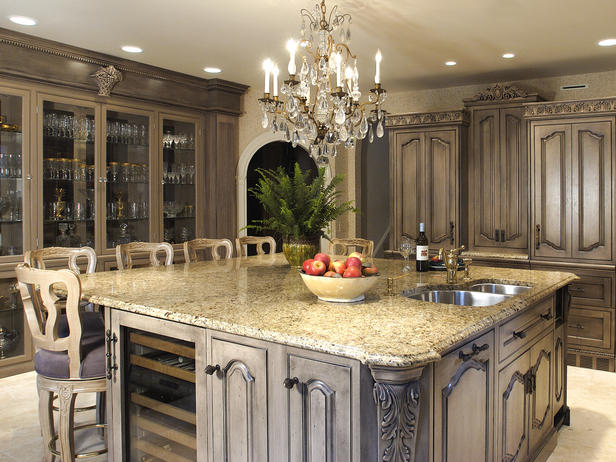 Click here for higher quality, full size image
Forum Responses
(Finishing Forum)
From contributor G:
The grey stain is profoundly affected when the black glaze is put over it. It doesn't look like a select area gray. It looks like a global glaze that is wiped down. It changes the color of the gray because it is put on the whole door. I did a warm gray like that, it was kind of tough. I had my color guy make up a gray stain and then I used the black glaze over it. It was similar to that but not exact.

---
From the original questioner:
I get what you are saying about the glaze, and will give that a go on some test pieces.
---
From contributor J:
Try Sherwin-Williams. They either have a grey stain or they will make on for you.
---
From contributor R:
I am not sure if there is enough tannic acid in birch to work with a chemical stain but if not just spray on a wash of tannic acid first then ferrous sulfate (try it first without the tannic acid and if it doesn't change color you will know you need it). You will have to experiment with the mix but when done right it will give you a perfectly even clear grey (too strong and it will turn black). Use a respirator and spray on the chemical or it will blotch just like any other stain.
---
From contributor N:
The picture looks like opaque grey paint with a black glaze.
---
From contributor M:
I had a job like this. I simply used gray oil base paint thinned as a stain, spraying it on and wiping it off. Then, after spraying on clear vinyl sealer, I scuffed and glazed with oil base glaze tinted with raw unber. Then I used another coat of vinyl sealer and then CV. Beware that there are two basic bases for gray: Black base or raw umber base. A raw umber based gray will be more of a mud gray - exactly what it looks like in your photo. Using lamp black with white to make gray will yield a much bluer gray.