Guide Blocks for a Trash Bin Pullout
Cabinetmakers work on a new idea for alignment blocks to help a trash bin slide closed with precision. April 12, 2011
Question
My pumpkin pie gave me a hallucination - a concept for aiding a tray-attached door in a trash bin pullout cabinet, for an inset situation.
Guide blocks with ramped sides are let maybe 1/8" into the back corners of the door, and they protrude past the door edges just a few thou shy of the margin. If your margins are 3/32" (0.093"), block edges might be proud of door edges by 0.085".
Sorry to talk about such tight numbers, but we're talking about inset, right? And maybe I had too much coffee with my pie. When the slides pull the door closed into the frame opening, the guide blocks help center the door in the opening. Material for blocks might be black UHMW plastic. The deck of the cabinet must be at least a door margin drop from the top surface of the bottom rail.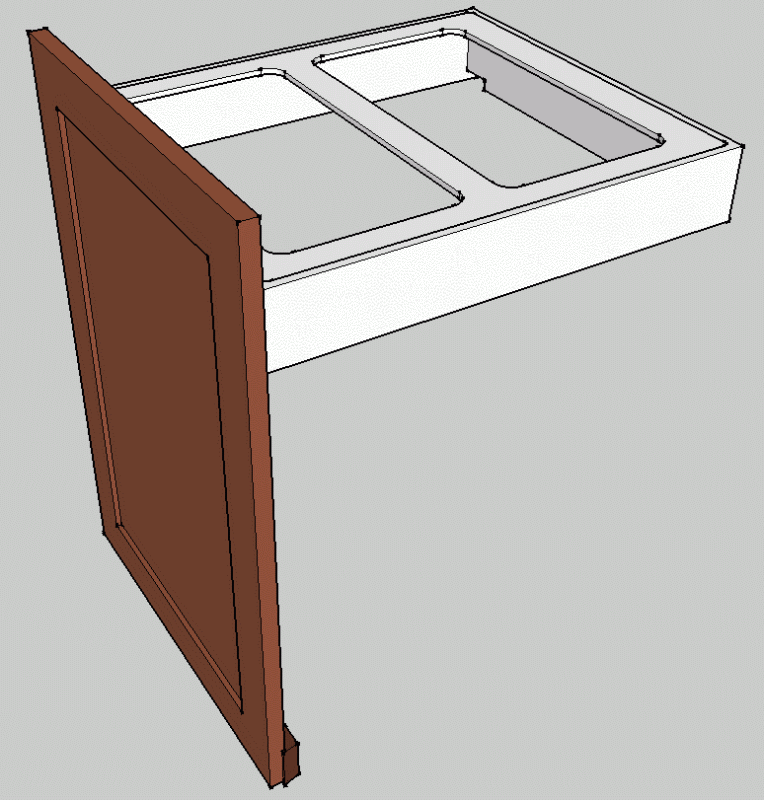 Click here for higher quality, full size image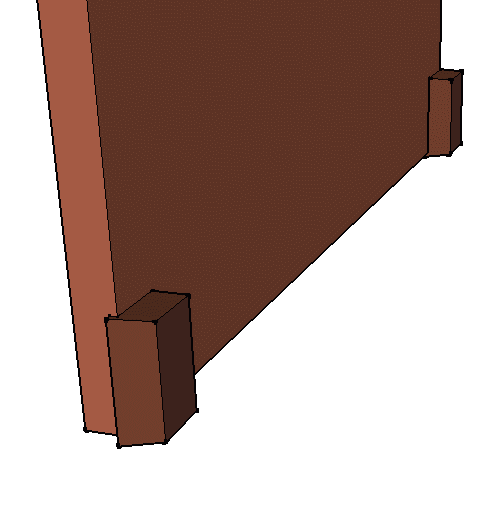 Click here for higher quality, full size image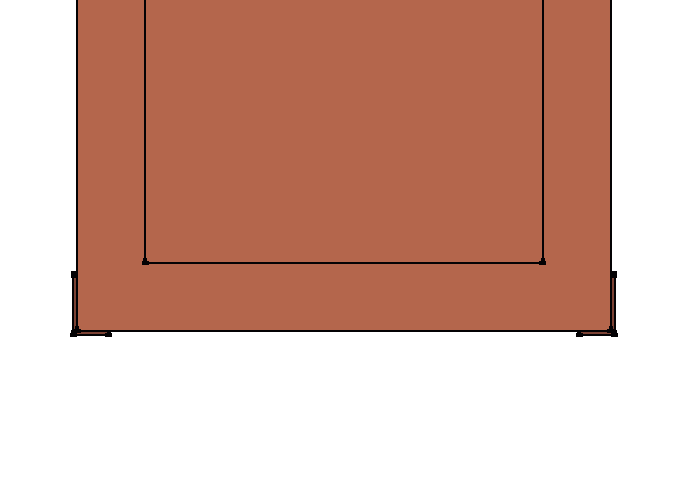 Click here for higher quality, full size image
Forum Responses
(Cabinetmaking Forum)
From contributor P:
Nice idea! Takes the strain off the slides when in the closed position. May have to steal this one! Thanks.

---
From contributor J:
I could see this wearing some nice grooves in the face frame. But what about reversing the idea and having a block on the back of the door and the UHMW plastic in the cabinet? The result would work the same, only no chance of wear where you can see it. I like the general idea and I might have to use this one also.
---
From contributor W:
Make them in black, white, and tan - you need to sell this to Fastcap quick.
---
From the original questioner:
Right about wearing grooves in face frames, but if things are that far out, a topmount hanger trash bin in an inset face framed job was a bad idea to begin with.
I am going to draw up a modification, this time with the blocks tapered as before, but only protruding half the margin past door edges. Rub blocks will be fixed to the face frame, similar to what Rev-A-Shelf has for one of their pantry slide kits.
The ramped blocks should engage the buttons and never touch the face frames, and the door should be pulled into the opening, aligned pretty well at its bottom two corners. If the door is square and the opening same, margins should look good everywhere.
Again, rub-button plus ramp stickout total thickness should be just a teeny bit shy of design margin. Teeny teeny bit of play, otherwise, we'll have a jammer. Is this all too much engineering? Tolerances impossible to make? Does one just suffer bad fits for these pullouts, in face framed inset designs?

---
From the original questioner:
More tinkering with Sketchup.
Ramp-blocks are now fixed to door with edges aligned. The ramp-blocks no longer have their edges sticking out into the margin space. Receiver-blocks are fixed to the back side of the face frame, somehow. This design requires the deck of the cab be dropped, due to these receiver-blocks having to fix at bottom.
A closeup view shows the small roundover given the edge of the receiver-block, and the tiny margin there, when door is in closed position.
An engineered solution, all done in injection-molded plastic, with countersunk mounting screw holes, indexing features, etc., might be done. Maybe one L-shaped receiver-block for each bottom corner, instead of the separate pieces I show. Breakoff ears so can be used for either 3/32" or 1/8" margins. But for now, a good woodworker can do this with hardwood pieces, or cut UHMW, carefully made, placed, and fastened.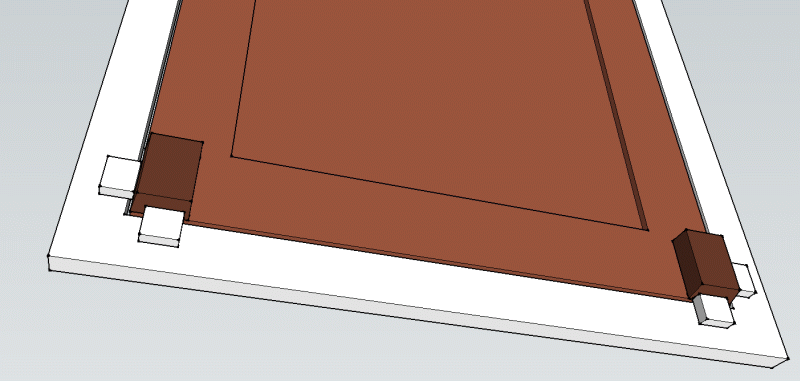 Click here for higher quality, full size image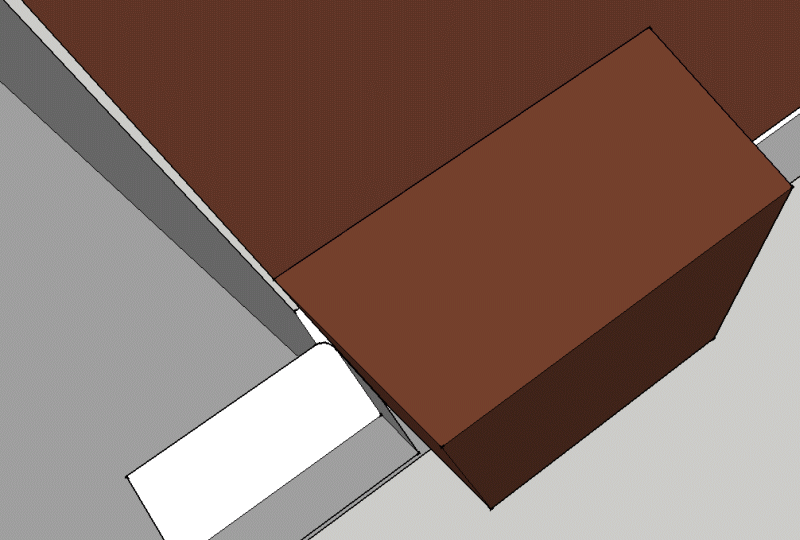 Click here for higher quality, full size image
---
From contributor K:
Creative idea... With insets, if you install two sets of glides (one on top as shown above, and another on the bottom that provides additional support to distribute the weight both sets experience - see below), it is pretty much bulletproof, and can be adjusted over time as the house and/or cabinet continues to move.
One drawback to your block concept is there might be potential issues with expansion/contraction, as you've in essence expanded the edge of the door in already tight tolerances. Maybe a modification to the piece that is spring loaded to accommodate for those conditions?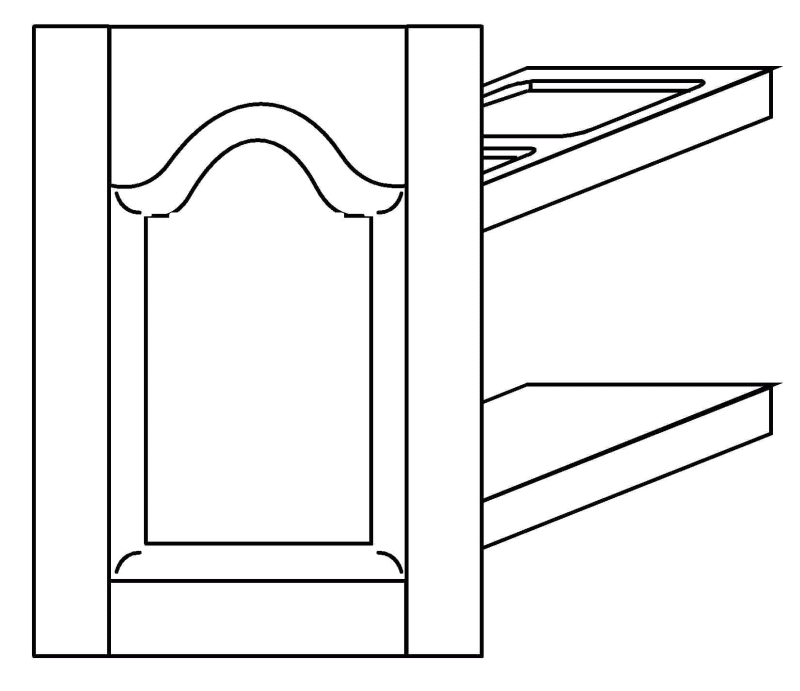 Click here for higher quality, full size image
---
From the original questioner:
Consider this. Your door is square, your frame opening is square. Put the door block and its frame mate part in one bottom corner only. Gains you good margins half the time, and doesn't foul things when the door swells in during periods of increased humidity.
From wood data, how much width swell can one expect to see in a well-made and well-finished door, hard maple, stile widths at, say, 2.375"? It would be twice the stile width times the movement factor, right? Nothing contributed from the rails, and the panel in center is floating, cushioned by those little foam balls. Right?