HVLP Pressure-Pot Spray Hose Arrangements
Ideas about how to make spraygun hose setups less cumbersome. December 28, 2007
Question
I have a Binks Mach 1 that has a 2qt pot. Attaching the two parts is the 3/8 fluid hose and a 5/16 air hose. Together these are very stiff, so turning the gun upside down and all around is difficult to do. Is there a replacement hose that is smaller in size on the outside diameter, but the same size on the inside diameter - something that is more flexible? I'm tired of dealing with this and I know there's got to be a better way out there for small sprayers.
Forum Responses
(Finishing Forum)
From contributor G:
How about changing to a 2.8 gal pressure pot with 20 ft of lines? That will let you move while the lacquer is sitting over there out of the way.

---
From contributor P:
I use long hoses on the 2 quart and the 2 gallon pot. I keep them on this homemade cart with the 2 quart pot up high to keep the pressure even when I spray tall stuff. Personally, I like rubber hoses. They're heavier, but they last a long time and are plenty flexible.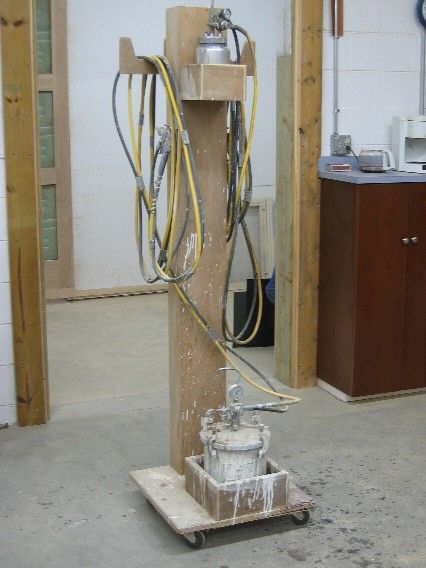 Click here for higher quality, full size image
---
From the original questioner:
Fantastic - I like that!
---
From contributor H:
Most coatings that I spray are not that thick. I would suggest you use a Binks fluid hose, quarter inch diameter.