Hanging Finish Lines Versus Horizontal Flow Coaters
A volume shop considers options for a production finishing line. March 26, 2009
Question
We are making over 400 flat panels and 100 raised panel doors a day, and we are thinking of buying a flow coater for the finish. We use 2k polyurethane, and we like to improve our output. Can a flow coater do this type of finish? We are not sure if there will be buildup on the edge of the rail with the panel. Does anybody have experience with this type of machine?
Forum Responses
(Finishing Forum)
From contributor R:
I would think a Cefla type system would be better for your application. They are very good at getting edges and doing raised panels.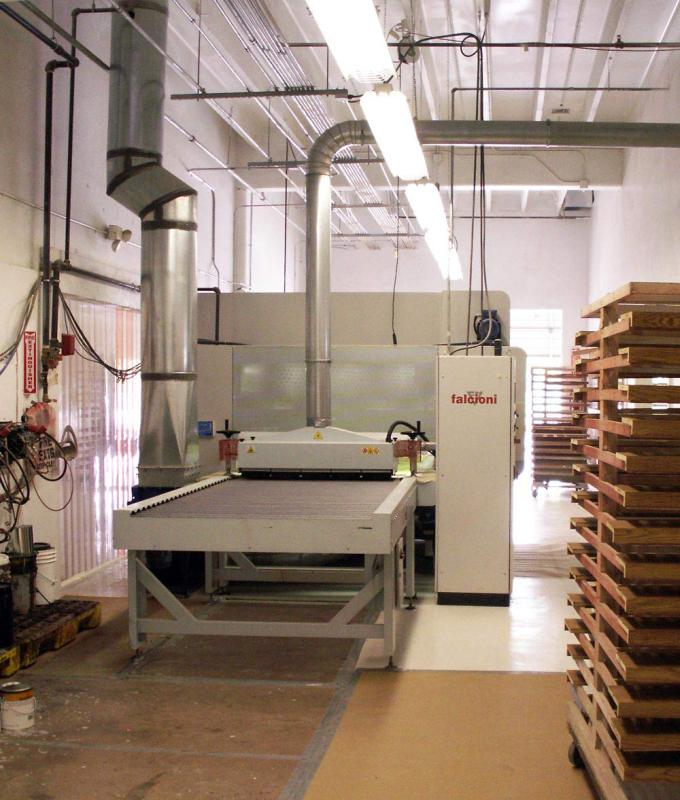 Click here for higher quality, full size image
Hereís an inside view.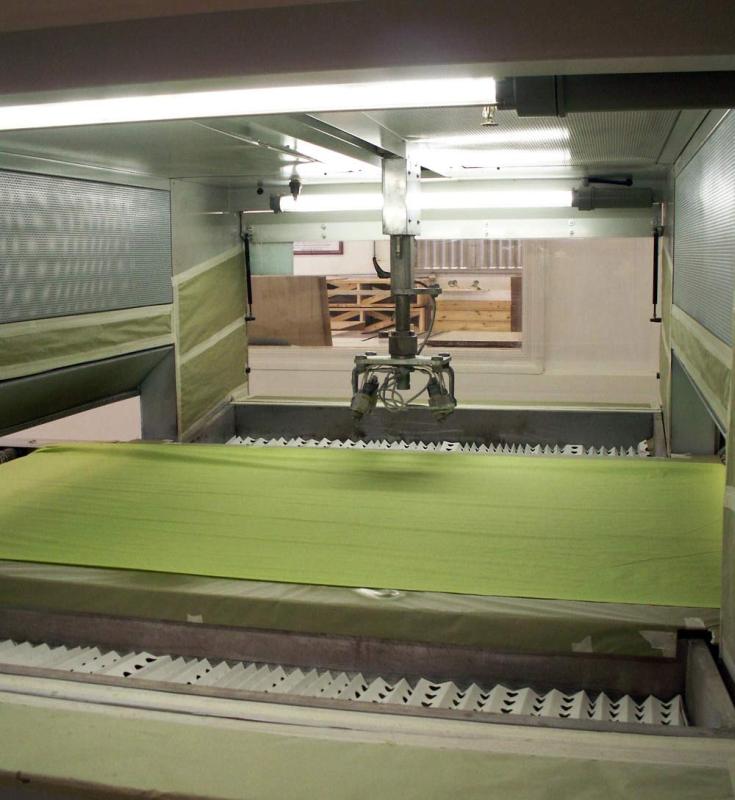 Click here for higher quality, full size image
---
From contributor S:
There is another way to assure 100% coverage of all the edges and recesses. Hang the panels vertically, and paint them one both sides at one time. This reduces the coating time, and also requires a small foot print. We have both manual and automatic systems which will allow complete coverage with a small foot print and little manpower.
---
From contributor T:
I agree with contributor R and contributor S in that spraying will provide a better finish and control for your products. Flow coating would not work well with a catalyzed product or for high end finishing for cabinets. I have seen both systems above and they would equally work well for you. The Cefla shown can finish over 2,000 square feet an hour - the hanging recip system can about double that!
---
From the original questioner:
Thanks for the input. Iím researching this type of operation and I think vertical is faster, but Iím not sure that by flat painting you get a better finish. You donít have any runs of paints?
---
From contributor S:
When you are finishing flat planes, you need to apply about 3 to 4 mils of wet coating. This is with most of the coatings used today with volume solids of about 30%. This will dry down to about 1 to 1.2 dry mils. The finish will be the same on both vertical and horizontal lines. Coatings will hang very well at 4 mils wet. We have installed a lot of vertical systems with excellent results.
The speed of the vertical line is faster as you can do both sides at the same time. If you are in a building with a ceiling of 22 to 25 feet, the foot print of the vertical system can be very small. You need two back to back booths, and a load area. After the parts are coated, you can have the conveyor go us to the ceiling for drying without losing any area in your building. Also, the air is warmer at the top of your building, so it will dry better. We have systems which have the small foot print, and then the parts dry above the assembly area.
Both systems will work for you, but I think that vertical offer a lot of advantages.