How Many Hinges?
This thread includes a handy chart for deciding when a door large or heavy enough to require a third or fourth hinge. August 12, 2014
Question (WOODWEB Member) :
Is there a rule of thumb on euro hinge placement on taller doors? I have some 19x48 alder shaker style with ply panels. They're not heavy but I'm wondering if I should plan on a center hinge for stability.
Forum Responses
(Cabinetmaking Forum)
From Contributor G:
Past 40" requires a third hinge.

---
From contributor K:
Your hinge manufacturers catalog will have a chart based on size and weight of the door. Most manufacturers have the manuals online in PDF format.
---
From Contributor D
:
This chart will apply for any brand European hinge.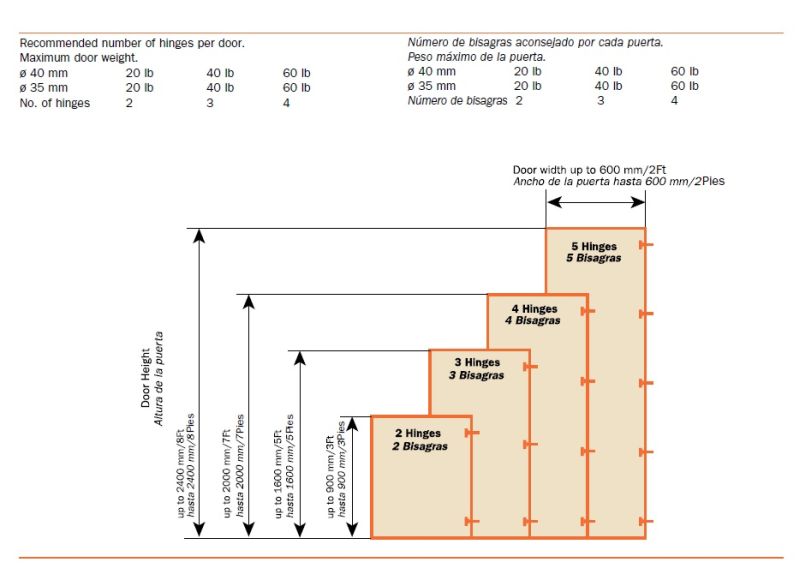 Click here for higher quality, full size image
---
From the original questioner
:
I was going off weight as the shaker door is tall but light (under 20 lbs.) but I guess you read the chart as under 20 lbs. If using two hinges or over 36" tall use three. Three it is.
---
From Contributor G
:
It's either/or, whatever is greater. So if you have a 37" door that weighs 10 lbs it gets three hinges. I start my third hinge at 40".