How To Make This Stain
10/25/2014
From original questioner:
---
Building a built in for a customer out of birch and the customer picked this stain color from Waltzcraft but because of the hazardous shipping cost from WI to here in FL one quart will cost me 145.00. Is there any other way to achieve this color.She picked this color from their web site but picking colors from the internet will not always look the same in person. I moved to the Tampa area a year ago and they just don't do alot of staining down here.I can't find any suppliers down here that carry a variety stains to work with.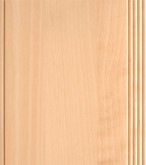 From contributor ri
---
You don't have a Sherwin Williams store? I just Googled it, there are 3 in the Tampa area. The one on Hillsborough is a commercial store. Order a finished sample, have Sherwin Williams match it. Use a water white top coat so you don't change the color.

From contributor Pa
---
Also...
Wurth Wood Group in Tampa carries ML Campbell stains and Rugby Architectural Building Supplies carries Chemcraft. You have a good selection to choose from.
That picture looks like a simple off-white stain and the manufacturer says specifically that it's a spray and wipe - common for all the professional finish suppliers.


From contributor to
---
Thanks Paul
I live in Riverview and have been to all the Sherwin-Williams stores in this area and if I'm not asking for paint,their lost.

From contributor Je
---
First off, I thought Haz-Mat shipping is only mandatory for quantities of a gallon or more, so they should be able to send a quart standard freight?
But don't take my word on that, I know a lot of stuff changed after 9-11.
If you have to match with a wipe stain, I would use clear stain base and add the following pigments:
Mostly Titanium White
a bit of Burnt Umber
and maybe a touch of Yellow Oxide.

From contributor CW
---
$145 for a exact match and no work involved? Sounds like a deal to me. I would have built into the price time for matching the color/stain and more than likely be saving money.

From contributor Mi
---
Tom - you need to see where the sherwin williams 'industrial coating division' is; most people in the retail stores seem to not know it exists around here.
I got hit with that charge for a qt from them before - didn't realize it until it was too late. Sherwin williams matches have been very good to me, even if you have the exact stain you can get different results depending on the staining process if your not careful.
CWK - may I ask what you pay for a stain match and what work is involved? I just have to drop off a sample of what I want and that's about it.

From contributor jo
---
Around here a color match costs 10- 15 dollars per gallon

From contributor Da
---
How to make that stain? Spray on a dilute white toner. And for a dilute white, use zinc white (not titanium white). Just thin it down to make a toner out of it. This kind of toner "mutes" the grain without painting it out.