Identifying Old Pine Planks
The Woodweb crew checks out some photos of what is probably Southern Yellow Pine, and possibly Longleaf Pine. September 6, 2010
Question
Iím wondering if anyone would be able to I.D. the wood below? They're planks found in an out-building at an old sawmill/farm in NEPA. They're about 13"w X 2-1/2"t X 24' long. What the owners know is they were put there in the late 50's when a local factory was de-constructed (maybe floor joists).These pictures are from a short piece cut from an end and I cleaned up one side, and an edge. All the planks, about 100 pieces are very clear and only cut type nail holes on one edge. When machining it had a very nice odor, a mix between pine, fir, and cedar.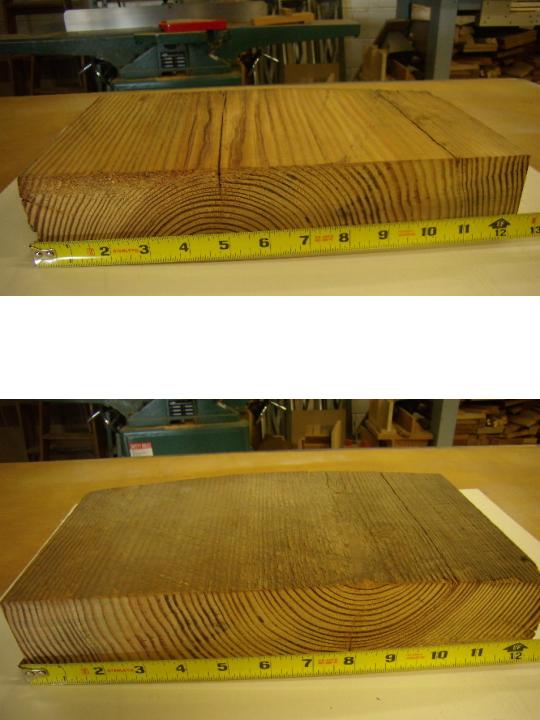 Click here for higher quality, full size image
Forum Responses
(Sawing and Drying Forum)
From contributor Y:
I would guess yellow pine.

---
From contributor Z:
I would guess southern yellow pine. Smells like turpentine when working it. Also, my syp is AD and really gums up my saw with pitch.
---
From the original questioner:
Thanks guys. It does smell like turpentine when cutting.
---
From contributor W:
Given the size of the planks, their age, and the reddish color of the heartwood, I suspect they are longleaf yellow pine, probably the most valuable and sought after of the souther yellow pineís. It is often referred to as heart pine and the stuff makes great flooring in addition to being quite strong.