In Search of Lightweight Shelving
After struggling with inch-and-a-quarter laminated MDF panels, an installer looks for a better way. March 3, 2009
Question
I'm in search of a better product for 1-1/4" sheet stock. I've done several smaller jobs in the past and glued up veneer core ply to thickness, but now I'm just finishing up a job using 10 sheets of MDF I had my supplier glue up for me. If you've ever tried this you already know what a mistake it was. My back and shoulders are not happy.
I've seen a fair amount of this type of work around and I can't imagine others are using MDF for it. I talked with my supplier but all they could come up with is gluing up ply to save weight. I don't mind going this route, as it will be lighter, just not sure how flat it will be?
Does anyone know of a product that's better than gluing up 2 sheets of veneer core ply to get 1-1/4" thickness? I have several more potential jobs using the same type of construction, but I really need something I can handle without killing myself.
Forum Responses
(Cabinetmaking Forum)
From contributor A:
What is the application for 1 1/4" sheet stock?

---
From the original questioner:
Mostly wall units consisting of open shelving on top and cabinets on bottom, or just open shelving top to bottom. It's a contemporary look with square edges and simple construction. The material would have to have reasonable fastener holding capability, and also be strong enough to support 5 mm shelf pins with considerable weight (bookshelves) on them.
---
From contributor P:
I assume you've tried lightweight MDF. It's still heavy, but helps somewhat. I do a fair amount of this type of work, too, so I'm interested in what others have come up with. The big manufacturers use lightweight panels with honeycomb construction. One of the trade rags (I forget which one) did a good article on this recently. Sounded like something that requires specialized equipment, so maybe not a good option for a small shop like me.
---
From contributor S:
You should take a look at the MDF with the plywood core. I don't remember what it is called, but it has about 3/16 or 1/4 of MDF on either face with plywood in between. That would make it lighter and give you a flat surface to veneer.
---
From contributor F:
I am doing an open shelf unit that needs a lot of 1.5" thick shelves. I plan on gluing two thicknesses of .75" plywood together to get the parts. I suppose you could do the same with .625" thick ply for yours.
I thought about the option of making torsion type shelving, but with the added labor, it doesn't seem worth it for my particular project.
As far as flatness, gluing the pieces with convex bows to convex bows helps to net straight and flat parts and good adhesion in the panel center with only perimeter clamping.
I also keep in mind that laminated parts take the shape of the form. In this case, the form needs to be flat and straight, so I glue up on my truest workbench.

---
From the original questioner:
Contributor P, I tried to get pricing, but for whatever reason my suppliers can't find anyone to lay up the veneers on ultralight. Not sure why - the stuff I'm using now was already veneered, they just glued two sheets of A1 maple (1/2"+3/4") together. I may try a couple other suppliers to see if they have better luck with either the ultralight or the MDF faced ply and veneers.
Contributor F, I've done the same thing you're describing before. What I'm trying to do now is avoid gluing up in house. I'm lucky enough to be too busy to spend time laying up smaller parts, when for relatively short money I can have the whole 4x8 sheets done for me. It's just too cumbersome to clear space and try to get 4x8 sheets into a vacuum bag in my shop.
I guess I was hoping someone would have an off-the-shelf alternative that my local supplier just didn't carry. The other problem with having it laid up is the minimums are usually 10 sheets. Fine for a bigger job, but tough on the smaller jobs where I may only need 5 or 6 sheets. Especially when it may need something besides the normally stocked veneered sheets.

---
From contributor L:
No easy solution for a small shop other than buying custom made panels. We make some table tops for a manufacturer that need a solid frame for fastening and banding and we use extruded foam for the core. Foam adhesive is used to bond the foam to frame. This assembly goes through the wide belt to flush and bring to thickness. The faces are yellow glued to the frames and the foam is bonded to the faces with water-based contact. Final sized on the panel saw and banded. A lot of fooling around, but a buck's a buck. We make from a few to a hundred plus a month in various sizes.
---
From contributor P:
I end up using plywood most of the time because of the complications of fastening MDF panels. This piece used 2" panels - two 3/4 panels with 1/2 spacers in between. It's got a face frame, flush trimmed to the side panels, inside and out. Fun.
The shelves are what I call modified torsion box. I pocket screw a solid edge to a piece of 3/4 ply, put 1/2" x 1" spacers behind the solid edge and along the back, and glue/clamp the second piece of 3/4 ply, then flush trim. Looks nice, no visible fasteners or nail holes, and strong as hell. Could probably do the same with 1 1/4" by using two 1/2" panels with 1/4" spacers.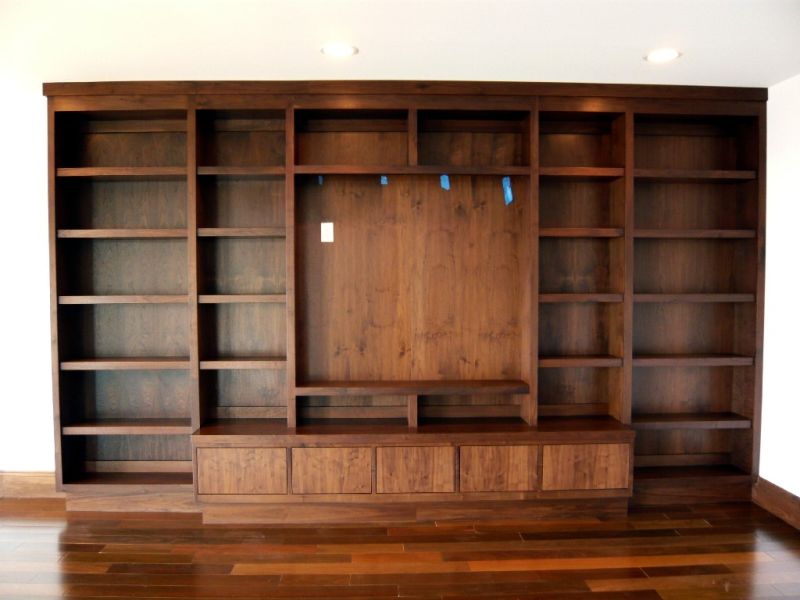 Click here for higher quality, full size image
---
From contributor O:
I've never tried Kerfkore's Foamkore, and I have no idea if it would work for your application, or how much it would be. They do say it can be made in custom thicknesses.
---
From contributor T:
Particleboard is lighter then MDF.
---
From contributor S:
Have you tried Atlantic Plywood? They've been able to lay up just about anything I've needed, and usually there isn't a minimum.