Inset Corner Sink Cabinet
Ideas and tips on sink cabinets located in corners. August 29, 2006
Question
I have a job to bid where the client wants a corner, inset sink. I haven't done one before. Whats the scoop on the box? Is 36" standard set at an angle – similar to this picture?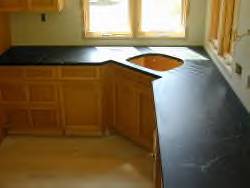 Forum Responses
(Cabinetmaking Forum)
From contributor A:
I just finished one. You can build the front of the face frame 28"-30" wide then miter the stiles at 22.5 degrees and add another 1-1/2" stile mitered at 22.5 degrees. Mount the cabinet side to the face frame so it runs at a 45 degree angle from the front of the cabinet. I used a full plywood back where it meets the wall on either end. Cut the bottom 23-1/4" deep running parallel to the front and a removable 1/4" back panel to access the plumbing. It's a long cabinet but gives ton of storage under the sink. I laid it all out on a cardboard cover sheet from a stack of plywood I got for the job. This design was given to me by a contributor on this forum. Check the archives - there may be a drawing there.

---
From contributor B:
This seems to be a good design especially with the windows in the corner. If the face frame is mitered conventionally, up front and at 22.5 degrees, it's a long, long reach to those windows, even for a tall person. The step back not only gives you a bigger doorspace on the sinkbase (handy when trying to access all that stuff stored down there while not banging into the disposal and water filtration units) but also makes the corner accessible for normal sized people who can now open (and even clean) those windows. Put some thought into plumbing access because those angled corners are always problematic when they're roughed in. The electrician will thank you too.
---
From contributor C:
Our shop does this layout quite often. We use a standard 30"-36" sink base on the diagonal, (extended stiles for full overlay). To ease construction and installation we add a 7" angled return to the adjacent cabinets. The sink base can be slid back into position without the hassle of aligning angled stiles.