Installing Cabinets on a Log Wall
Log homes experience major log shrinkage, so you have to allow for that somehow. February 8, 2008
Question
I need to install cabinets on a log wall and am looking for tips. One wall will be log, and the rest drywall. Uppers and lowers, they will be frameless. Hanging cabs will have 3/4" backs and go all the way to the ceiling.
Forum Responses
(Cabinet and Millwork Installation Forum)
From contributor T:
If the log wall cabinets connect with the stud wall cabinets, I would try to attach all to the ceiling, and also to studs, but not to logs. I would not scribe to logs - let the log or trim guy do it. Those logs are going to shrink and you will be back every 6 months fixing it. Base cabinets can be fixed to the floor; I've done it this way for 20 years and no problems. If you are doing the tops, be sure not to "support" the logs with your top or splash.

---
From contributor G:
These cabinets and the ones in the kitchen were hanging from iron rods that were sunk deep into the log and protruded through the cabinet backs to almost the front of the cabinet. It made taking them down pretty easy.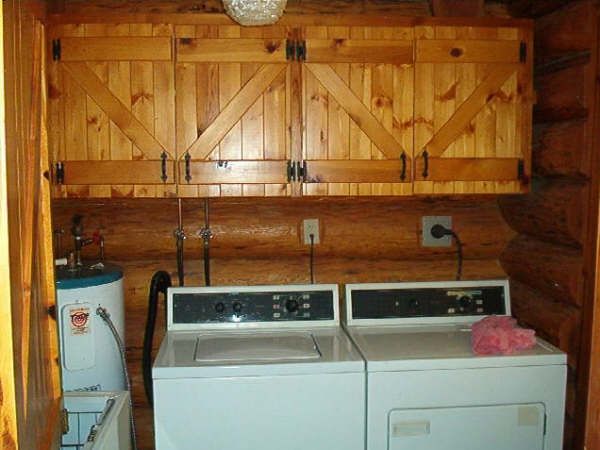 Click here for higher quality, full size image
---
From contributor E:
I fasten bases and tall cabinets to the floor and use appliance garage or end panel where possible to keep all weight on the floor. In the back nailer strips, I cut a 2'' vertical slot and use screws with washer type heads to allow for movement in the logs. I use the same slots in the uppers.