Interior Barn-Style Doors
Tips for building board-and-batten doors mounted on slider or roller tracks. April 6, 2011
Question
I just had a request for three interior barn doors 24" wide by 80" tall. Has anyone out there done these? I'm looking for some input and ideas. As of recently I had never heard of such a thing. It turns out they're somewhat popular. I think they will be painting them.
Forum Responses
(Cabinetmaking Forum)
From contributor U:
In our area of the south, a typical barn door would be built similar to a board and batten shutter. That is with a series of vertical boards held together with two horizontal boards located an equal distance from the top and bottom. There will also be a diagonal board running between the two horizontal pieces, or possibly two crossing to make an X. The lumber thickness varies from job to job, anywhere from 3/4" on up. Some are very rough or rustic and some are really nice, again depending on the customer.
The majority I have seen have gate type hardware, this usually is best due to the final door thickness which may or may not accommodate normal door hardware. Due to the wide range of what this description may call for, I would get the customer to clarify what would be expected, including the type of hardware that will be used. Are they actually going into a barn?

---
From contributor P:
I did these for a garage. I laminated two pieces of 3/4 pine for the door frames (with lap joints), and 3/4 bead board panels. I used Stanley roller hardware to make them slide.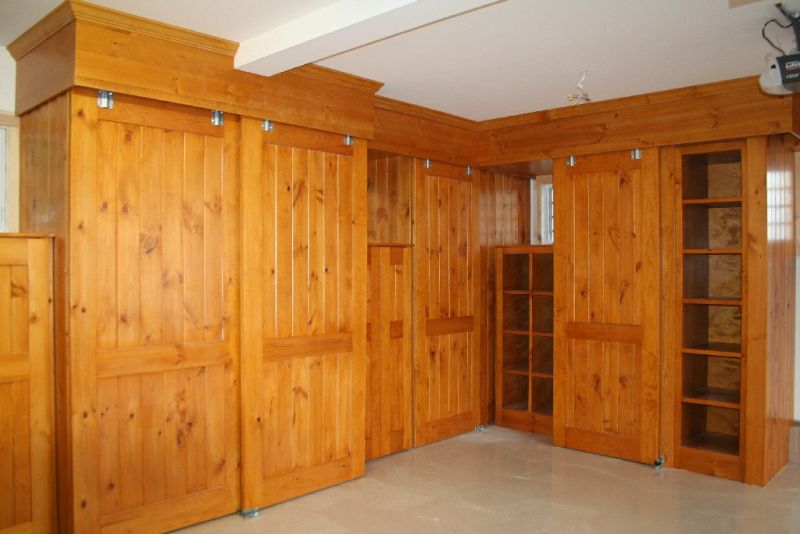 Click here for higher quality, full size image
---
From contributor O:
The doors are simple - board and batten, frame and panel, flush, etc. The hardware is important. The functional opening is smaller than the trimmed opening - a 36" wide opening will only be about 30" wide, with a 38" door due to the pulls/placement on the door and stops. The track has to be sized from that, with blocking in the wall to carry it all.
Track, hangers, hanger stops and sway stops are all needed, and should be sized (by someone) to prevent smashed fingers on pulls, swinging into walls, jumping the track, or coming off the end of the track. The company on the link has good info and good products and service.

---
From the original questioner:
I think that will work - thanks. I think they already acquired hardware from the company Contributor O mentioned. Did you leave paneling float for expansion?
---
From contributor P:
Yes. The beadboards are glued to each other and the panel floats in the frame. Plenty of wood movement going on here in NJ, especially in an unheated garage near the water.