Jigs for Hinge Plate Layout
Advice on efficient hinge boring layout when using hand drilling methods. March 28, 2015
Question
We build custom cabinetry and furniture and so far we have been using the goofy little bent steel jig screw location device from Blum. The process goes like this:
1. Pencil in centers of hinge holes on cabinet.
2. Mark 37mm set back 32mm holes apart with scratch awl in holes on jig.
3. Use 5mm fix bit to bore holes marked with scratch awl one at a time.
4. Mount plates with system screws
Itís less than efficient and I've been pondering the "gizmo 32". The plastic Blum locator jig seems to only allow for drilling one hole at a time. What's your method of installing plates? I don't line bore all the way to top and bottom implementing a 32mm system. I think it makes for a less than custom look.
Forum Responses
(Cabinetmaking Forum)
From Contributor Y:
So answer me this then? Do you have a line boring machine or a multi head drill for your drill press or is all this a one-off? The reason for asking is if you are using Blum, Grass or Salice they are all catering to the 32mm system as you know. That being said if done right all doors should be universal to any cabinet that shares the same width up until a handle or knob hole is drilled into that door.
So if I am understanding you right you feel you need to measure every hinge plate center line and drill the cup hole for each door plus/minus reveal based on what you have measured for each cabinet door and where that hinge plate is located. Consistency will always be your best friend in cabinet construction, custom or mass produced junk.

---
From Contributor D
:
At the very least make (or have made) a proper aluminum jig that locates on the top or bottom of the cabinet and the front of the panel with the holes 37mm back and spaced up from the floor as you want. You can have it made with drill bushings to fit a 5mm drill if that's what you want. I space hinges 4" from the edge of the door so that means I drill 4" from the bottom of the cabinet and 4 1/8 from the top. It'd be easy enough to make a jig that is 4" on the bottom and 4 1/8 on the top - make sure you mark it somehow. I'd rather put the offset in the cabinet than on the doors. It might cost you a couple of hundred bucks, but what does a ruined cabinet or door cost?
---
From the original questioner
Thanks. I would love to learn more about the 32mm system but what I think looks less than custom is line bore holes all the way to top and bottom of the cabinet. I prefer to stop holes shy of the top and bottom to a usable space - just my preference. I see the advantages though. As far as the jig I meant this below. Yes an offset at plates is easier than the hinge bore. I use Blum almost exclusively although lately some Grass. Hinges get bored on a Blum mini press and shelf pins on a line boring machine. I use 3MM shelf pins (again, it looks more custom especially on open casework) which render the 32 mm system useless as the holes are too small for system screws.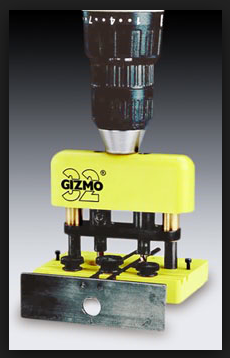 ---
From Contributor G
:
Looks like with that Gizmo you would still have to measure out and mark the hinge centers. For years on odd cabinets that doesn't work out to line up with my line bore holes. I have used the Blum jig pictured below and it easily transfers the hinge locations from the door to the cabinet and allows you to either mark the cabinet for wood screws or drill through the bushings for euro screws. It expensive but it's worth the money.

Click here for higher quality, full size image
---
From contributor F:
You could put the hinge holes in their own column and shelf holes in a separate column. That's what we do on a CNC and it makes it easier to know where the hinges go.
---
From contributor L:
Use 3mm system screws (e.g. Hafele) or 5mm bits where your plates go. There's no reason you need to fill your line bore with bits, or use all the same size bits. Only modular/stackable full overlay frameless boxes require that panels be a multiple of 32mm tall, e.g. full inset frameless requires (n x 32) plus gap plus (2 x horizontal panel thickness). Through running panel heights are (n x 32) - gap (between door/drawer faces) plus top and bottom reveals (door/drawer edge to box top/bottom). The panel top/bottom start hole distance (OP's first plate hole) is reveal - 1/2 gap plus (n x 16). Door and drawer faces are (n x 32) - gap tall and door hinge cups are (n x 16) - 1/2 gap from the top and bottom, i.e. a multiple of 32 apart (same as plate center to center).