Jobsite Tool Carts
Installers share ideas for keeping tools and materials organized on site. March 18, 2006
Question
Does anyone have any good ideas on a rolling tool cart - other than having two of everything? I'm constantly loading tools in and out of my truck box.
Forum Responses
(Cabinet and Millwork Installation Forum)
From contributor A:
I have been using this cart for about 15 years. It has been constantly evolving, and I have made a new top for it since this picture. I made this for door and hardware installation. I am in the process of making another one that is more secure for millwork installation. I made this cart to be light so I can get it on the truck by myself at the end of the day without ramps. The millwork cart will be heavier than this one, and I will take it on and off the truck by ramp. When it's on the truck I can use it as tool storage, but if the job merits rolling it off, I'll roll it off.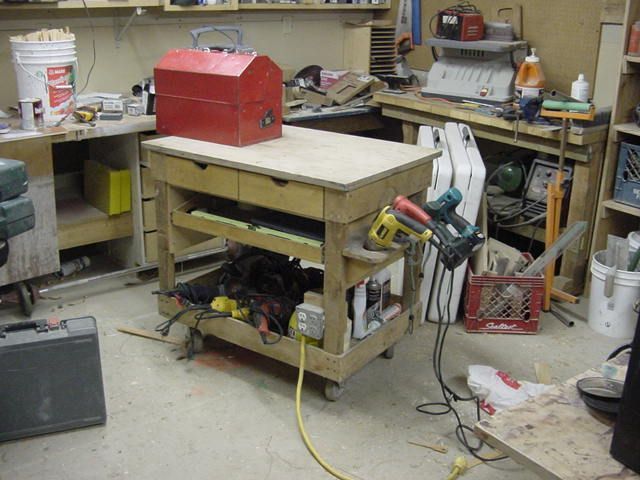 Click here for full size image
---
From contributor B:
I've got a box van also and it is great for carrying everything you need - kind of like a shop on wheels. I do interior trim and cabinet installs. But some jobs, such as installing stairs and balustrades, will empty the van of almost every tool I carry. To lessen trips back and forth to the van, I have categorized many of my tools into separate tool boxes. I have one rolling box (16 x 24 x 16) with a lift out tray that is unloaded every day. It contains a lot of the smaller items you would normally make return trips for, such as glue, extra knife blades, screwdrivers, clamps, pencils, hand saw, screws, most used drill bits, angle dividers, and more. I have a cabinet install box with tools needed for that job - clamps, drill bits, screws, glue, and touch-up kits. I also have a drill box containing 2 drills with bits, accessories, drill guides, etc. I have a router box with wrenches, bits, and guides. And I have a small box of repair parts for air hoses, elec. cords, and some gun parts as well as a box containing different gun nails and staples. Although this may sound like a lot, it's really not. It is much easier to pick up a box containing everything related to a tool and make one trip rather than keep going back for forgotten parts. Besides, you couldn't lift a single tool cart carrying everything you need out of the truck.
---
From the original questioner:
I've decided to build a cart that is high enough to use and set my saw on top. Sometimes I work out of my truck and I also like the open space when I need it. I like the idea of separate removable boxes or shelves to set my tool bags on. Two carts is also a thought, as I also do small plumbing and wiring.
---
From contributor C:
I am in the process of designing a tool and fastener cart that will fit on a high-wheel upright dolly. This will allow me to use it in the shop, and haul it to a job site. Hope to have it designed and built by the end of the month. I use plastic collapsible sawhorses with a couple of 2 x's for a work table. It is easy to move, versatile, and cheap.