King Size Platform Bed with Storage
Suggestions based on experience for building a bed with storage drawers underneath. November 16, 2010
Question
So the wife and I have figured out that to maximize what space we have we want to custom build a king size bed. She has her requirements, I have mine. After collaborating we have come up with the following but no clue if it is buildable.
We want drawers on both sides under the bed (30w x18d x16h) and a center drawer that comes out the foot of the bed that is (30w x72d x16h). It also needs to have four posts. The last requirement is that it needs to be able to be disassembled so that we can get it into the room easily. I am open to any ideas.
Forum Responses
(Furniture Making Forum)
From contributor M:
Sure it can be built, with or without posts. Think of the bed as a countertop, and the drawers as cabinets, and it might be easier to develop a plan of attack.

---
From contributor G:
Sure can be done. The center drawer requires either wheels or super long guides (the kind that are used in vans and pickup truck built-ins for super long drawers). Three base cabinets - his side, her side and ours. Or two and a faceframe at the head and foot of the bed so the two boxes don't move apart and the guides mount on the back of the two boxes. Build sturdy notches into the box corners and bolt posts on from inside the boxes.
---
From contributor L:
Assemble the headboard and footboard and make the stretchers mortise and tenon and use a bolt to secure it covered by a bed post hole cover. Build the drawers as separate units that just lay on the floor under the bed, maybe attached by a screw or two to keep them in place. That way if the need arises you can make it just a bed again.
---
From contributor S:
Don't forget to make sure the drawer sections are set back under the edge of the bed enough. When you get out of bed and you swing your legs over the side your feet tend to go back under the edge just a bit. If you kick the drawer with your heels you will not be happy. As others have said, build them as three separate cabinet sections with a platform on top.
---
From contributor O:
Remember that a king bed has two box springs so you have to have a central lengthwise support. I have used two 11/2 angle irons tack welded together for this, put them on a ledger strip on the head and foot boards.
---
From contributor C:
I built ours as a king platform bed. We deleted the box springs from the design. This gives us more storage underneath. Contributor S is correct about recessing the drawers from the side so you don't smash your feet. Fortunately I thought of this before I built it. If you have nightstands next to the bed, or other furniture on the sides of the bed, be sure you can open and close the drawers without moving the furniture. I just chose to have a blank panel on each side near the head instead of cabinets. It keeps stuff from getting underneath (animals, dust, things that fall) and finishes the look.
I used full-extension drawer slides. Since the drawer box is already recessed, a 3/4 extension drawer slide would be a real hassle. The countertop, as Contributor M called it, is two pieces of 3/4" plywood biscuited together and edged with some hardwood that forms a lip about 3/4" high so the mattress doesn't slide off accidentally. I used a round-over bit to ease the edges on the top of this lip. Just imagine banging your bare foot on this piece once. You will remember. Ours does not have four posts.
The hardest part to move is the "platform" piece because of its king size. For two people, it would not be a problem. But, the last time we moved I maneuvered it by myself. (The panel skate from the shop came in quite handy.) The cabinet boxes detach from each other and can be moved, with a hand-truck, quite readily. We also deleted feet from the design. The boxes sit directly on the floor giving us more storage, and eliminating the need to clean under the bed. It works for us.

---
From contributor D:
Here's one I did a few years ago. No box spring, the mattress lays on the deck formed by the lids of the two drawer box cabinets. The headboard and footboard are screwed to the drawer cabinets from the inside. If you want a drawer coming out from under your footboard, just make three boxes instead of two, and make the middle box your footboard drawer.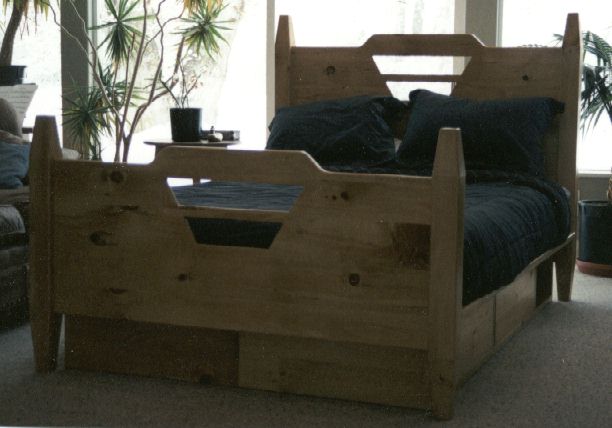 Click here for higher quality, full size image
---
From contributor J:
I notice your drawers are pretty deep. Have you considered what you are putting in them? I find it handiest when drawers are 3-5 items deep. Unless it's something simple (plain white t shirts, for example) it's a pain sorting through too much stuff. At 16", you'd need to be storing thick quilts or blankets to avoid tearing up the top layers to get to the bottom. I've made a lot of drawered beds.
I prefer to do the base as a single structure. I used to put my drawers on runners when I constructed platform beds with French dovetails (two runners under, one runner over to control tipping). Now I put them on rollers. I've never liked drawer slides for beds. If they are heavy enough to feel right they are too darned expensive. Plus my cabinets (aka bases) are KD, which means they are less rigid.
I prefer to build beds that knock down into individual boards without tools. Sometimes I use hook and eye hardware, sometimes pegged tenons, sometimes saddle joints, sometimes tapered or slotted (for springiness) French dovetails. Often the bases are loose until the top frame indexes into it. For decks, I support 1/2" plywood every 16-24". It is strong enough to hold a frame around the mattress and a couple people sitting on the edge. When I support a frame with posts of directly from the platform I can use 1/2" particleboard, which even holds up a waterbed.