Leather and Rubber Belts for Old Machinery
A little info about drive belt technology for olden-days equipment. May 18, 2010
Question
Does anybody know a source for old machinery belts in leather or rubber? I just finished fully restoring a 26" planer made between 1887 and 1921, and all I need to get it up and running is the belts.
Forum Responses
(Sawing and Drying Forum)
From contributor R:
McMaster-Carr has belts up to 6". You'll need a lacing tool to make it up... Older sawmills and some farmers might have one lying around they'll let you borrow.

---
From contributor C:
Would round bailer belting work?
---
From the original questioner:
Thank you. A local friend referred me to Mcmaster-Carr, and their online catalog is full of great stuff. I will definitely go for what I need in rubber belting for $70.00 or so, vs. leather priced out at $470.00!
I am thinking of joining the ends together with leather string. Anybody know anything about this method and its durability? The picture below is how the feed change was before I took it apart.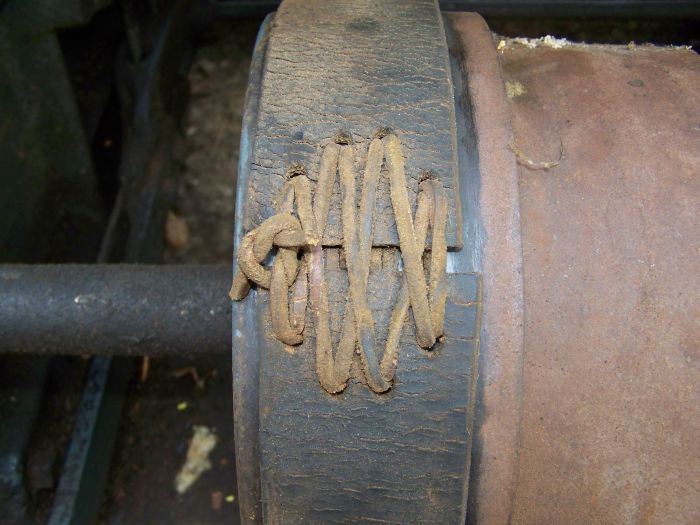 Click here for higher quality, full size image
---
From the original questioner:
I did some research - apparently lacing the belts with leather string is stronger, safer, and provides better traction.
---
From contributor K:
An old time farm and tractor place near me has cut me any size I want when I need a flat belt. Check out what you can find locally.
---
From contributor R:
I'd never try hand lacing... It looks like you really need to know what you're doing, and even then, you are concentrating the load over just a few points. I've used alligator style lacing... Google it. It's very easy to install, just has a little tool to hold the lacing straight and you hammer it on. In the end, the load will be distributed evenly, and the belt should be very square and run straight.
---
From contributor C:
As for the alligator style lacing, the wire style is what I use on my round bailer. I have had these belts on for 5 years now, with very little problem.
---
From the original questioner:
I am not sure that metal lacing is better. I have seen a lot of old leather belts, and the leather stitched ones seem to hold up better because the holes are farther apart in the belt itself. The metal laces are very close together, and seem to make the flat belt more fragile.
This observation is from seeing old belts that have not run in years, but I will soon find out once I start running my new belts within the next couple days. I will be careful to align the belt ends, unlike the original belt shown in the picture I took over a year ago when I bought the machine.

---
From contributor N:
I have old belts and a leather lacing machine and have been developing all types of belts. The steel staple is offset for strength and using the right size staple is more durable for high torque applications (less stretch).