Leg Levelers for Carpeted Floors
Tips on using leg levelers when installing cabinets on a carpeted basement floor. June 12, 2014
Question
I have an installation coming up where I'm installing cabinets in a finished basement with wall-to-wall carpet over a concrete floor. I'm not crazy about the idea of cutting the carpet around the cabinets or installing the cabinets on top of the carpet. I'm wondering if there's a leveling leg that has a spike or something similar that would penetrate the carpet to eliminate the problem of the cabinets settling as the carpet compresses over time.
Forum Responses
(Cabinet and Millwork Installation Forum)
From contributor R:
Could you make what you need by epoxying a spike mat to the bottom of your leg levelers?

---
From contributor K:
Put levelers on behind the base of the cab and lower just below the bottom (see below), so when it floats, it actually looks like it is sitting on the carpet without the depression. The only depressions are those left by the levelers, and if they move the cab location in the future, those are generally easy to rub out (depending on carpet and padding) with some steam from an iron to expand it and a carpet brush.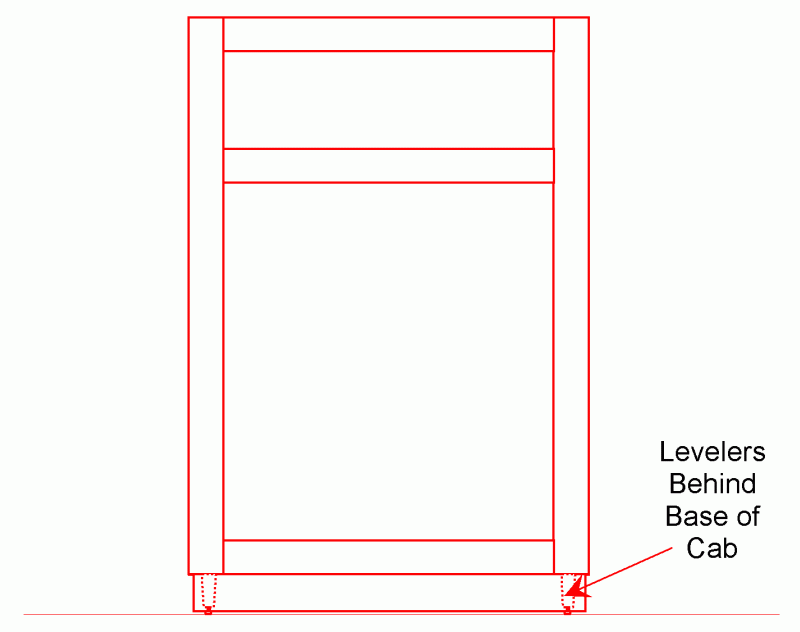 Click here for higher quality, full size image
---
From Contributor W
:
Look into metal Camar levelers and leave the plastic bottom part off. Use these on the front and at the wall use a cleat to rest cabinets on. Iím sure the bare metal legs will eventually cut through carpet and you might have to go back in a month and re-adjust front legs. You could also just cut the carpet around the legs with some sort of holepunch.
---
From contributor K:
Just remember it is in a basement, and moisture mixed with metal equals rust equals stained carpet.
---
From the original questioner:
I may just use the plastic legs and cut out holes in the carpet to get down to solid footing.
---
From contributor R:
You may also have a tack strip at the wall. Make sure of that before you choose the mounting of the legs. Two legs on a tack strip and two on carpet doesn't work well.
---
From contributor G:
We've done as you're thinking: cut holes for the plastic leg levelers and either use a wall cleat, or keep the back levelers far enough forward to get off the tack strip. You have it figured out.