Live Edge Fireplace Mantel Advice
Practical details for making a large-dimension rustic mantelpiece with a natural log edge. January 18, 2011
Question
Iím looking for someone with experience producing and treating live edge mantel. Any ideas where to look or problems to avoid?
Forum Responses
(Sawing and Drying Forum)
From contributor B:
Give us a little more info. What wood are you using? How dry is it? What are the dimensions? Try to center the heart when you saw it out. It will likely crack as it dries. You can somewhat control this issue by cutting a kerf in the mantel with your Skil saw parallel to the heart as deep as you can get. Good luck. Live edge looks great. I like it and have done many of them for other people. Centering the heart with a live edge is about near impossible but try to get close and use a saw kerf to control the inevitable.

---
From the original questioner:
The mantel will be 5-6' long, 14" deep, and 7" thick (if possible). The front edge they would like beveled to give a slightly rounded edge. They are flexible on species but would like to have a finished product that really has a rustic look. Knots, stain, bark, color variation is all expected. They are willing to go for a scraped look instead of the bark if necessary. It seems like too thick a chunk to safely dry. I can imagine having a log sawn to produce this piece, but it will be difficult to both center the pith and naturally find the bevel on the front of the piece.
---
From contributor F:
I would avoid including the pith in the piece. A bevel is not a round over, and an edge that has been machined is not a live edge. Something doesn't add up here.
---
From the original questioner:
Still in the planning stage, but they would prefer a live edge. By bevel, I mean that they would like the live edge to be at a 50-70 degree angle on the front side and not at a flat 90, if you know what I mean.
---
From contributor B:
I take it you mean they want something close to a quartered log. You will still have movement and shrinkage to deal with and cracks are nearly inevitable. You can still control the cracks somewhat by the method I mentioned earlier. Put the kerf in the back toward the wall and it will never shoe. I don't know where you are at, but eastern red cedar, mountain juniper, or mesquite all make good mantels as they are all stable and moderately dry to start with.
---
From the original questioner:
How long after sawing should they wait for install, and at what MC? Any scary insects in these species that will cause them trouble? This is a Wisconsin project.
---
From contributor B:
If you have the depth between the pith and the face edge, then cut the pith off; logs split the fastest from the pith outward. Having a bevel or angle to the live face sounds nice. If the pith has to be there, cut a slot on the back side as suggested above to help unload the stress. You cannot guarantee that it won't split some or all the way across, and it may take years to completely cure out. During that time it will shrink a bit, so make sure you leave room for creep during installation; I would attach it more towards the center, and leave the ends loose to move. Tell the owner that it will move some, and to cross their fingers that it doesn't warp.
You will need to choose a nice, straight piece that will move as minimally possible during its drying time. Wood does what it does, so make sure the owner knows that it requires some luck for a perfect outcome. Bugs are always an issue, if you can't put it in a heating room to kill them then at least spray it with a bug killing product; there are a few, check out your local woodworkers store. Find a reputable person with a mill in your area and ask them if they have a nice piece for a mantel. Chances are you will have many to choose from. Look for bugholes and splits/twists in the wood before you buy it.

---
From contributor A:
I do a lot of natural edge mantels every year. I do them out of everything that grows in the Ozarks. Some like pine, ERC and hackberry dry out quick and others like oak and osage orange take a while. We have customers who bring in their own logs and we saw them out and they put them in green. If the pith is centered and a relief cut made they may move a little over time but that just adds to the thing. Sometimes they remove them after a few years and have us re-flatten them but move love the look. Walnut and cherry are two good woods to use but cedar has lots of good looks. I would remove the bark. It is just asking for bugs and trouble and most will lose them any way.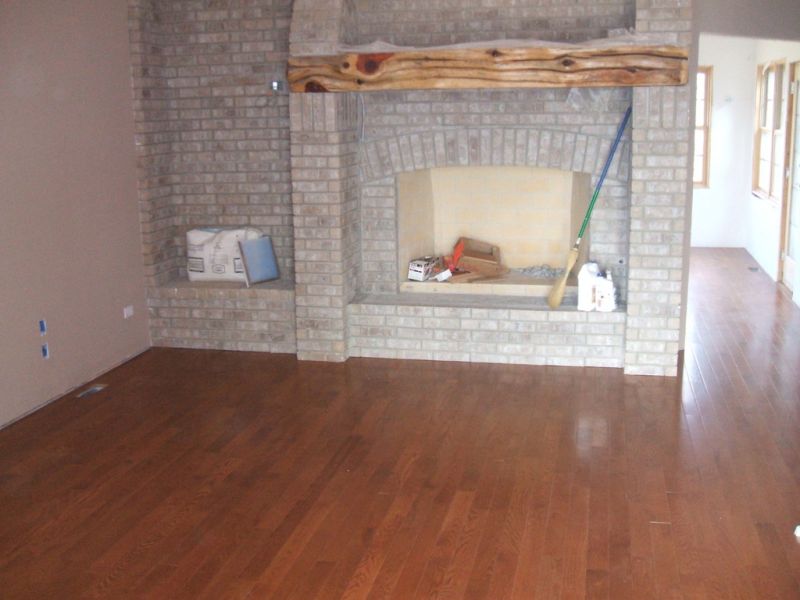 Click here for higher quality, full size image