Locating the CNC on the Shop Floor
Loading, unloading, workflow, and air supply are considerations when fitting a new CNC into the shop. August 21, 2012
Question
I'm going to add a CNC to the shop and I'm not sure about the position of the machine. I know to think about loading/unloading and how work flow goes. Where is the most efficient area to place a CNC machine? Can you put one end against a wall? Can it be placed in the middle of the shop, or in a corner? I don't want to wish I could of, would of, or should of put it here or there.
Forum Responses
(CNC Forum)
From contributor W:
My preference at minimum is to have my X (short width in my world) along a wall with enough room to pass easily, keep clean, and have z heads close enough to change bits and again keep clean. Leave at least one long end and one short end clear for load and unload. Wiring should be in placed and ready as well.
Keep dust collection and a vacuum in mind for location as well. You are right to ask this question as you do not want to be making this decision at install. My best preference is to load in on one end and out on the other. I had a space issue when I installed this one now that is solved and will place the next one with the e-chain (cable tray for gantry) side (with clearance) along the wall. You can see the dust collection tower with the arm for swivel over the machine.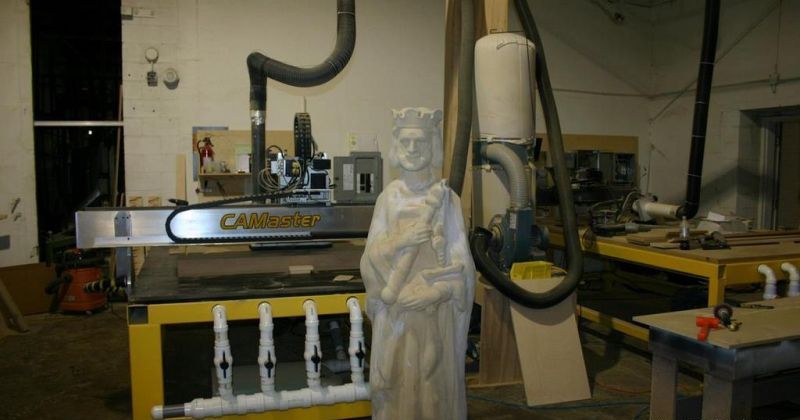 Click here for higher quality, full size image
---
From contributor H:
In addition to operational issues I've given serious consideration to the noise levels as well. In both shop settings where I've had a CNC I put it in a separate walled off area. This keeps the noise of the CNC out of the main shop space so other workers don't have to contend with the loud whine of the bits cutting.
---
From contributor M:
Placement in front of a wall is preferable if possible since the operator will at times will be blowing chips off the work pieces with an airline. You don't want to blow dust onto other employees, or machinery. If it has to be in the middle of a shop, partition walls are easy enough to build. Work flow - depends on the machine configuration. Itís definitely a good move to think about this before hooking it up. You will save time and money by getting it right on paper.
---
From contributor I:
Another consideration is edgebanding. We unload our parts off the CNC into an open rack, and then the person running the bander unloads from the other side of this rack and then runs the material through the edgebander. Then itís on to finishing or assembly on carts. We load from one end and unload from the side.
---
From the original questioner:
I'm still moving around my paper machine cut outs. I'll be getting rid of my slider so that will open a lot of space. I think I'll put the e-chain side towards the wall then load/unload like Contributor I said. I already have parts carts that we use with the slider.
I hadn't thought of the noise issue. Space won't let me put it in a separate area. I also hadn't thought through the dust blowing. I might have to look into moveable walls for dust and noise.

---
From contributor K:
Another consideration, depending on the size of your shop, is to ensure the machine is the first inline after the compressor. Pneumatic starvation can be a huge deal in smaller shops.