Log Moving Equipment Choices
All-terrain forklifts get good reviews in this thread. July 29, 2011
Question
Iím looking to upgrade my 30hp tractor that I currently use for loading my circle mill. It has a lift capacity of around 1500 lbs. My question is; what lift capacity should I be looking for? I see a lot of 545 Ford/New Holland tractors around mills in the area. This machine has a capacity of 5000 lbs or so. For the price they go for used, I can get a used back hoe with a capacity in the area of 7000 lbs plus have the added versatility. Do I need this much lift or should I look for something smaller. I know, bigger is better however I don't want to waste money if I can help it.
Let me clarify. I'm not saying that a hoe would be wasted money. I'm sure that I'm not the only startup mill operation that has a tight budget. I know that a larger tractor would be nice however if I can spend $10k less on a tractor that will do the job then great! I'm just not sure what lift capacity I should be looking for. The tractor I have has worked well except for larger logs. I've had to shorten logs or turn them down all together due to the limited lift I currently have.
Forum Responses
(Sawing and Drying Forum)
From contributor M:
I have played the tractor, five ton truck with picker, and back hoe game. None of them are designed to lift more than a couple thousand pounds. I went out to the auction and bought a 1974 Patrick AR-5 and have never looked back. I paid $9000 for a 4x4 forklift capable of lifting 10,000 lbs. I can now stack lumber on trucks, unload logging trucks and I have a blade that I attach to the forks for sawdust and snow removal. The best part is I am now using a machine at 20-30% of its capacity rather than 110%. I have not broken anything since I got it. If I had more cash at the time I would have got an integrated tool carrier.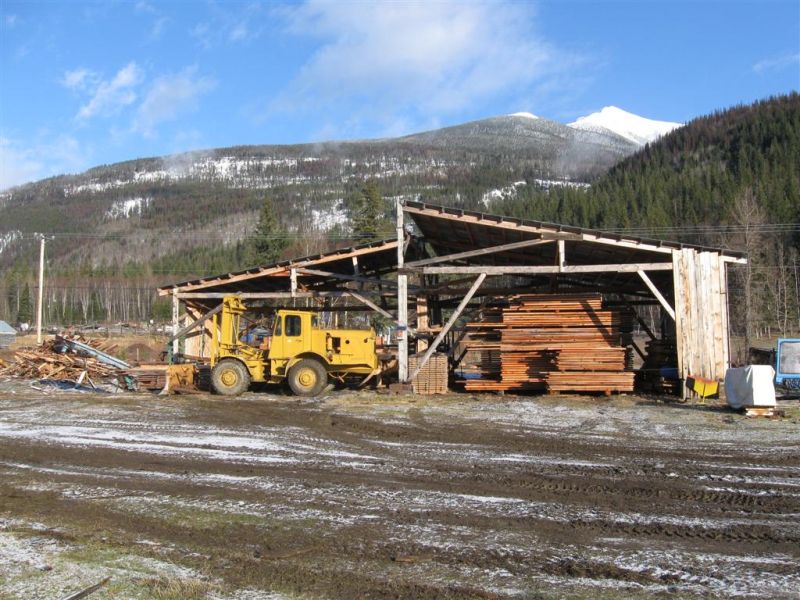 Click here for higher quality, full size image
---
From contributor G:
I would also recommend a forklift. All terrain does a good job on unpaved ground. Unless you have a large wood lot I would try and pickup a size that can easily maneuver around your mill. Lastly avoid chaining up a log to the forks to use them as a over the load lifter. A boom forward action can cause the load to pull the lift over.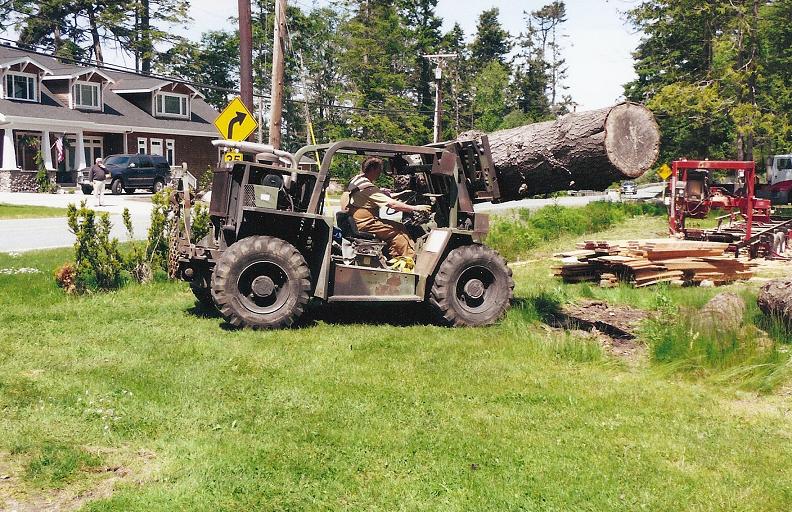 Click here for higher quality, full size image
---
From contributor Y:
I have a lot of diverse equipment here on the ranch. For the handling of logs and lumber I recommend a rough terrain forklift. I rescued mine from a retired friend last winter for $1500, and $3000 in repairs later I had a good machine with a real lift capacity of 5000#. Logging work will tear up a farm tractor loader and backhoes are not as cost effective.
---
From contributor C:
I have used everything from trackloaders to farm tractors. Forklifts work best for stacks of lumber or ties. The most versatile machine I have found is a four wheel drive high loader. Forklifts do not have enough tilt or rollback to handle logs efficiently. If you have ever tried to catch up with a log on a down slope you will understand. Used loaders in my area sell for $5000 and up. They have the capacity to load 20-25 ties at a time. Hope this helps.
---
From contributor K:
I would buy the machine that picks up 90% of the logs you work with, and is able to move the last 10% by skidding, rolling whatnot. My Kubota is 37hp and has 2k lbs lift at pivot point, or roughly 1500 with forks and log, or a little more. I find that being able to easily move the tractor to the woods, and it being 4x4 I can skid a very large log with it, and roll them up the trailer ramps, same with the sawmill having hydraulic arms to lift with. Having something really big that does everything you need makes it hard to move. If it has 10k lift capacity chances are you need a semi to have it moved anywhere, like for repairs.
However I did recently buy a junky off road forklift, the kind based on a farm tractor turned around with 4k lbs capacity to unload trucks and lift lumber stacks. In practice without hydro drive itís impossible to pickup lumber because itís never on even ground, the thing rolls all over the place and being careful when setting it, say on the kiln carts is just too hard. For $3k itís done some work, but I have a feeling it will cost me a lot in the end to keep it running. Before we got the forklift we just ripped the oversize logs with a big chainsaw as they didn't fit on the sawmill anyhow. The saw only cost $750 and we use it lots in the back country to fetch things nobody could. Itís used mostly for quartering oaks.