MDF Bowing After Panel Saw Cutting
Panel moisture content can cause pieces to bow when cut. October 14, 2009
Question
Has anyone experienced melamine bowing? 6" x 96" strips are bowing by varying degree when they are cut from MDF melamine panels on our panel saw. The cut ends up with a gap in the middle and touching on both ends. The saw travel is straight, because it gives an accurate straight cut when I trim an already cut piece. See the image below. If this is normal please let me know.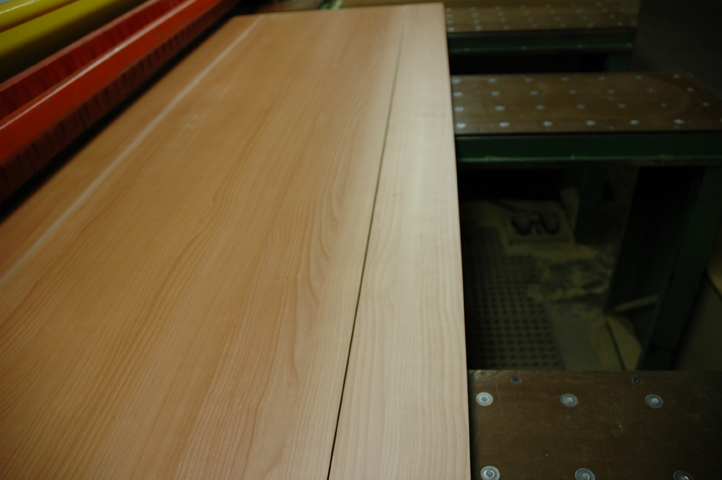 Click here for full size image
Forum Responses
(Cabinetmaking Forum)
From contributor R:
Moisture content. The panel has lost or gained moisture after it was laminated so that there is stress within the panel. The same goes for solids. I've seen far worse bowing than your picture!

---
From contributor H:
Narrow strips like that are usually a problem, especially if cut from the edge of the sheet. Those cut from the center fair better. I double cut if itís critical that they be straight.
---
From contributor D:
This is common and I agree with contributor B. Many of our Striebig customers cut the panel down the middle first to relieve the stress and then work from the middle out off the center shelf. If itís bad enough, you have to make a second trim cut to get a square edge.
Being able to identify how much stress/bow is in a panel is one of the advantages of using a vertical panel saw. After making an initial cut, you can see the extent of the bow very well because itís right in front of you normally about eye height. I've also seen shops change board suppliers if the problem is bad enough.

---
From contributor J:
We see this all the time and there is not much you can do about it. It gets worse at the change of seasons but it has been bad since the housing market slowed down. Apparently the core for the PB is hard to get right now because they aren't making enough lumber. At least its not rocks and metal chunks. We have hit a lot of debris in our boards lately.