Magnetic Chalkboard Solutions
Suggestions for providing a magnetic bulletin board that the customer can also write on with chalk. February 27, 2015
Question (WOODWEB Member) :
I have a customer who needs panels for a Thermadore fridge. It has to be magnetic and black chalkboard. We're going to laminate sheet steel to ply, as in the pic from a Chipotle table attached. I've never done such a lamination before. I've got the cutting (water jet) and painting covered. I'm still undecided on the adhesive and would appreciate suggestions from anyone with experience with this kind of thing.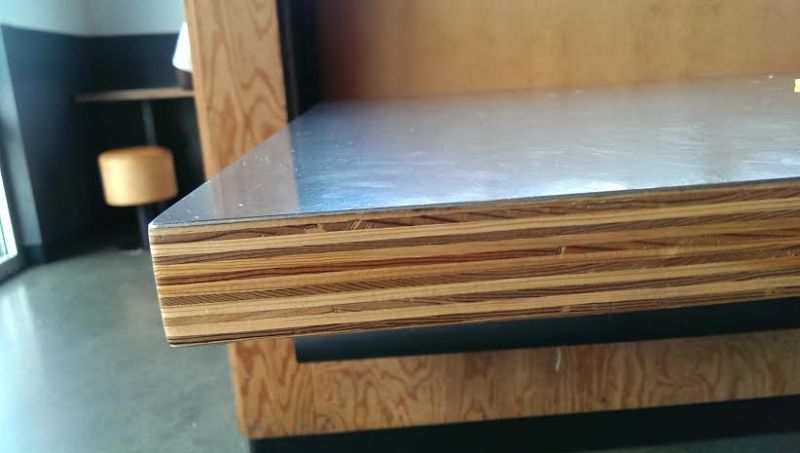 Click here for higher quality, full size image
Forum Responses
(Cabinetmaking Forum)
From contributor C:
There is already a product available for this. Do a search for the company "Billyboard". You will have to look around a bit on their site to find it as they have a lot of bulletin board/chalkboard type products. Their chalkboard is made of black porcelain on steel. It will hold refrigerator magnets and provides the tactile experience of chalk on slate. You can wipe the chalk clean with a damp cloth.

---
From the original questioner
:
I'm a little concerned about both Billyboard and Chemetal and the water jet. I was leaning that way and veered off.
---
From contributor C:
We've used this material on half a dozen kitchens. It's great stuff.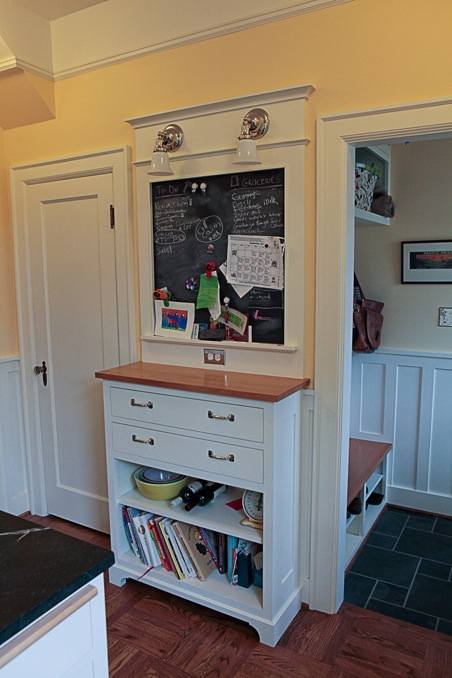 Click here for higher quality, full size image
---
From the original questioner
:
Nice! My problem is the design doesn't lend itself neatly to a frame around it. However, I have a job coming up with a space that might like precisely what you've got here, so if you don't mind I think I'll be stealing it.
---
From contributor D:
If it helps at all I have glued stainless to drywall for a backsplash application.
When gluing metal prep is key. I cleaned it thoroughly with acetone, scuffed the surface with 60 grit paper, and then cleaned with acetone again, taking care not to get oils from my skin on the glue surface when handling it. For this application I used PL premium, which works great, however I wouldn't recommend it for gluing sheet metal to millwork. Not sure what adhesive I would use for gluing stainless to plywood. I might use an epoxy, pressed in a vac bag. I don't think I would trust contact cement.