Making Acrylic Cabinetry
Solid sheet acrylic and acrylic veneer are opening a new niche in cabinetmaking. Here is some background information and an extensive set of photo examples of finished work. November 29, 2014
Question
I have a customer that wants a high gloss modern kitchen using high gloss solid acrylic material. My research shows it comes in 6 and 18mm sheets. Does anyone have any experience with this material? How does it differ from solid surface countertop material? I'm assuming this is more a European trend just showing up here. I can find companies online that produce it, but no suppliers here in the US.
Forum Responses
(Cabinetmaking Forum)
From Contributor J:
Give Northern Contours a call. Order your stuff to size and forgo the headache. This is one of those items that if you are not set up with the right equipment and practices to do it properly, you will get less than satisfactory results. Remember, gloss shows every imperfection!

---
From the original questioner
Thanks you. I don't plan on fabricating, just educating myself mostly. How is edge banding done, in acrylic or just close as match possible in paint or PCV edgebanding?
---
From contributor H:
Northern Contours does not sell solid acrylic doors. They are acrylic veneer on MDF or you can buy the sheets and apply them to a bust rate yourself, but you need a great bander to make a finished product. Richelieu America distributes a product called Parapan Ė itís 3/4 solid high gloss acrylic. We have done several projects with it and some photos are included. They also sell a thick acrylic veneer already laid up on an MDF core and banded to match or you can by the acrylic sheets. For any work with built-up edges, this material is great. A bookshelf we did with 3" gables shows what you can do with it.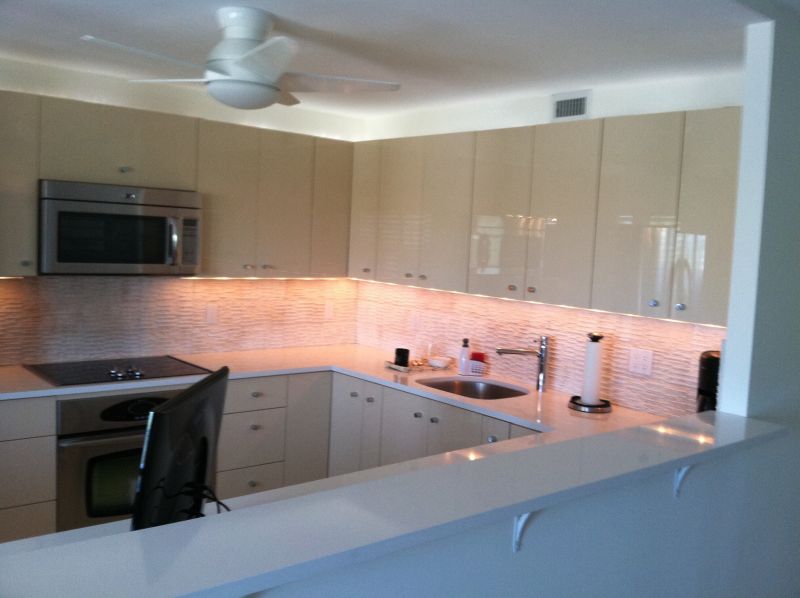 Click here for higher quality, full size image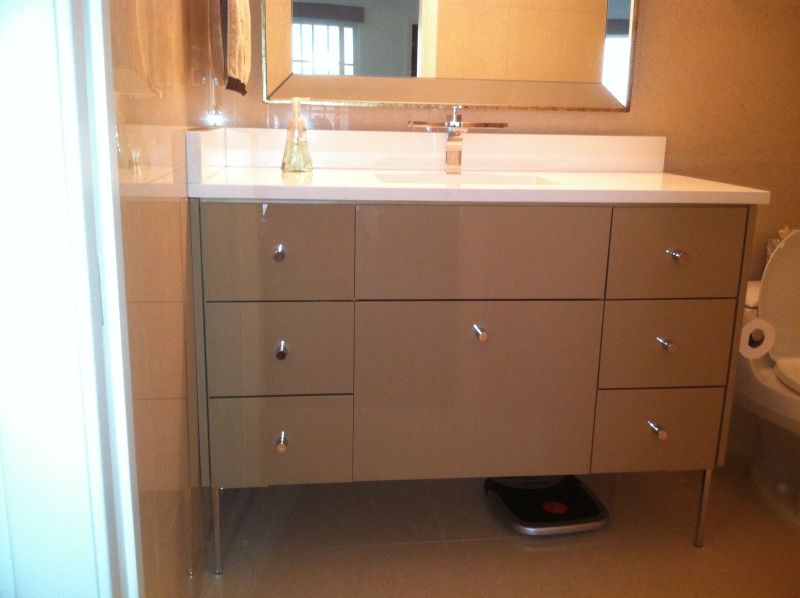 Click here for higher quality, full size image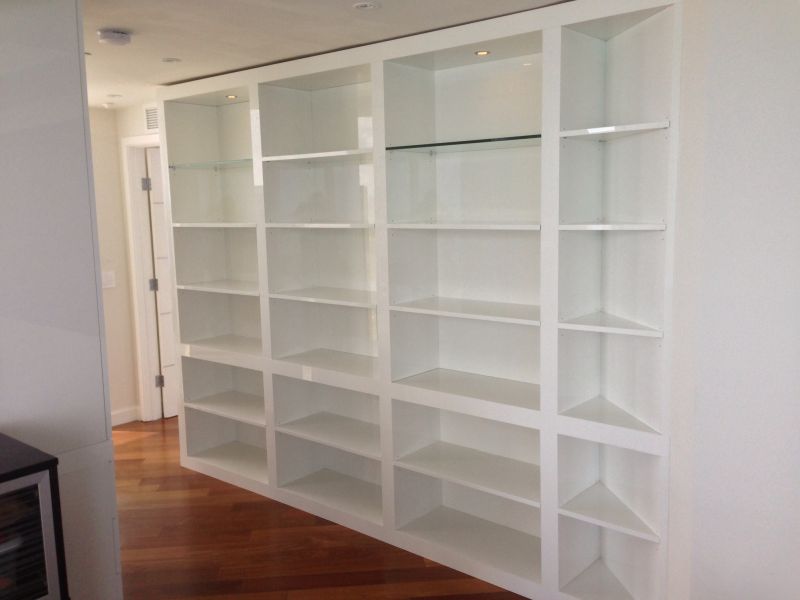 Click here for higher quality, full size image
---
From contributor H:
Here are some more pics. The kitchen and bath vanity I sent are solid acrylic, not veneer. The doors are heavy and you have to bore hinge holes with very sharp bits and slowly, or in stages. You must use Inserta hinges that hold with friction as this material does not take screws unless you pre-bore. They have a matching 1/4 for end panels which I use for toe kicks to save money, but we use solid applied end panels that are clamped and per screwed with a hole just under the screw size. It's easy to crack otherwise. The price is around $65/square foot which is comparable to an automotive finish cost, but it is indestructible and there is no labor on your part, it is very hard to scratch, but a scratch can be buffed out with compound and a buffing wheel. We have also used 1/8 thick black acrylic with 5/8 melamine doors and glossy acrylic banding to make some stunning furniture pieces. Don't try this with white as it is not opaque enough. At $14.50/square foot for glossy acrylic, we tried it for a kitchen. When we finished the install and removed the paper protective layer, you could see the shadow of the hinge right through the door. That was an expensive lesson. The Parapan is a different animal, with no transparency at all.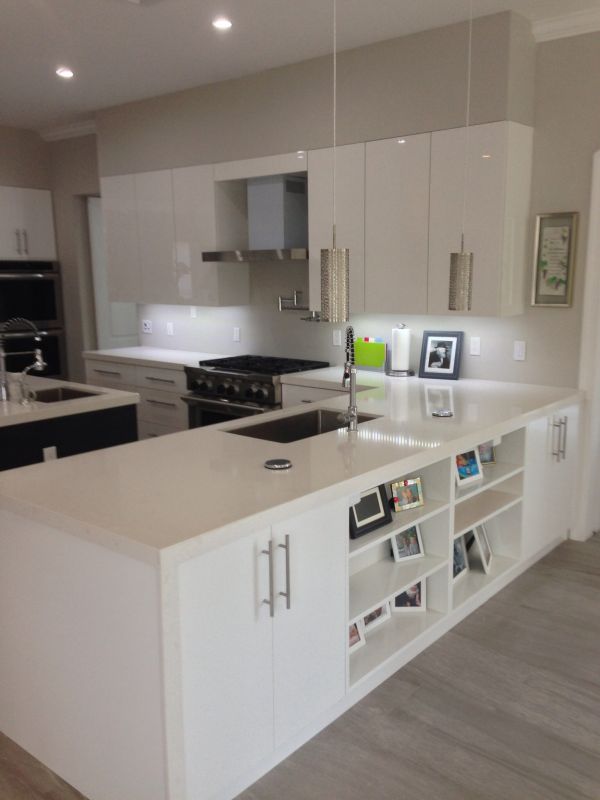 Click here for higher quality, full size image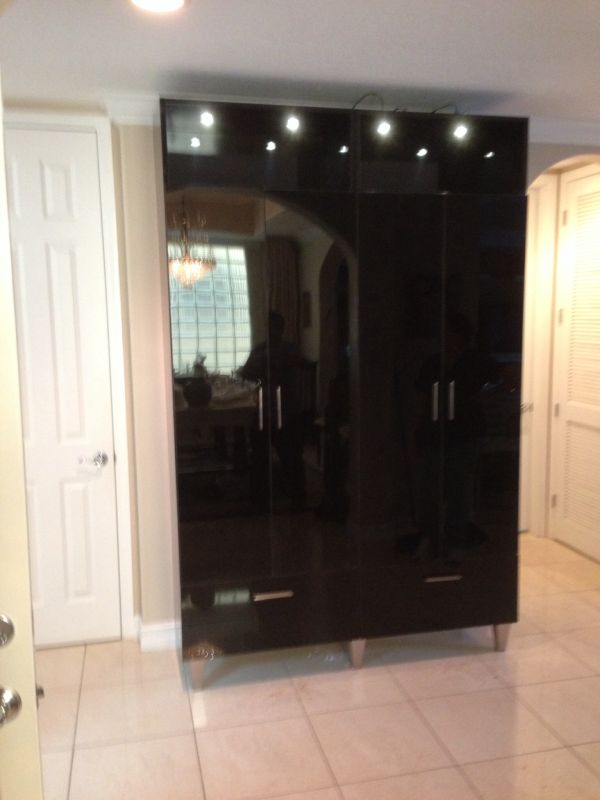 Click here for higher quality, full size image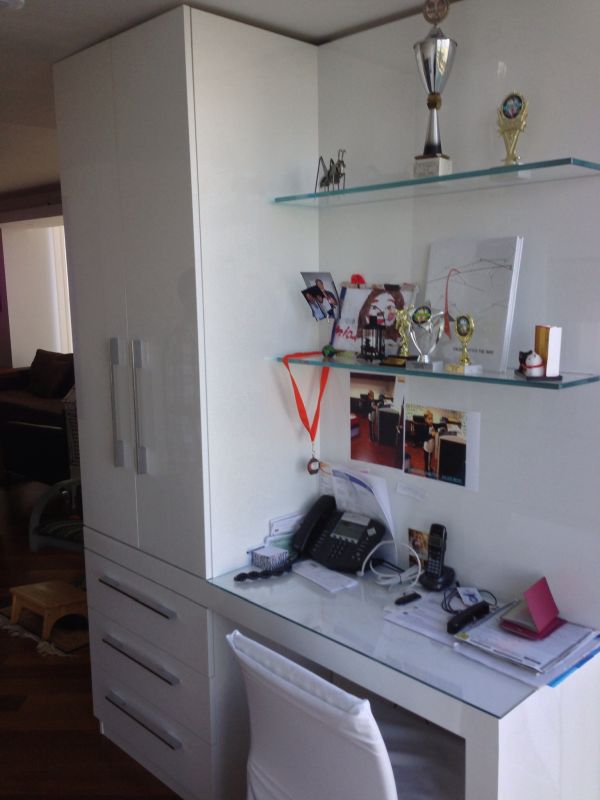 Click here for higher quality, full size image
---
From Contributor H
:
Wow very nice! Can you explain how you attached the face frames on the bookcase and also how you did the 3" gables on the bookcase? How did you drill the shelf holes? I noticed that you drill three adjustable holes per location. I have used Parapan and know that it hard to drill. Were the holes machined on a CNC?
---
From Contributor J
:
I missed the solid portion of that question. Northern Contours is laid up sheets on MDF as Contributor H stated. Nice projects!
---
From contributor H:
The bookshelf and home office were made with Northern Contours acrylic veneer, not the Parapan. We made 3" columns hollow using 1/2"MDF and covered with the acrylic veneer. 2" thick wooden blocks were used with white glue to assemble on site. Holes for shelves are drilled by hand using a standard 5mm boring bit. We often make fixed shelves as the shelf holes are not great looking or in the case of white, we give the client white plugs that fit the unused holes perfectly.
The large white kitchen was built with white melamine and finished ends are the acrylic veneer. I have a supplier in Miami that sells 3/4" x47.25x144 sheets of MDF already laminated with high gloss acrylic on one side and white thick mat vinyl on the back. Both sides have a plastic protector coat. They are $200 per sheet, and the matching banding is $180 per roll. Itís great pricing for an acrylic product.

---
From the original questioner
Great info Contributor H, nice work as well. Iím curious as to the advantage of solid over the veneered, other than no edge band. Itís good to know about seeing hinge bore through the white, it's info like that that saves our butts. Also, I am somewhat concerned about possible warping with the veneered with different facings, anything to worry about?
---
From contributor H:
The advantage is that there is no edge. You can get many edge profiles as well as insert handles or pulls and of course it's totally waterproof. You can use this outdoors. The Parapan white is not a problem. Any acrylic supplier sells colored acrylics in many colors, but the color density is less than the Parapan. If you bought 3/4 black of this cheaper material you would not see the hinge cup hole. You would have to have a pro do the polishing if the edges if you cut your own sheets or you can do it yourself with rouge and good flap wheels - not easy to do. The front and back thicknesses are the same for the veneered material and it is a balanced sheet. Iíve never had any warping issues. Thanks for the compliments everyone.