Making Interlocking Shelves
Constructing sets of shelves with fitted parts. October 20, 2004
Question
We've run into a client that wants a ton of these shelves and was wondering if anyone had a better way to make the dados for the interlocking parts.
For the one or two we've done in the past, we've used the dado set on the table saw and then chiseled the end of the "notches" square.
This was okay, but we've got to make a bunch of these, so we'd appreciate any suggestions.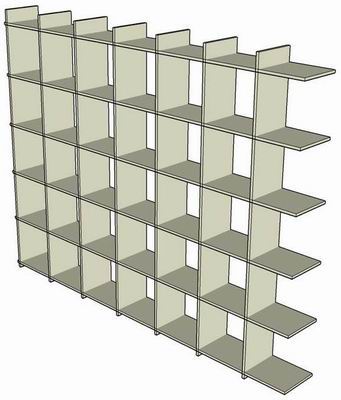 Forum Responses
(Cabinetmaking Forum)
From contributor J:
If you have a large radial arm saw or overhead router for dados and for shelves, just notch 'em so they hide the "ramp" from the blade, just like the tennon on a joint.

---
How about a jig, router and guide to assembly-line them?
---
Depending on the thickness of the material, one thought is to use a dovetail joint for shelves... Depending on taste, it might add a decorative flair for a finished product (assuming adding a hardwood edge vs. edgebanding prior to dovetailing), or easily concealed with paint...
What will these units be housing?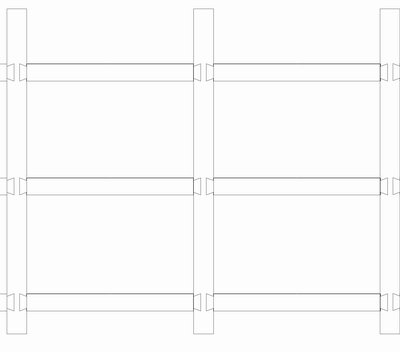 ---
Years ago I made the same type of shelves. I cut the vertical and horizontal dividers to the overall length of the unit, then routed through the back side of the verticals halfway, then routed through the front of the horizontals halfway. It was easy to assemble by placing them face down, sliding the horizontal panels into the vertical panels. Doing it this way is fast and makes a really square unit.
---
Rather than dado, I have cut my horizontals full length and applied my verticals with butt joints, securing with biscuits or splines. When working with melamine or laminates, there is less risk of having an edge chipped when doing a full width dado.
---
I just bought a Her-Saf panel router, and love it! With a template you could make a stopped dado and dap shelf ends very quickly.
---
We did some similar but avoided dados altogether by using hardware. We made a small groove on the shelf ends to hide the clips. Can't recall the hardware name but it was a clip with two screw holes at each end to apply it and it had a kind of keyhole and slot along the length. The mating part was a screw that went into the vertical in pairs and the shelf would slide and clip into place. It was pretty fast and simple, plus you could ship and assemble later. Also did these shelves with other European fasteners found at Hafele, etc. I realize it's not the answer to your question, but just tossing out an alternative that might spark other ideas. The clips were American before all the Euro hardware hit. I like the Euro stuff better, plus we had a construction boring machine. You don't have to dado with the new hardware, which I found stronger for most applications.
---
Do they really have to be interlocking? I have made plan storage cabinets like this in the past and made my vertical members fixed and then made all the horizontal members just like adjustable shelves, only I made them a snug fit. You would have to adjust your height to work within the system holes so you have equal spacing.
---
The picture leaves a lot to the imagination. The seams appear to be both horizontal and vertical, so there is no help there as to what it is supposed to look like in finished form. What is the finished material? It also appears that the horizontal and vertical are both flush at the front edge and there is no back. Is that right facing end supposed to float like it appears?
I don't see enough info to determine how you should construct this piece. There are too many variables. It would help if a little more was known as to what the customer expects to see.
Also, is this piece commercial? Free standing? Just going by the sketch, dadoes alone would not do it.

---
If you have backs, you can screw through them into the unsupported back half of the shelf. If you don't have backs, you can rout a keyway as shown below and glue in a snug-fitting piece of hardwood. 1/4" x 1/4" works very well and the cuts can be made before assembly with simple templates and jigs.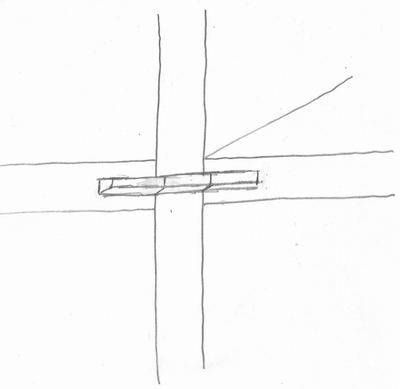 ---
From the original questioner:
Thanks for all of the great ideas. Responses like this are what makes this one of the best professional forum on the net. I think we are leaning towards the 1/2 lap solution.
---
Or, if you want to go a step furtherů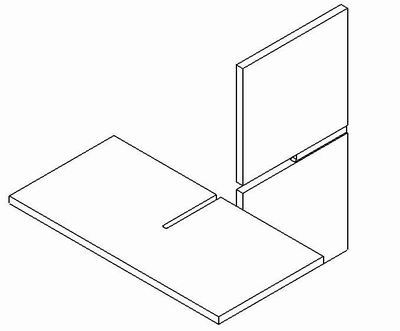 Just use a template and a router with a bearing above the bit. Make it big enough to pin a stop at the right spacing and you can step the template from the previous cut.