Matching an "Antique Oatmeal" Finish with a Dark Glaze
Advice on matching a particular cabinet finish and a discussion of color matching in general, with a little geography and civics on the side. June 17, 2009
Question
I am posting on behalf of my professional cabinet maker in Puerto Rico. He is building kitchen cabinets and trying to achieve the antique oatmeal with ebony glaze from Kraftmaid. Unfortunately he has been unable to find the appropriate base color in the stops in Puerto Rico. Would anyone here have suggestions? Perhaps we can purchase in the states and ship the color to Puerto Rico.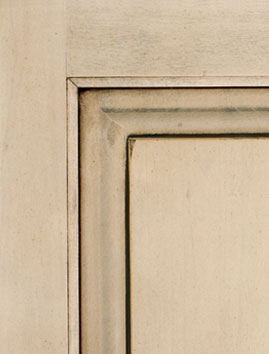 Click here for higher quality, full size image
Forum Responses
(Finishing Forum)
From Paul Snyder, forum technical advisor:
What I usually do is go to Lowes or Home Depot and get the door that has the paint and glaze finish on it and take it over to the paint department to find a color chip that looks like a good match. Then I send the color chip to one of my suppliers and have them mix the color in the material that offers the required durability ( conversion varnish for kitchens/baths).

---
From contributor D:
From the photo I think your friend may be working with the wrong colored glaze. To achieve this color ebony glaze maybe a bit dark to get the desired effect. I would work with a dark brown glaze with a green cast. He will need to adjust the color and consistency accordingly.
---
From contributor S:
Colors cannot be matched from a picture. Zero guarantee of accuracy from lighting, camera settings or monitor to monitor. Send your cabinet maker/finisher a sample door. If he can't match it, find a better finisher.
---
From the original questioner:
Sorry maybe I wasn't clear. I am renovating a home in Puerto Rico. The cabinets are for a home in Puerto Rico. I'm not outsourcing for a home in the states. Thank you everyone for your help. My Spanish is very bad and my cousin seems to be losing something in the translation with my cabinet maker.
---
From contributor S:
I had to match this same finish for a kitchen in 2005. My records show that I sprayed base coat with ML Campbell Clawlock white primer (two coats). Then I used ML Campbell Amazing Glaze base tinted with VanDyke Brown on top of the Clawlock. After the glaze, I top coated with two coats ML Campbell Krystal Finish. This is all hazardous material and will be expensive to ship to Puerto Rico.
---
From contributor S:
Additional info: The amazing glaze base was tinted to Van Dyke brown, not with Van Dyke brown. Also you must spray the Clawlock primer and glaze in the same day removing excess glaze after one hour.