Materials for Outdoor Kitchen Cabinets
Cabinetmakers discuss Starboard, Extira, and sawn Cypress for outdoor cabinetry. June 28, 2013
Question
I'm about to do my first outdoor kitchen and am wondering what material to use. The homeowner is not particular about the style. I have heard about Starboard but know it is crazy expensive. How about Extira MDF painted? What about fasteners - I'm guessing they'd have to be galvanized confirmats? Stainless hardware? Then comes the issue of free standing cabinetry. Should I build and level a platform (ladder), then attach to floor, then screw through cabs into base? Is there a better way? Should I suggest building a wall (stucco or wrapped in wood to match house siding) to attach cabs to and hide back of cooktop and BBQ? Are there ovens/ranges/cooktops meant for outside?
Forum Responses
(Cabinetmaking Forum)
From contributor S:
Starboard is worth the expense. It will last nearly forever. The color is all the way through the product. No finishing is required. It machines like wood and does not require exotic tools to fabricate. Extira is difficult to finish correctly and will require future maintenance. A few years ago I paid $200.00 for 4x8 sheets. I think Extira is around $100.00/ sheet. Factor in finishing and I think there is a savings using Starboard. Stainless steel fasteners, hinges, side mount ball bearing slides and pull hardware would be my choice. You could build a metal stud frame work and skin the outside with 1/2" starboard. The drawer boxes could be constructed using a sliding dovetail and blind dado for the bottom. Check the codes in your area for proper clearances regarding a gas grill.
This is located in Ohio. We removed the doors and drawers. Skinned the wood framework, installed new drawer and door fronts in 1/2" starboard.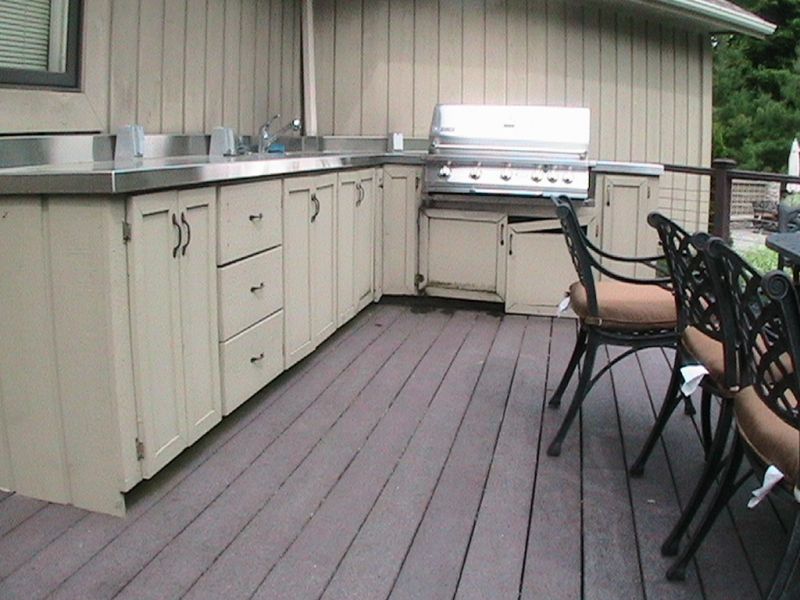 Click here for higher quality, full size image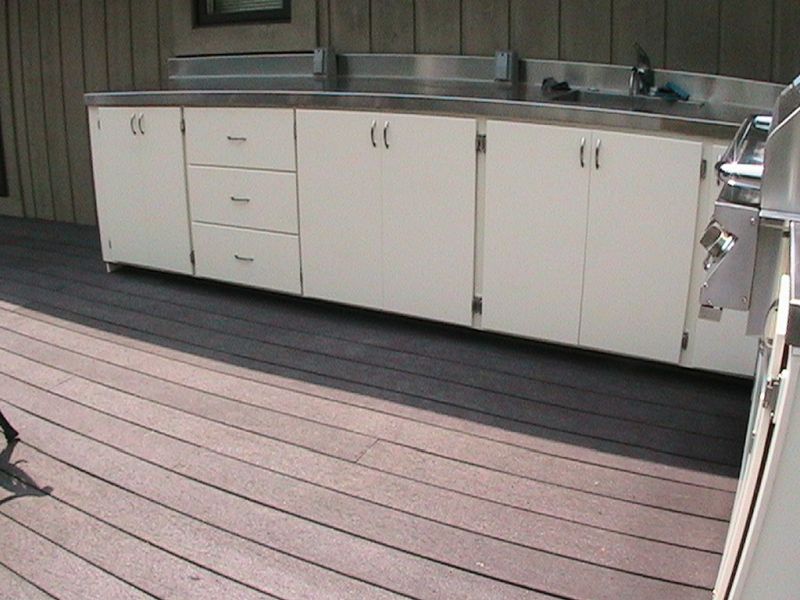 Click here for higher quality, full size image
---
From contributor S:
Forgot to mention, Starboard cannot be glued so screws are your only option for assembly. Interesting side note - it is resistant to paint and mild chemicals, not lead pencil marks.
---
From the original questioner:
Thanks. Sounds convincing. How about for doors and fronts? I'm a little afraid about warp, as I know zip about the material.
---
From contributor V:
I'm looking into the same thing for some outdoor display and cabinetry. What I found was Densetec HDPE, aka playground board. From what I understand, virtually the same as Starboard, but 1/2" 4x8 from my vendor was $144.00 and as contributor S said, you would have to screw together. The Densetec comes in a lot of colors, many with a 3/32" skin of one color on the outside and a different color core. It is made by polymerindustries.com. Although I did not see many colors on the site, I did at my supplier. Also looking at Sentra - lighter and cheaper 1/2". $80 a 4x8 and glue-able. I was thinking Sentra for the box and Densetec for doors, etc. I need more info so I'm hoping others will chime in and get this thread going.
---
From contributor C:
We've built dozens of outdoor kitchens on three large mountain lakes near us. Some almost as elaborate as the ones in the homes. We've yet to use anything but cypress. These multi-millionaires would go bonkers if we used anything other than solid wood. We've never had problems with any of them. A lot of them are painted, but most of the clients want to see the cypress age gracefully.
---
From the original questioner:
Here on the west coast, cypress is an unusual wood. Cedar takes its place. Do you just leave the wood raw when not painted? What are the cabinet boxes made of?
---
From contributor C:
We build the cabinets out of solid cypress and that includes the boxes. All of our cabinets are face frame construction with raised panel doors and architectural end panels, same as the doors. We do no frameless. We tongue and groove the bottoms, not glue them, so they can expand and contract.
The ones that are painted are done with a BM outdoor semi-gloss latex. If the cabinets are to be left natural, we put nothing on them and let them age gracefully to the grey color. We also turn the knobs out of cypress in several different styles.
This is an extremely high end resort area for homes and cabinetry. I think sometimes it's a social thing and who has bragging rights, especially on their outdoor kitchens. We put either Gibraltar or cypress countertops on them. One did go with granite a few years ago.
Two things that don't like cypress are water and bugs. Our home is built from cypress and is now a beautiful grey color. We've never had an exterminator in the house and never had to replace a board on it. Built in 1974.