Miter Fold Feed Rates
Tips on grooving MDF with the CNC router for miter fold box corner construction. December 29, 2008
Question
Anyone running the Amana 91 degree miter RC-1028 single insert with CNC? Looking for RPM and IPM, and are you step through or single pass? Any luck with taping the spoilboard side to hold together for folding? What about theory of cut through into spoilboard with 0 rpm at tip issue. Looking to cut 3/4" Medex and 3/4" veneer on MDF.
Forum Responses
(CNC Forum)
From contributor L:
We run the exact same tool. We do a double pass. The first pass about 60% of the material thickness. The second pass just about all the way through. You will have to play with the second pass and tweak it to your liking as far as spoilboard penetration goes. 18000RPM and 180IPM works for us. Great luck with taping the spoilboard side!

---
From contributor M:
I have done a fair amount of MDF veneer this way, using a similar bit. Never had any success with taping the spoilboard side, for several reasons... One is the tip speed is just too low at the point to cut very well. It makes a mess of the veneer in my experience. Another is that is is too much trouble to tape a sheet first and it kills my nesting yields at times. Much easier to cut each part out, poke the tip all the way through the veneer, and they come out pretty clean. Flip them over and tape miter with 2" clear packing tape. It lets you see the alignment very clearly, and doesn't stretch, so it holds the miter very well. You can make perfect cubes this way with a little care.
Feed rates I am using are 12000 RPM and 600 IPM. I use 4 passes starting at -.55 and making the last one a cleanup pass of just .05. This is primarily to reduce side force and enable me to cut some very small cubes.
I bet these rates could be improved upon a little more, though, with some work and thought. If your parts are larger I would do two passes, as contributor L, or perhaps add a last one of just a few thousandths to make it real pretty.

---
From the original questioner:
Thanks - that's what I was looking for. We have used a splined miter off the slider and tables saws for most cubes, which make for great veneer alignment, but can't see the value added when looking at cost. Lean lets you consider/cost all options.
---
From contributor S:
The max rpm for this tool is 18000 and you should start your feed rate at 450 ipm and adjust up or down from there.
---
From contributor A:
If your machine will support a horizontal planing aggregate that you can do miterfolds in a single pass and the waste does not get pushed into the tape joint.
---
From contributor M:
Just an example... .5 one sided plam on MDF. 2 passes for this stuff, 16000RPM and 400 IPM first pass, 16000 and 300 ipm second pass, mostly because of the small part size. I run parts stuff faster.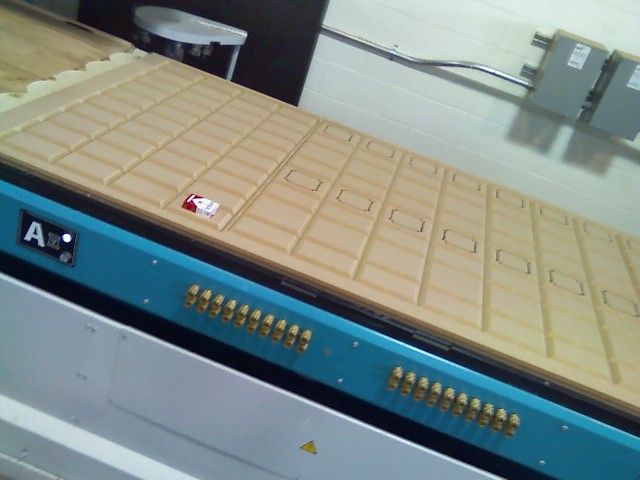 Click here for higher quality, full size image
Close up: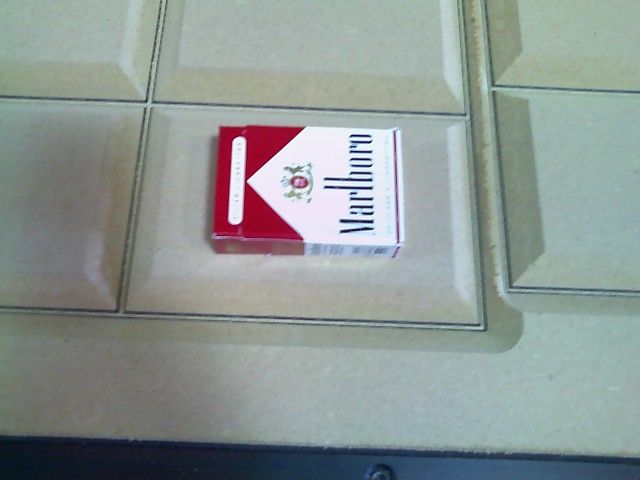 Click here for higher quality, full size image