Mobile Air-Assisted Airless Rigs for On-Site Finishing
Finishers explain how they have chosen and set up AAA equipment so it can be transported and used on site as well as in the shop. November 29, 2014
Question
I will be getting an AAA sprayer in the near future and have narrowed it down to two setups. I will be spraying WB coatings, and would like an AAA unit that is self-contained to be able to spray on the job site if required. What would you recommend?
Forum Responses
(Finishing Forum)
From contributor T:
I would suggest a Graco. It seems like the Graco setup would draw a lot less cfm and would work more like a turbine unit. This would be nice on site but not necessary in the shop. I would see if you can demo the machines. Opinions are great but you know best what will work in your situation. I have some Kremlins and four Gracos and always demo the machine before I purchase it. Contact your local reps and see what they can do.

---
From contributor G:
I dragged my Kremlin out into the field. I used the Senco 1/2 HP mini compressor with a five gallon extra tank on it. I was just doing small panels and it worked great. I could have used the 1HP Campbell Hausfeld with 3CFM without the extra tank for continuous spraying. This was just a wham bam quick setup. The box is what I have on the wall. I had the cart already and just put the two together. I just made it simple to put back on the wall for me since I rarely do spraying outside the spray room.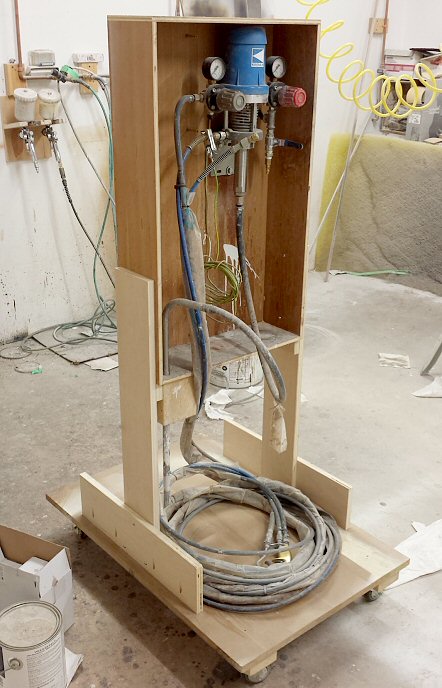 Click here for higher quality, full size image
---
From contributor N:
I'm with Contributor G. I've taken my 10:1 out to the job on many occasions (I keep mine on the cart it came with) along with 2hp 4cfm compressor and a portable set of water and oil filters for the compressor air that I attach to the back of the pump. This setup is superior to the Graco electric unit to my mind because it's more adjustable at the lower fluid psi most wood finishes use (I think the Graco unit's lowest fluid pressure setting is 500psi) and since the Kremlin uses so little air the compressor doesn't run all the time (I'm pretty sure the compressor on the Graco unit runs continuously), so less noise on site and a lot less when using a bigger compressor in the shop (I've sprayed one side of rack of 40 cabinet doors without my shop compressor turning on).
---
From contributor A:
The CAT is their regular AAA unit attached to a cart. You could easily convert it to a wall mounted unit (or back) by detaching it from the cart. I've owned my CAT unit (not the portable one) for six or seven years, and am very happy with it. I spray WB paint and clearcoats only.
---
From contributor P:
You could cut some hooks to screw on the wall and hang the whole wheelie cart up like we do. We love our CATech Bobcat.
---
From the original questioner:
Ok it sounds like the Graco is out. Is the price of a Kremlin really worth it over the CA Technology pump and gun?
---
From contributor W:
To contributor A: How is the AAA from CAT used with thick water based primers? Is there any thinning needed?
---
From contributor A:
To contributor W: Primers work fine. I thin a bit and use a bigger tip.
---
From contributor D:
Here is my set up. I mounted it on that cart, not the factory setup.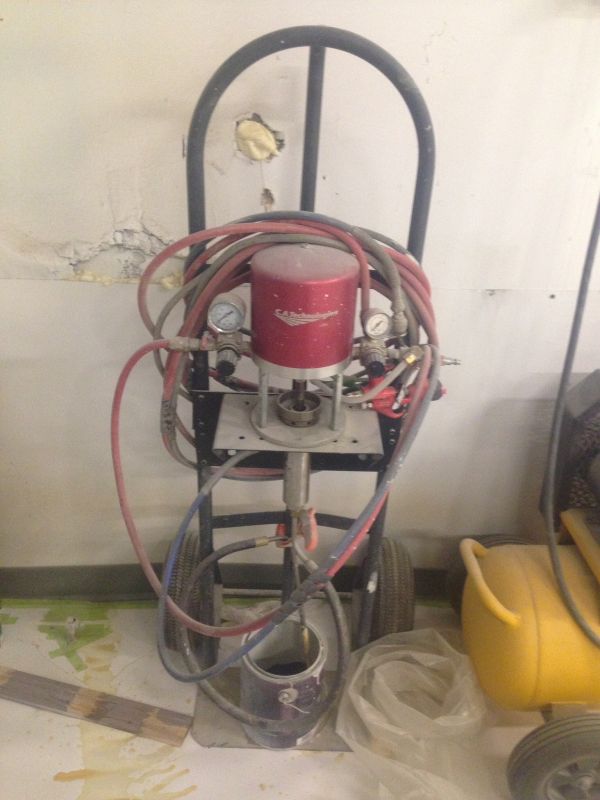 Click here for higher quality, full size image
---
From the original questioner:
Are you guys that own the C.A.T. systems happy with the performance of the pumps and guns? After looking at C.A.T.'s catalogue, it seems their cart mounted H2O system would probably be a good fit for me.
---
From contributor D:
I am happy with the CAT tech stuff. The only down side of AAA is the tips are more prone to clogging if you do not keep them clean compared to other kinds of equipment.
---
From contributor A:
I've been very happy with my CAT system. It's been very reliable, and it's easy to service. Unlike Kremlin, the company is US based and the customer support has been awesome the few times I've needed it.
---
From contributor C:
I have a CAT and it is awesome for solvent based material. For heavier/thicker water-base I would buy the Kremlin 30:1 pump.
---
From the original questioner:
I ended up getting a Kremlin EOS 15-25 cart mounted pump. I still haven't used it yet though. I have a Titan 440 airless I can use for the really thick stuff.