Moulder and Shaper Setup for Curved Work
Wrestling with the issues of machining complex curved stair-rail parts. May 11, 2011
Question
I'm a stairbuilder and I make all my rail and fittings in shop. I recently upgraded to a 5 hp shaper and purchased a 4" molder head to accept knives. This setup works well on straight runs or upeasings, etc., but I don't see how it can work with level quarter turns which require a rub collar. The knives are taller than the blank. Do the knives need to be modified to use a collar?
Forum Responses
(Solid Wood Machining Forum)
From contributor M:
The bearing needs to be the same diameter as the deepest part of your profile. A standard corrugated head moves a sixteenth for each shift of the knives, so this may cause alignment issues. The next step is to adjust your template accordingly, making it slightly larger or smaller. As far as building the fixtures, your bearing can either go on top or on the bottom, so design them from there.
I will throw this out there - steel knives in a moulder head create a fairly large cutting circle, and level quarter turns are small parts. Unless you are 100% sure of your setup, and the fact you're asking has me concerned, you could be asking for trouble.

---
From the original questioner:
You're quite right that I'm concerned about trouble. I own 3 shapers and this is the first molder head I've used. When you turn it on it sounds like an airplane starting up. I've used templates before on 3/4" spindles, but the rub collars were sized for the cutter; this is not the case for the molder head. Even with a 4 3/8" rub collar (which is the largest I could find) it will still take off more than 3/4" to the deepest part of the cut. I'm not comfortable making that in one pass. I'm thinking of a couple of custom-made collars to make the cut in two passes, the second pass sized for the deepest part of the cut or setting it up in some way to have the power feeder run it through.
---
From contributor B:
As everyone, including you, has touched on, this is potentially dangerous work. It is something we do daily, though, and if you like I'd be happy to talk with you on the phone for a few minutes to help get you started.
---
From contributor J:
The Aigner Bowmould device is a useful tool for anyone doing curve shaping. It has a lot of built in safety features. The rub collar has the bearing built in so youíre not running up against a spinning bearing. It is adjustable for any cutting circle. For big cuts like the 3Ē thick window head shown, itís easy to set the bearing for 2 passes to make a rough and finish cut. Template can be top or bottom. We use the feeder if the inside radius is not tight.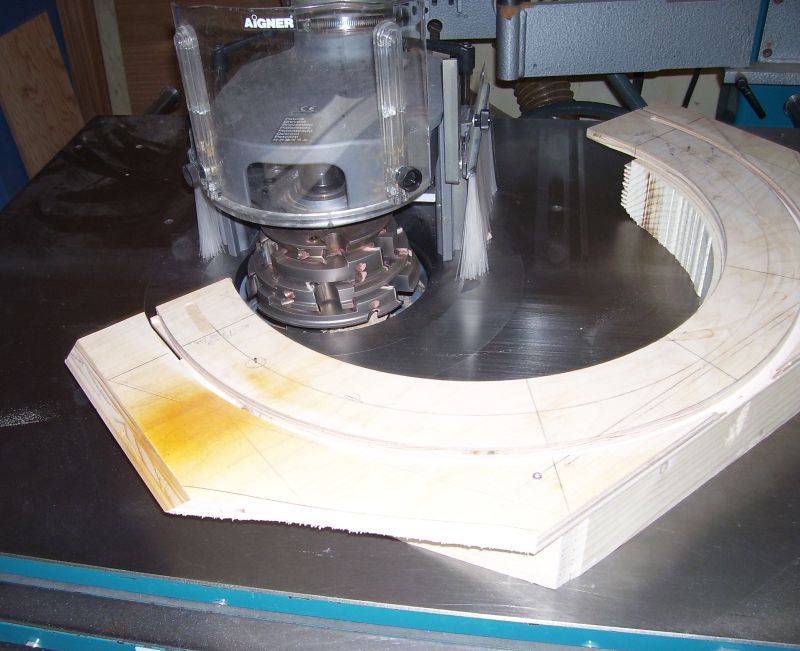 Click here for higher quality, full size image
---
From the original questioner:
Thanks - that looks to be a safe way to do large pieces. I only found European dealers. Did you buy it from someone in the states?
---
From contributor J:
Martin USA is the importer. This picture shows the adjustable bearing better.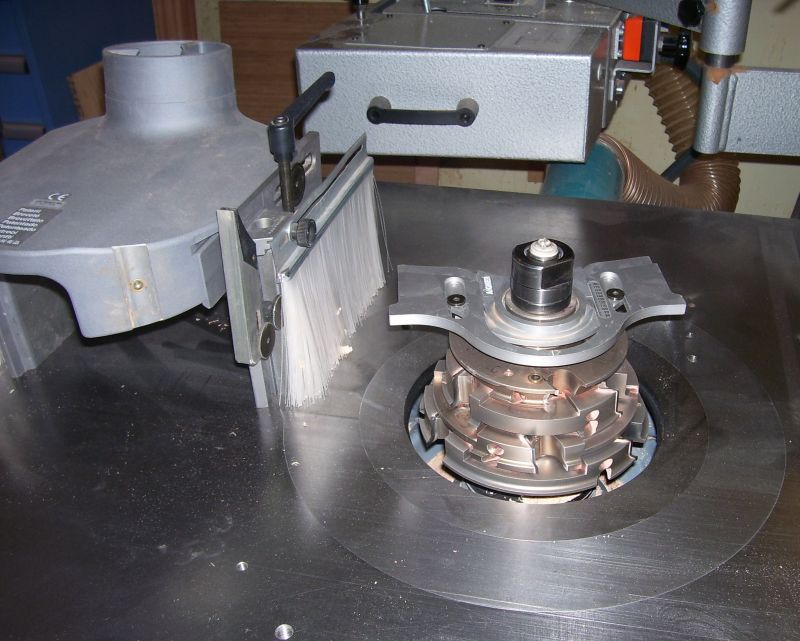 Click here for higher quality, full size image
---
From contributor I:
Quarter turns and other small radius handrail parts (all the flat fittings in fact) are best CNC routed and not shaped. For small custom orders I still use old pin routers along with a set of graduated bushings. I can cut in 32nds if I choose. The router bits themselves are small compared to a propeller-sized shaper head, but even so, this can be risky business.
Whether you shape or rout, your machine guards and template fixtures need to be substantial and monkey operable. I know at least three colleagues (in different shops) who have been seriously injured while shaping small handrail parts (including me).

---
From contributor J:
Contributor I's post makes me realize the Aigner device may not work for some of the tight radius work involved in stair work.
---
From the original questioner:
I spoke with contributor B and like contributor I, he uses a set of graduated bearings in 1/16" graduations. That looks like a reasonable approach to the problem.