Mounting a Digital Scale on a Sliding Tablesaw
Advice on the purchase, installation, and use of a digital scale on a sliding table saw. March 22, 2013
Question
Has anyone mounted a digital scale on their crosscut fence? Is there one that will fit the rip fence? I know brands like Wixey are made for saws like Delta and Powermatic. I have a Sac Sueri slider, and didn't know how much luck I would have trying to mount one on my saw.
Forum Responses
(Cabinetmaking Forum)
From contributor J:
I mounted a Proscale Digi-Scale to my crosscut. Just needed to fabricate a little bracket to mount it to the flip stop. Was pretty easy and relatively inexpensive and I think it was worth every penny. I have a Tiger Fence on the other side of the blade.

---
From contributor M:
I have the Wixeys on a few of my machines. They are pretty hard to beat on price. The ProScale is more expensive, but domestic, which is nice. I am not familiar with your saw, but the mounting is pretty simple, though you may have to fabricate some additional brackets or mounts.
---
From contributor J:
I had a couple Wixeys before. They are toys in comparison. In this case, you really do get what you pay for.
---
From contributor M:
I wouldn't argue that at all, but I have had these for quite some time and have had no problems with their use or accuracy, but it's true they are a low end option. I wish the spread on the ProScale wasn't so great because unless I had problems, that's just a bit too far for me.
---
From contributor D:
Call the tech guys at ProScale. They can custom size any of their scales and ensure you get the best deal for your use. They are easy to mount as already mentioned. Simple and intuitive. Since the unit is on a cable, the scale gets mounted out of harm's way, and the readout can be mounted wherever is the most convenient.
I agree that the Wixey scales are not in the same league as the ProScales. ProScale parts are always on hand, they now offer some units that are programmable, and the tech people are sharp and available. I have one that is 20 years old, and recently got new battery clips in 3 days.

---
From contributor V:
I think there is fundamentally different technology in the ProScale versus the Wixey. It's not just import versus export - the ProScale's encoder is way superior, but I can't remember the details.
---
From contributor M:
I don't argue in the least that the ProScale is a better product and may have better support. That said, I have had zero accuracy, installation, and operation problems with Wixeys that have been in operation for quite some time.
Would I love to support domestic? Absolutely. But there is a threshold. And at a $250 upcharge, I have to see something for my investment. Maybe I'm the rare individual who hasn't had problems with the Wixey. Did I know upon ordering, and opening the box, that it was a low budget option? Yes. We are talking about equipping 5 machines costing 500.00 versus 1800. Quite a spread. If the price had been half as close, I may have chosen the ProScale.

---
From contributor V:
I have the Wixey on my DeWalt screamer. It worked quite well for a while, then went wacko for no apparent reason. Now it's hit or miss. Which is to say it's basically useless since I don't trust it anymore.
---
From the original questioner:
Thanks for all the feedback! It looks like the Pro Scale is the way to go for a crosscut slider, since they have one designed specifically for that. Can you still miter with the ProScale? I didn't know if the cables or anything else would keep you from still being able to make miter cuts. That is why I decided not to put a Tiger Stop on my crosscut fence - I can't give up my miter cuts on the slider.
---
From contributor J:
If you attach the aluminum track to your crosscut fence, and attach the digital indicator to the flip stop, nothing is actually attached to the sliding carriage. In short, yes, you can still miter. I'm not 100% certain on this, but I believe you can still miter with the Tiger crosscut.
---
From contributor J:
Here are a couple pics of mine. Maybe this will help.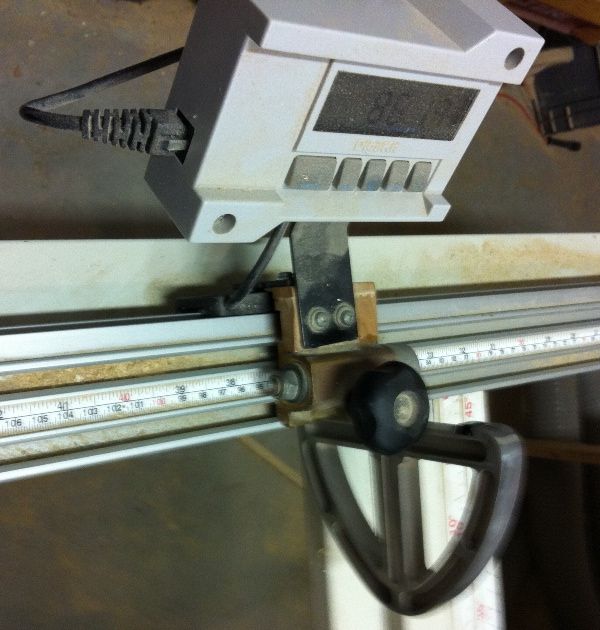 Click here for higher quality, full size image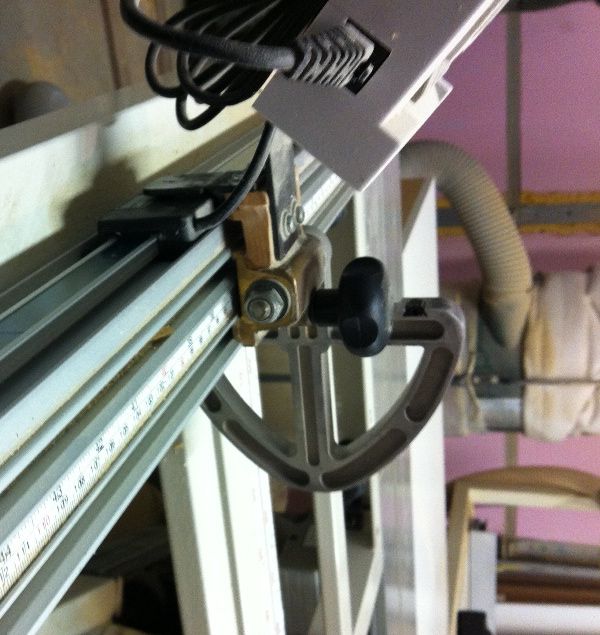 Click here for higher quality, full size image
---
From contributor V:
The issue with this arrangement in the photo is that you can no longer move your x-cut fence to the front of table position, since your work piece would then be in contact with the encoder track, correct?
---
From contributor J:
That is correct, but it doesn't concern me as I have never put my crosscut fence at the front, and really see no need to.
---
From contributor V:
It's a much safer place to put it when cross cutting solid wood that might be prone to kickback (but being lazy, I almost never move it for that purpose either, come to think of it).
---
From contributor J:
My slider sees hardly any solid wood. 99% of the time it's breaking down sheets. I switch between ripping and crosscutting so frequently it doesn't make sense to put it at the front. Even most of my rips are done using the crosscut fence (why we buy 8', 9', and 10' sliders instead of 4'). Would eat up way too much time to keep moving the fence around. I don't think in 5 years I have ever put it at the front, or even had a need to.
---
From contributor V:
I don't disagree. I'm mostly just a little reluctant to put myself in a position where I don't even have the option to put the fence in the front position. I guess I could get a chunk of aluminum and make a dedicated fence for that purpose, but who has the time... I guess it is a fair price to pay for digital on the x-cut.